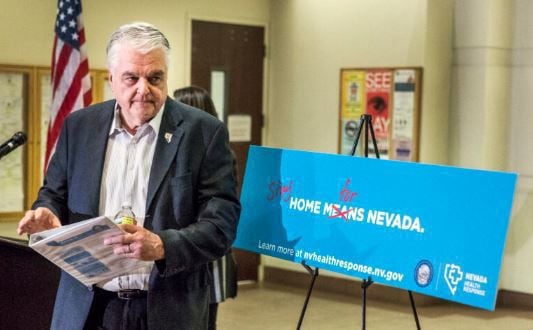 ELKO — Elko County will be able to recover the unanticipated costs of the Coronavirus pandemic thanks to available funding through the federal CARES Act.
Elko County will receive $9,638,351 to be distributed between the county and its four major communities.
The distribution amounts are:
Elko County, $4,478,588
Elko, $3,734,957
West Wendover, $780,338
Carlin, $415,827
Wells, $228,641
Assistant County Manager Cash Minor said in an email Friday that there are multiple ways the county will be utilizing the incoming funding, which was announced by Gov. Steve Sisolak earlier this month.
"We may have an opportunity to assist local businesses and nonprofits who are impacted by the pandemic," Minor said in the email. "It will also allow us to create an inventory of personal protection equipment for our first responders' needs during the next outbreak which is anticipated during the fall 2020."
Minor said Elko County staff will propose a plan for the use of the CARES funds to the Board of County Commissioners for their approval. When a plan has been developed and completed, it will then be reviewed by the Board of County Commissioners at a public meeting.
According to a statement from the Nevada Governor's office, the federal government allows CARES Act funding to be distributed to local governments with a population of less than 500,000. Clark County and Las Vegas are the only communities larger than this in the state.
Nevada used a per capita allocation benchmark formula, as mandated by the act, to determine the amount each local government would receive. COVID-19 expenditures made between March 1 and Dec. 3, 2020 can be paid using CARES Act funding.
Minor said that while CARES Act funding cannot be used to replace lost revenues, there is a possibility that a program could be established for nonprofit organizations.
The Department of Treasury has issued interpretations related to limitations on the permissible use of CARES funding," Minor said. "We are currently planning on how and where to utilize this funding."
Minor said the county has yet to receive its $4,478,588 in CARES Act funding, and he is unaware of exactly when it will be received from the state.
"COVID-19 has spared no corner of the State with its devastating physical and economic impacts," Sisolak said in a statement earlier this month. "Nevadans took quick and decisive action to help slow the spread of the virus and save lives and now we are able to begin the financial recovery."
According to the statement, a total of $148.5 million will be distributed to 16 Nevada counties. Washoe County, with a population of more than 470,000, will receive the most funding at $86.1 million. Esmeralda County, with a population of just under 1,000, will receive the least amount of funding, $159,428.
"I am proud we are able to provide funding back to these counties and cities so they can put this money directly into their communities to help their local economies and residents begin their recovery from this virus," Sisolak said.
Be the first to know
Get local news delivered to your inbox!