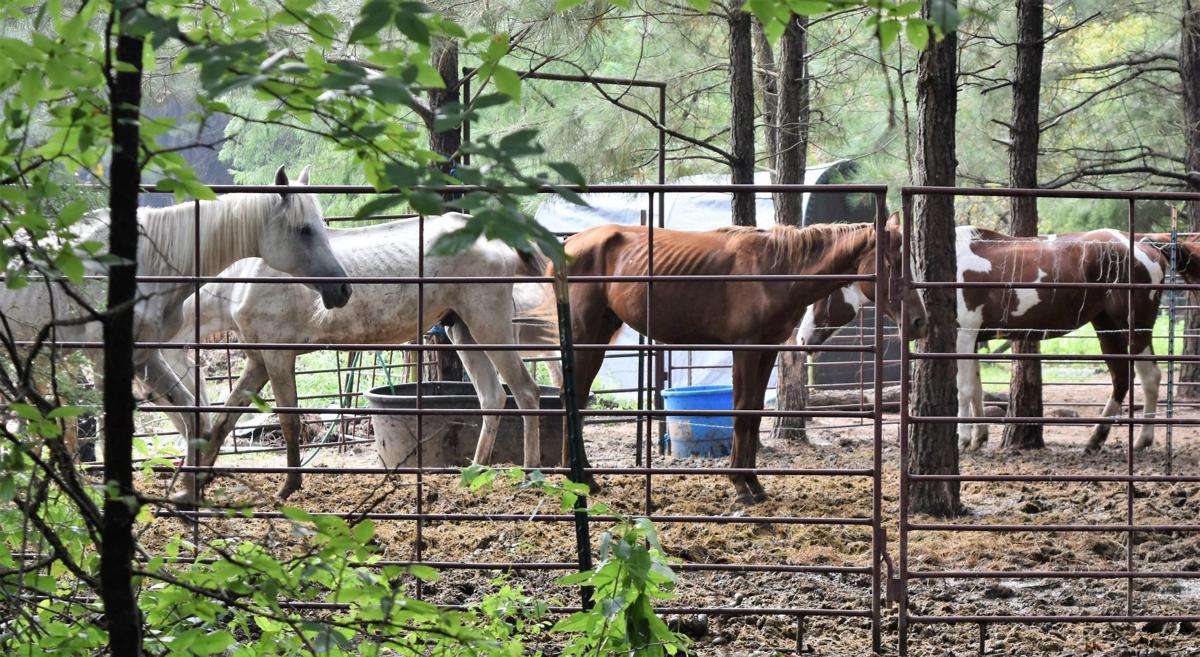 PITTSBURG, Texas — The Camp County Sheriff's Office partnered with the Humane Society of the United States and Safe Haven Equine Rescue in Gilmer in seizing more than 150 horses and other equines June 27 in a large-scale case of alleged animal cruelty.
The animals are now being cared for by Safe Haven with help from HSUS at a secure, undisclosed location.
The seizures were carried out on a 45-acre tract of land where Deanna Tierney has run Scarlet's Legacy Equine Rescue on County Road 3324 south of Pittsburg since October 2018.
The owner of the property is Patricia Sowka, according to Camp Central Appraisal District records. According to the Scarlet's Legacy website, Tierney formed the rescue in 2015 in Wells, Nevada as a public nonprofit. Before founding SLER, the organization had been operating as Northeastern Nevada Equine Rescue from 2012 to 2015 and had acted as a private rescue for 14 years before that.
The Camp County Sheriff's Office began receiving calls for welfare checks on the animals housed there soon after Tierney arrived in Camp County.
"We started receiving notices from citizens that were driving by and noticing animals that were underweight, etc. We started our investigation in October, which culminated today with this warrant to seize them," Camp County Sheriff Alan McCandless said during a media briefing at the scene.
McCandless said there had been numerous carcasses found on the property over the last couple of months. After an eight-month investigation, led by Chief Deputy Chris Clark, the department on June 6 arrested Tierney on five counts of cruelty to livestock animals. Deputies seized four live horses and a carcass for a necropsy. They executed a search warrant the same day, and with the help of Safe Haven, counted 163 equines on the property, including numerous horse breeds, draft horses Shetlands, miniatures, donkeys and one mule.
The necropsy of the dead horse showed its intestines riddled with parasites, called bots, that had eaten all the animal's nutrients.
Clark said the during the initial welfare checks, which began Oct. 26, 2018, the department met with Tierney and took into consideration Tierney's statements on why the horses were in poor condition. She told deputies it was because she rescues them for rehabilitation and adoption through her nonprofit organization. She claimed Scarlet's Legacy was one of the largest in the country, homing approximately 400 horses per year.
"She explained that she rescues them from kill pens and different organizations like that. Someone would pay the money to bail out the horse, and they would come to her so she could rehab or retire them on her property," Clark told The Gazette on Friday. "She was just getting set up at the time. She did have some decent-looking horses, and she had some horses that scored what we considered the bottom 1's (on the Henneke Body Scoring system).
Clark said Tierney claimed in October 2018 to have 100 horses on the Camp County property.
"We gave her the benefit of the doubt and told her we would continue monitoring her to make sure this wasn't a neglect case, and she was on board with that," Clark said. "She actually offered to volunteer her time and resources to the sheriff's office."
Over the next eight months, the department continued to receive calls from concerned residents about the welfare of the animals.
"We continued the investigation, and when we would get a call about a downed horse, we would send a deputy to document it, write a report on it to build our case in the event this became an animal cruelty case," Clark said.
The CCSO contacted the HSUS in February, and the organization sent a veterinarian to give an unbiased opinion. He said the vet made several recommendations for Tierney to follow, including culling down the number of equines on the property, providing additional shelters, and better-quality hay.
The CCSO also discovered that Tierney had been burying animals on the property.
"We explained to her that you couldn't bury that amount of weight on your personal property in a year. You need to go to the landfill where they will take these carcasses," Clark said. "At that point, we were almost at the offense level, cruelty to livestock animals."
The department remained in contact with the HSUS during its investigation and contacted a local veterinarian to let them know the situation.
"We had enough to move forward with probable cause after we discovered there was an owner in California that back in December sent pictures of six horses rescued out of a Kansas kill pen. According to the owner, those horses were brought to Scarlet's Legacy for boarding purposes," Clark said. "She got updated pictures of the horses and said that they had gone down in weight and looked poor. So, we compared the pictures that she had when Deanna had picked up the horses to the pictures that we had, and we could prove that while they were under her care and custody and control, the horses had gone down."
Clark said one of the six had died a few months before without the owner's knowledge.
"She was making arrangements to have the horses picked up, and another one went down. We requested the vet do an autopsy on the horse and ended up seizing the four out of the six (in the June 6 seizure)," he said.
At that time, Tierney told the investigators that she had downsized to 80 horses, but during the June 6 search of the property, the department and Safe Haven volunteers found 163 equines.
"It got to the point where we could not let the number of horses that were dying continue. There were six in one day. It was absolutely out of control," McCandless said.
You have free articles remaining.
Clark said he believes the CCSO gave Tierney "ample opportunity to get it right, and she just didn't."
Tierney bonded out of jail following her arrest and was on the property during Thursday's seizure operation. McCandless said on Thursday that there is the potential for more charges and arrests; however, by press time, there had been no additional arrests or additional charges filed against Tierney.
Jessica Johnson, the HSUS director of animal crimes, said during Thursday's briefing that they were looking at the animals' environment and body condition and in their initial assessment, the body conditions of most of the animals were poor.
"We're looking for how the horses are living, what living environment they are in, and their general body conditions. We look at the hooves, hoof care; we look at the eyes, ears, pretty much anything on them that may be considered abnormal," Johnson said.
Before the veterinarian's official review of the animals, Johnson told the media outlets during the operation that the body conditions appeared to be "pretty low."
"We're seeing some that appear to have upper respiratory infections. There's a lack of food, a lack of clean water for these horses, and the living environment is very wet, very damp. A lot of the horses' hooves are singling into the ground," Johnson said. "We're seeing a lot of horses that are underweight, a lot that have some hoof damage, definitely need some healthcare."
Johnson also said the 45-acre property, which includes a large wooded area, was not sufficient for the equine rescue operation.
"This environment is not conducive to that. If you have this many horses, they should be on dry land, and they should have pasture," Johnson said.
During the seizure operation, which began at 6:30 a.m., and lasted until 4 p.m., neighbors, owners of boarded horses and workers at the rescue gathered in the road watching as the volunteers rounded up the horses using more than 15 trailers.
Tierney and Sowka's neighbor Laurie Desbiens was visibly upset and wanted to talk to the media to defend Tierney.
"My little boy, he's 13, he works here helping them out. There's no abuse. I don't know what this is about," Desbiens said. "She brings in rescues, and, as you can see, some of them are in bad shape, but it sometimes takes a year to get them up where they need to be."
Desbiens claimed the animals had been fed properly with expensive hay and the people running the equine rescue "care for these animals from sunup to sundown."
She admitted she'd seen the dead horses on the property, but said they died because they were already emaciated when they arrived.
"When she brought them in, they were on their way out as it was," Desbiens said. "They are in perfect hands here with these folks. Deanna and Patty both have a heart of gold. This is just ludicrous."
Celeste Leon, 15, arrived at the scene distraught after hearing from her sister that her 10-year-old Tennessee Walker mare, Precious, was among the horses rounded up in the raid.
"They shouldn't be doing this to her (Deanna Tierney)," Celeste Leon said. "She doesn't abuse horses. It's a horse rescue. They aren't going to come in healthy. That's what she is trying to do, bring them back to life and give them a new home where they can go and live good."
Leon's family recently adopted the mare from the rescue, and she received her as a quinceñero gift. Scarlet's Legacy continued to board the horse while they were looking for land to bring her home, Leon's mother said.
Celeste Leon, who had been working with the horses at the rescue, said she has always loved horses and had an instant connection with Precious.
"Me and her have a pretty strong bond," she said before breaking down, unable to continue her sentence.
A veterinarian completed a review of the animals at 11 p.m. Thursday. On Friday afternoon, McCandless told The Gazette the vet's review showed most of the animals received body scores ranging from one to three on the Henneke Body Scoring system, a scale from 1-9, with one meaning emaciated, two meaning very thin, and three meaning thin.
McCandless said, according to the veterinarian, the equines had various health issued related to the muddy conditions on the property, including thrush, an infection below the knee, specifically their hooves.
"That was found on most all of the animals," McCandless said.
The animals also suffered from rain rot, a type of bacteria on the backs and legs, as well as respiratory infections, open wounds, dermatitis, and dehydration. Their bone and muscle scores were also extremely low. A draft horse was extremely underweight, with bones starkly visible under its coat. Some of the animals seized were in good condition, however, including donkeys and wild mustangs, the sheriff said.
"[W]e compared the pictures ... when Deanna had picked up the horses to the pictures that we had, and we could prove that while they were under her care and custody and control, the horses had gone down."
"[W]e compared the pictures ... when Deanna had picked up the horses to the pictures that we had, and we could prove that while they were under her care and custody and control, the horses had gone down."