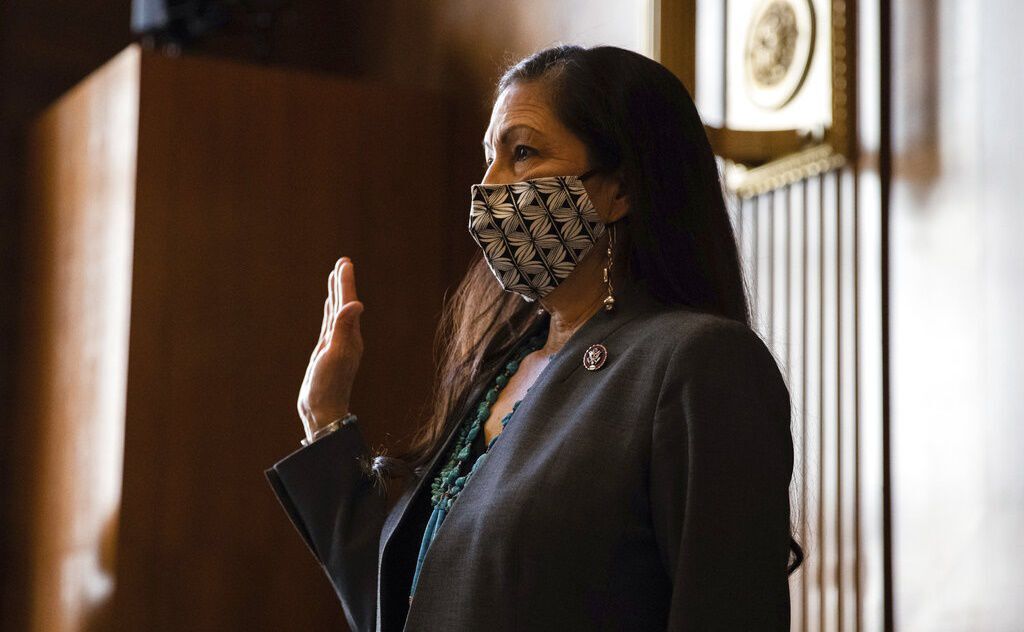 U.S. Sen. Catherine Cortez Masto, D-Nevada, stressed the importance of interagency collaboration to Department of Interior secretary nominee Rep. Deb Haaland, D-New Mexico, during the first day of her confirmation hearing Tuesday in the Senate.
The Nevada Mining Association applauded Haaland's nomination, despite her earlier support for establishing a royalty on hardrock mining.
Some Republican senators questioned her energy policy intentions after the Biden administration put a "pause" on oil and gas leasing on federal lands, resulting in job losses. Haaland replied that if confirmed she would work to implement the president's agenda, not her own.
Support local news coverage and the people who report it by subscribing to the Elko Daily Free Press.
Cortez Masto and the NvMA both pointed out that Haaland would be the first Native American to lead the department.
Cortez Masto said about 63% of Nevada's land is controlled by the Bureau of Land Management, "so public lands are vital to our state's economy, whether that be mining, grazing, outdoor recreation or other means. It is so important that we have a good working relationship with the Department of Interior and the federal government."
A statement the NvMA provided to the Elko Daily on Tuesday said, "Upon confirmation, Nevada's mining industry is eager to work alongside Secretary Haaland and Senator Catherine Cortez-Masto (D-Nev.), chair of the Energy and Natural Resources Committee, to showcase Nevada's high tech and environmentally conscious modern mining industry."
"Nevada mining is essential to providing the raw materials required to make our nation's green energy ambitions a reality; which warrants considerations by federal policymakers as they weigh and perform cost-benefit analysis around policies that impact Nevada's mining industry," the association said.
Haaland posted support on her election website for legislation introduced by Sen. Tom Udall, D-New Mexico, and Rep. Raul Grijalva, D-Arizona, in May 2019 calling for a 5-8% royalty on new mining operations on public lands. The bill also encouraged local autonomy over mining, and would give "States, political subdivisions, and Indian tribes the authority to petition the Secretary of the Interior to withdraw certain lands from mining."
"It is long past time to reform our outdated mining laws," Haaland said at the time. "This bill will ensure taxpayers don't have to foot the bill to clean up pollution caused by mining companies, require meaningful tribal consultation, and update existing laws to preserve sacred spaces and protect public health and the environment."
At Tuesday's hearing, Sen. John Manchin, D-West Virginia, asked Haaland if she would continue supporting fee collections pertaining to abandoned mines, "and would you be receptive to looking at the hardrock mining to be sure they come into compliance, to take care of their responsibilities?"
Haaland said she was aware of hazards from abandoned mines and water pollution from mining in New Mexico.
"Yes, I think that if we have the resources to clean those things up it will make life easier for everybody," she responded.
Sen. Steve Daines, R-Montana, grilled Haaland on her knowledge of the Endangered Species Act, pointing out that the recovery target for grizzly bears in Yellowstone is a population of 500 but there are as many as double that amount now. Haaland did not know either number.
"On May 7, 2019 you co-sponsored legislation that provided federal protections for the grizzly bear in perpetuity – forever. Why would you sponsor a bill like that when the science tells us the bear numbers are well above recovery targets?" he asked.
"I imagine at the time I was, I was caring about the bears," Haaland responded.
Sen. Ron Wyden, D-Oregon, praised Haaland for her bipartisanship and her support of the Owyhee Act, which is designed to improve rangeland while boosting recreation.
"I appreciate having the opportunity to bring ranchers, tribes and folks together in those collaborations," Haaland said. "My sister, she married a rancher and gave birth to three cowboys and a cowgirl. That's what they do – they care deeply about the land and their animals."
Haaland said Biden's proposed Civilian Climate Corps would engage "tens of thousands of Americans in the work of restoring our public lands … I look forward to young people having those opportunities."
"I think we can do it all. I think we can work together. I think we can protect our public lands. I think we can create jobs," she said.
Cortez Masto discussed her priorities for the incoming administration relating to the Department of the Interior, saying, "Having greater interagency and intergovernmental collaboration on permitting and compliance is important. Having the BLM prioritize numerous pending realty applications and recreation and public purposes leases is important to us. Making sure that there is greater alignment between the BLM and state and local governments on renewable energy and transmissions siting is important to Nevada. And prioritizing the distribution of funds from the Southern Nevada Public Lands Management Act special account for regional conservation and environmental enhancement projects is important.
"So Congresswoman, can I have your commitment that you and your staff will prioritize efficient land management and greater collaboration with the State of Nevada?"
Haaland responded in the affirmative.
Cortez Masto has also been working on legislation to protect areas such as the Ruby Mountains from oil and gas leasing. She asked if Haaland would consider the value of implementing her End Speculative Oil and Gas Leasing Act, which would prohibit the BLM from offering leases on lands determined to have low or no drilling potential.