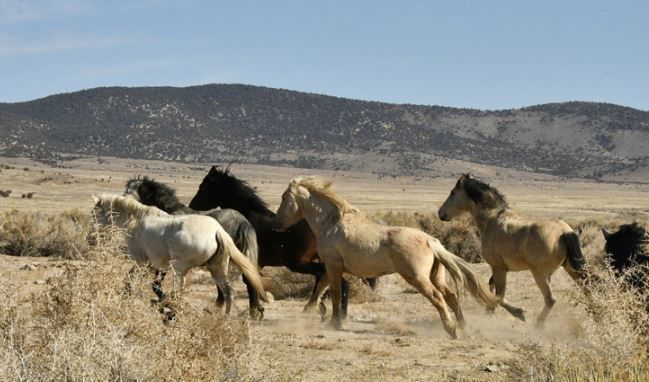 ELKO – The Bureau of Land Management's Elko and Ely Districts will begin a wild horse gather on or about Aug. 5 in the Antelope and Antelope Valley Herd Management Areas in eastern Nevada.
The BLM plans to gather and remove approximately 1,250 excess wild horses. Approximately 1,544 wild horses will remain in the HMAs. The gather is expected to last approximately two months.
As of March 1, the population of wild horses in the Antelope and Antelope Valley HMAs, was estimated at more than seven times above the target population of 187-361 wild horses.
In addition, gather operations will take place in areas outside the HMAs where wild horses have moved in search of food and water, creating a public safety hazard. There are approximately 200 horses outside the HMA boundaries.
The BLM will conduct gather operations by using temporary water and bait traps consisting of a series of corral panels stocked with water and hay. No helicopters will be used.
"The purpose of this gather is to reduce the overpopulation of wild horses, in order to prevent further degradation of public lands by helping to balance herd size with what the land can support," stated the federal agency. "The BLM aims to protect habitat for other wildlife species such as sage grouse, pronghorn antelope, mule deer and elk. Removing excess animals would also enable significant progress toward achieving the Standards for Rangeland Health identified by the Northeastern Great Basin Resource Advisory Council."
As part of the operations, approximately 50 wild horses will be gathered in the Water Canyon portion of the Antelope HMA to determine the effectiveness of the contraceptive GonaCon-Equine on a small group of wild horses in a controlled environment with the possibility of expanded usage in future years, depending on the program's results.
Supporters of the project include the Northeastern Great Basin Resource Advisory Council; Lincoln, Nye, and White Pine county commissions; and Nevada Department of Agriculture. Local resident and wild horse advocate Jeanne Nations is the Volunteer Project Coordinator.
Because of the nature of the bait and water trap method, wild horses are reluctant to approach the trap site when there is too much activity; therefore, only essential gather operation personnel will be allowed at the trap site during operations.
All horses identified for removal will be transported to the Indian Lakes Off-Range Corral, located in Fallon, where they will be checked by a veterinarian and readied for the BLM's wild horse and burro Adoption and Sale Program. For information on how to adopt or purchase a wild horse or burro, visit www.blm.gov/whb.