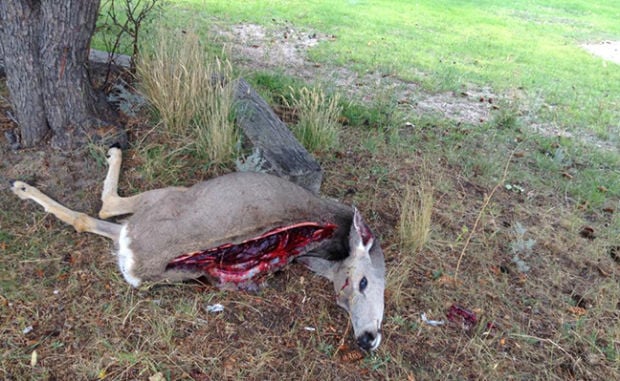 ELKO — A bloody mule deer doe left to rot with its back sliced open has authorities searching for a poacher.
A golfer found the body Sunday morning under a tree on the Spring Creek golf course near a catch net on the driving range.
The deer had a bullet hole in its head and a clean gash down its back, according to golf course staff.
The Nevada Department of Wildlife, which is tasked with managing wildlife in the state, takes poaching seriously and is investigating the incident.
"It's wanton waste," said Joe Doucette, Nevada Department of Wildlife conservation educator "… It's very, very sad."
The back straps of the deer had been removed. Doucette said that part of the animal is generally considered by hunters the choice piece of meat and the easiest to cut out.
Even if the shooter had a tag, leaving the body is wanton waste, Doucette said, and hunting is never allowed in Spring Creek.
It's unknown at this time whether the person who killed the deer was in need of food, but Doucette doubted that to be the case.
You have free articles remaining.
Game wardens are hoping the public can provide information that will lead to answers.
"We are currently following up leads," said Game Warden Jason Jackson. "But we would appreciate the public's help with any information they may have to help us fill in some of the blanks."
Neighbors reported hearing a gunshot about 3 a.m. the day the deer was found, according to an NDOW statement.
Anyone with information is encouraged to call Operation Game Thief at 1-800-992-3030. Tips can be given anonymously.
If information leads to a conviction, the reporting party may be eligible for a reward, according to NDOW.
Poaching became a felony in 2003, and as a category E felony is punishable by up to four years in prison and up to a $5,000 fine.
A person convicted of poaching could also lose his or her hunting privileges and be subject to seizure of equipment used in the illegal killing of the animal.
Various legal hunts are taking place currently in the state.
For information about game wardens or wildlife in Nevada, visit ndow.org.