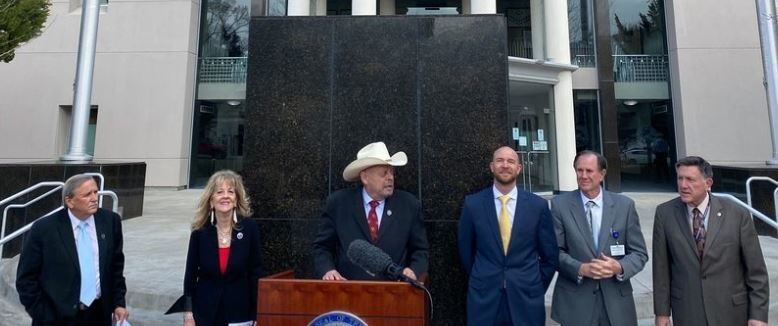 CARSON CITY — Last Friday marked the legislative deadline for committee passage in the first house, meaning that bills not voted out of committee by then (except for those specifically marked for deadline exemption) are now dead.
Examining the bills that do and do not survive a deadline day always reveals a lot about the priorities of the party running the Legislature. Even more telling is the list of bills that not only fail to pass, but do not even receive a hearing.
A look at this session's outcome, particularly in the Assembly, demonstrates that the Democrat majority has set the wrong priorities for Nevada.
One of the biggest challenges facing our state today is restoring confidence in our elections. To that end, several Republican members of the Assembly, including a number of Nevada Legislative Freedom Caucus members, introduced legislation this session to help strengthen the security and integrity of our election system.
That includes AB 134 (Assemblyman Andy Matthews), which would repeal the disastrous AB 4 from last summer's special session; AB 137 (Assemblyman John Ellison) which would require ID to vote in Nevada; and AB 163 (Assemblywoman Jill Dickman) which would end ballot harvesting and implement a wide array of measures designed to enhance election integrity.
Every single one of these bills was completely ignored by Democrats and died without so much as a committee hearing. Instead, Democrats heard and passed a bill — AB 321 — which would make permanent many of the worst elements of last summer's AB 4, including universal mail-in balloting and ballot harvesting.
It's not just on the election-policy front where Democrats refused to hear important, even crucial, legislation. AB 93, from Freedom Caucus Chairman Jim Wheeler, would have forced the Governor to seek legislative approval in order to continue to exercise emergency powers, thereby placing a much-needed check on the executive branch of our state government.
AB 93 would not do away with the emergency powers that are critical to the role of the executive branch; it would only have required that the people, through their elected representatives, have a voice when those powers are exercised. Yet, in a cowardly abdication of their responsibility to those they were elected to represent, Democrats refused to hear the bill.
The message is clear: At a time of enormous challenge for our state, Democrats are prioritizing their hyper-partisan agenda over the interests and well-being of everyday Nevadans. Far-left, reckless policies sail right through, while common-sense measures to strengthen election security and increase government accountability are not even afforded a discussion.
The Nevada Legislative Freedom Caucus is urging all Nevadans who care about the future integrity of our elections to reach out to the Democrat members of the Assembly and let them know that you do not want AB 321 to move forward.