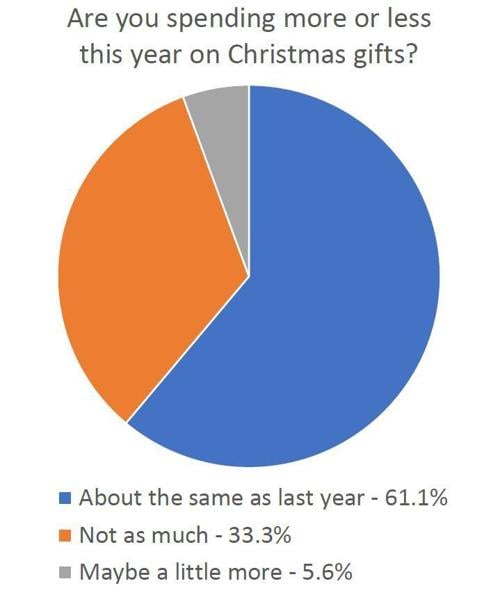 One-third of elkodaily.com readers who responded to this week's online poll said they planned to spend less on Christmas gifts this year, while only 6% said they might spend a little more.
The month before Christmas is the busiest shopping season of the year. This time, however, the coronavirus pandemic is cutting into employment and pocketbooks, while making it more difficult for those shoppers who do have money to get out and safely spend it.
As holiday shopping deadlines loom closer, Congress has yet to pass a new coronavirus stimulus bill that at last report could put another $600 into the pockets of each American. The first stimulus bill provided $1,200 per person.
Treasury Secretary Steven Mnuchin proposed the new deal this week in lieu of boosting unemployment payments.
"By sending out checks, we're putting money into the economy for people," he said. "This will have the impact of creating demand, which will have the impact of creating jobs. We want to get people their jobs back."
Skepticism over a final deal may be making some people more reluctant to shop for gifts.
Across the Atlantic, the European Central Bank unleashed another $600 billion wave of stimulus this week "as a winter surge in COVID-19 infections shuts down large parts of the economy and wipes out pre-Christmas sales revenue ahead of the region's most important holiday," reported the Associated Press.
The bank's goal is to raise inflation, as interest rates in Europe remain at zero.
Christmas shoppers everywhere are doing a much higher percentage of business online, which has retailers warning of a Christmas shipping crunch.
"A number of retailers, including J.C. Penney, Lowe's and Kohl's, are telling shoppers they need to place their online orders soon or else pay expedited shipping fees if they want to get their packages delivered in time for the holidays," the AP reported.
Online shopping volume is expected to triple compared to last year's holiday season.
"The holiday shipping crunch has been particularly hard on small retailers that badly need the last two weeks before Christmas to make up for a loss of sales when they were forced to close at the beginning of the pandemic," stated the AP.
The virus may also put a damper on travel, although many Americans ignored the CDC's advice to stay home for Thanksgiving. Long-distance travel was down from last year, but only by about 4%, the agency reported.
The timing of the latest surge in COVID-19 cases couldn't be worse. Although vaccinations will soon be available for high-risk segments of the population, it is expected to take months to turn the corner on the pandemic. Meanwhile, new restrictions are being enacted, such as the elimination of indoor dining in California and New York.
Nevada has already tightened its restrictions, but not nearly as much as the coastal states.
Unfortunately, the limited response doesn't seem to be having an impact on the spread of the virus.
"The daily case rate is consistently double that of our summer peak," Nevada's chief biostatistician Kyra Morgan said Thursday. "We're currently reporting near-record numbers of daily deaths. There's not any indication that we're approaching a plateau."
While the coronavirus continues to challenge us in ways we never imagined, much of the groundwork for limited-contact commerce has already been laid in the form of online shopping convenience.
Trailblazers like Amazon led the way, but now it is becoming even easier to support local merchants as well.
For example, the Elko Daily Free Press is hosting a Buy Local web page with support from Kidwell & Gallagher Injury Lawyers. The page at https://localbusiness.lee.net/elko-daily-free-press makes it easier to shop from home and keep the local economy humming than ever before.
And for the less fortunate in the community, the Elko County Library is once again sponsoring a "Sugar Plum Tree" through which community members can choose names from a list of children and the elderly, and provide them with a gift. Partners in the effort include the Nevada Youth Training Center, Elko County Social Services, and Highland Manor.
Gifts must be wrapped and taken to the library by Dec. 18; call 738-3066 for more information.
This year it is especially important to celebrate the holidays in whatever way we can.
Many families in the Elko area have experienced losses as the result of the pandemic. With a little extra effort and compassion, we hope Christmas 2020 can end the year on a much-needed high note.