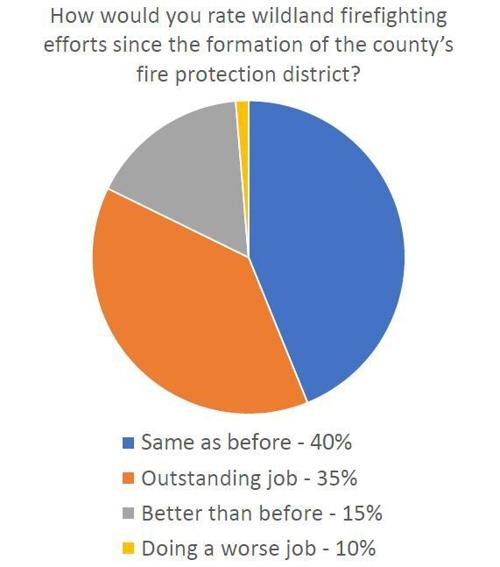 While states around the West experienced a devastating wildfire season this year, northeastern Nevada escaped widespread damage and ended up with its lightest fire season in the past five years.
Plenty of fires were started – 22 more than last year – but most were kept small, resulting in nearly 10,000 fewer acres burned.
Local fire officials say the reason was a more aggressive response this year, combined with less fuel from dry spring weather.
Residents appreciated the effort, according to an elkodaily.com poll that rated the Elko County Fire Protection District as doing a better or outstanding job since it was formed five years ago.
The county works in conjunction with federal agencies, both of which were forced to change their approach this year due to the coronavirus pandemic. More resources were brought in through the Bureau of Land Management, and more engines were sent out on initial attacks.
As a result, most of the fires burned fewer than 50 acres.
That was a remarkable accomplishment, and much of the credit goes to the Elko County Fire Protection District. Under the leadership of Linda Bingaman until she retired at the end of this season, the district has grown into a strong force of local men, women and equipment capable of handling everything from structure fires to wildland blazes.
"We take on big wildland fires, we take on big incidents, we do things that are not what normal people do and yet you see people step up and do the very best that they can," Bingaman told the Elko Daily.
The district secured more than $600,000 in grants under her leadership, enabling the purchase of more equipment and construction of a new fire station in Lamoille.
"You start with nothing and now you have a fairly well-run machine," she pointed out.
While the district has come at a high cost to county taxpayers, having a locally operated firefighting force appears to have been worth the change – not that the State of Nevada left us with any choice in the matter.
Taking a more aggressive approach to fires also worked well this year. That tactic results in higher initial costs but far less expense and damage in the long run. It is common sense that the quicker a fire is put out, the less likely it is to spread to a point that it is beyond control.
Other parts of the West did not fare as well this season. More than 8 million acres burned nationwide, claiming 37 lives, according to a New York Times report.
More commonsense approaches need to be taken. For example, the BLM has released a plan to create fire breaks across a 350,000 square mile region of six states, including Nevada. The program could include increased cattle grazing and other steps to reduce fuels, assuming it is carried out under the incoming Biden administration.
Technology will also play a greater role in fighting fires over the years to come.
Among the latest developments are "fireball-dropping drones and repurposed passenger jets," according to an October article in National Geographic.
Besides using drones to improve fire-spotting and deployment of resources, they are now directly involved in setting backfires to control the path of a blaze. The article tells of a company called Drone Amplified, which uses a funnel-shaped attachment on the underside of a drone to "release 450 ping-pong-ball-sized incendiary devices in less than four minutes."
They call them "Dragon Eggs," and they can reach areas that are too steep and rugged for human firefighters. It sounds like something out of science fiction, but it really works.
Fires have been taking an increasing toll on wildlife habitat, human lives and property throughout the West and elsewhere. Having local crews respond to initial fire attacks, increasing the amount of equipment available, reducing fuels, and taking advantage of readily available technology will all be necessary to deal with the danger in the years to come.