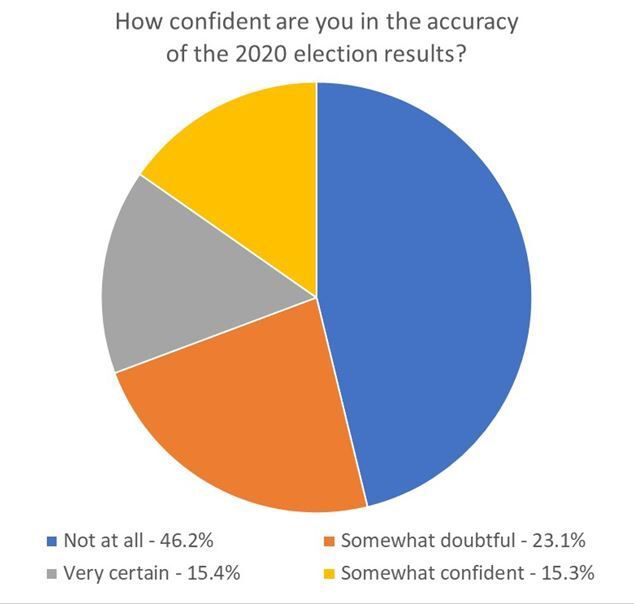 Elko Daily readers have some serious doubts about the 2020 elections results.
In a poll conducted this week at elkodaily.com, more than two-thirds of respondents said they were "not at all" confident or "somewhat doubtful" about the results, compared with 30% who were "somewhat confident" or "very certain" they are accurate.
President Donald Trump started raising issues about the election process when states began making changes because of the coronavirus pandemic. Nevada was one of the states he singled out for legal action after lawmakers approved a plan to mail ballots to all active voters.
Former attorney general Adam Laxalt, co-chairman of the Trump campaign in Nevada, said the vote here was being conducted "without meaningful observation."
The Trump campaign and Nevada Republicans supported a lawsuit filed Thursday claiming thousands of voters had cast ineligible ballots and seeking to prevent Clark County from using an automated signature verification system.
Even with that system in use, the counting of ballots in Nevada has been painfully slow. Delays were anticipated when the state approved its hybrid voting process in which people would be mailed ballots yet be allowed to vote in person if they chose to. The state gave county election officials until Nov. 12 to count ballots, including those received via "snail mail" a week after Election Day.
Will they finish by deadline? Over the 48-hour period from Wednesday to Friday, only 489 ballots were tabulated in Elko County, while 3,865 were still outstanding.
The task of validating and tabulating ballots by hand is complex. Voters who were uncertain about being counted were directed on the county clerk's website to a ballot-tracking service – at least until Thursday, when they were notified not to use it.
"That information is not updated in real-time, so there's a lag," explained Elko County Clerk Kris Jakeman.
Spreadsheets listing people who voted were available online. Mail-in voters could check to see if their ballot had arrived in time. As of Friday, 20 people whose ballot signature did not match the signature on file at the county clerk's office had been notified by mail, along with another eight people who had failed to sign.
This system appears to be very transparent, yet we could not find a similar one on the Clark County Clerk's website – only a list of in-person voters and where they voted.
Claims of "dead voters" have also been made, including a ballot cast by a 120-year-old Elko County resident. That turned out to be nothing more than a typographical error when his birthdate was listed as 1900 instead of 1990.
A typo was also apparently to blame for reports of a 100,000 vote dump in Michigan that was 100% for Biden. The total of 15,371 ballots in one county was mistakenly listed as 153,710, according to a report in USA Today.
It would take a significant number of cases of voter fraud to sway an election, even in the tightly contested battleground states like Nevada. But, even without fraud, Republicans have plenty to complain about.
For example, ballot harvesting was illegal in Nevada until election procedures were changed this summer by the state's Democrat-controlled Legislature. The new election procedures have "created a lot of chaos and uncertainty," Elko County Republican Party Chairman Lee Hoffman told the Elko Daily.
"Somebody like me who has always believed in it is even a doubter now, about how it all works," he said.
By the end of the day Friday, four swing states had yet to be called and Joe Biden held on to a lead in both Electoral College and popular votes. Based on the ballot counting trends, Trump appeared to have no path to victory.
Some news outlets were already calling Biden the winner, and Sen. Kamala Harris the nation's first female vice president. Speaker of the House hailed Biden as having a "tremendous mandate" despite razor-thin vote margins that fell far short of expectations based on polling.
Recounts in key states such as Georgia and Pennsylvania were likely, and if conducted fairly should bring to light any cases of voter fraud.
After that, it's up to voters to accept the results and move on. Let's hope a better system is in place for 2024.