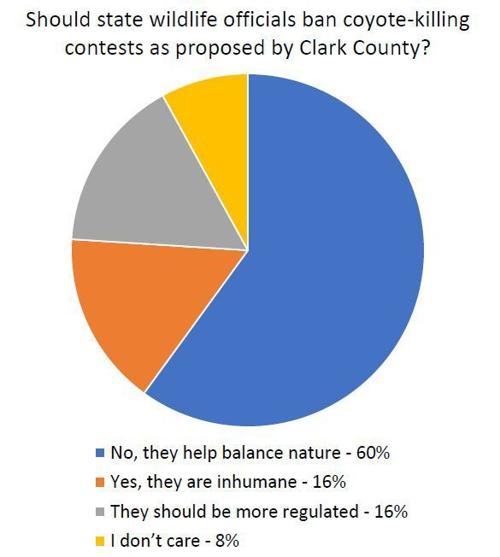 Dogs may be man's best friend but their cousin coyotes generate animosity here in ranching country.
Coyotes are so crafty, stealthy, and successful at reproduction and survival that they are considered a species of "least concern." As such, they have no protections and may be shot at will. That makes them a perfect candidate for "killing contests" in places like Nevada, where they can be a threat to livestock.
Nevada Wildlife Commissioners are finding themselves in the midst of a controversy over whether these contests should be allowed to continue. They recently discussed dueling resolutions on the topic from Clark County and Elko County.
Elko Daily readers are divided on the issue, but the majority who answered this week's poll at elkodaily.com said the contests should not be banned. Roughly one-third said the contests are either inhumane or should be more regulated, while 8% didn't care either way.
Wildlife board members are almost equally divided on the issue, according to a recent Elko Daily article by veteran journalist Tim Burmeister. While four commissioners decided in March that they wanted to allow contests to continue, the other five voted to gather more information before making a decision.
A lack of information doesn't seem to be the issue here. During the nearly four hours that wildlife commissioners dedicated to the debate, a wide range of testimony fleshed out nearly every aspect of the controversy. Elko commissioners summed it up best as a clash of cultures.
Mass killing of coyotes is nothing new in the western United States. Some argue that the faster you kill them the more they breed. If coyotes perceive their population is thinning out they have the remarkable ability to double the size of their litters, according to some experts.
With that kind of adaptability, it seems unlikely any contest could impact their population one way or the other.
The USDA's Wildlife Services has killed more than 10,000 coyotes over the past two decades. The agency has a 40-page pamphlet describing all sorts of strategies for protecting livestock from attacks. Some of the devices are as clever as anything the Road Runner could come up with, but real coyotes are way smarter than the cartoon character.
State wildlife commissioners aren't likely to find answers to their main questions about the biological impact of coyote killing contests.
"I think it's a fair and accurate statement to say that the department, from the data and observations that we have, we see neither a beneficial effect of these contests on the prey species or a detrimental biological impact on the predator abundance," NDOW Director Tony Wasley told the board.
Take science out of the picture, and all you have left is a matter of public perception.
Commission member David McNinch said "the negative connotations associated with killing contests reflect negatively on hunting and sportsmen and serve to erode public support and trust for them and consequently NDOW. This is contrary to our mission."
NDOW's stated mission is "To protect, conserve, manage and restore wildlife and its habitat for the aesthetic, scientific, educational, recreational, and economic benefits to citizens of Nevada and the United States …"
Elko's county commissioners say there are recreational and economic benefits to coyote killing contests. Commissioner Wilde Brough described how a single attack on cattle can cost $1,000 or more.
In Navajo mythology, Coyote is an archetypal "trickster" character who existed from the beginning of time. He embodies a host of colorful characteristics – some positive, some negative, but most on the borderline.
"In common with Tricksters generally, he serves to test the bounds of possibilities and order," stated author Guy H. Cooper.
Nevada's coyotes are certainly playing that role well, as they test our modern sensibilities about man's relationship to the wild.