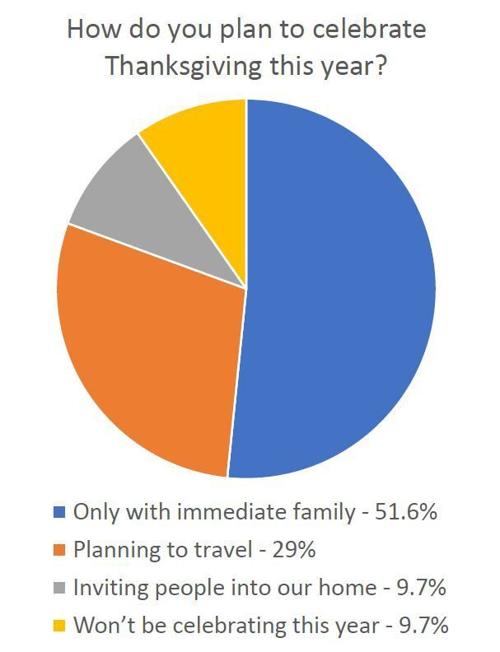 Thanksgiving is a time when millions of Americans travel to visit family members they may see only once a year. Like everything else that has happened in 2020, this tradition is being turned upside down as soaring infections and deaths from coronavirus spread across much of the country.
Roughly 50% of readers who responded to this week's poll at elkodaily.com said they would be spending the holiday with immediate family members only. That's what the CDC suggested in an 11th-hour plea to avoid travel over the holiday.
About 40% percent of Elko Daily readers said they either planned to travel or would be inviting people into their homes. Ten percent said they wouldn't be celebrating at all.
When AAA released its popular Thanksgiving travel forecast earlier this month, it predicted a 10% drop compared with last year. Most of the reduction was in air travel, with about half the number of people planning to fly.
The insurance company said it would be the largest drop in travel since the Great Recession hit in 2008. This time, however, it is more about health considerations than financial ones for many people.
Those who were planning to travel will likely do so, despite the CDC's advice. Most people make such plans more than a week in advance.
Coronavirus deaths are now topping 2,000 a day in the United States. They are not at record levels yet, but hospitalizations are, according to the Covid Tracking Project. More than 80,000 patients were hospitalized with COVID-19 this week, an increase of nearly 20% from the prior week.
The dire situation prompted the American Hospital Association, American Medical Association and American Nurses Association to release a statement Thursday urging people to scale back their Thanksgiving plans and follow coronavirus protocols.
"The record-shattering surge underway is resulting in uncontrolled community spread and infection that has already overburdened health systems in some areas and will ultimately consume capacity of our health care system and may reduce the availability of care in many places in our country," they stated.
Those who do plan to travel should check conditions at their destination, as several states have been tightening restrictions over the past week or two.
Starting Monday in Boise, police will be ticketing or arresting people who refuse to wear masks and refuse to leave local businesses when asked, according to the Associated Press. Boise has had a mask mandate in effect since summer, but like Nevada, there was no enforcement provision against individuals. Businesses could be fined if state officials found repeated violations during infrequent visits.
Last week, Nevada's Occupational Safety and Health Administration issued one citation against a concrete products company in Carson City, fining them $5,000 over an employee not wearing a mask. A total of 4,901 other complaints were received by the obviously overwhelmed agency.
Places like Boise and Las Vegas are now providing ways for the public to easily file complaints against businesses that do not enforce the mask mandates. This week, Clark County announced a "FixIt" reporting app designed to address any number of complaints along with COVID violations.
Nevada Gov. Steve Sisolak is expected to announce new restrictions early next week, two weeks after he called for people to stay home and work from home whenever possible. Few people have voluntarily complied, and hospitalizations have continued to increase as if the governor had said or done nothing at all.
We don't know what to expect next from our governor, and apparently neither does he. This week the state's COVID task force asked county leaders for suggestions.
"In my mind I have what the goal is here, for our community here, and that is to make sure we don't overwhelm our hospital capacity because I just don't see the disease going away anytime soon," Elko County Commissioner Delmo Andreozzi told the task force.
That has been the goal from the onset of this pandemic. It was easier to accomplish in the early days when people were afraid and the death rate appeared to be higher than it is. But after months of declining numbers and a return to more normal activity, the coronavirus boat shows no signs of dropping anchor.
Still, there is plenty to be thankful for this holiday season. Sick people are currently getting the care that they need, multiple vaccinations and new treatments are rapidly on the way, and people still have the ability to flatten the curve through painless changes in behavior – even if it means missing that annual visit with Uncle Bob.