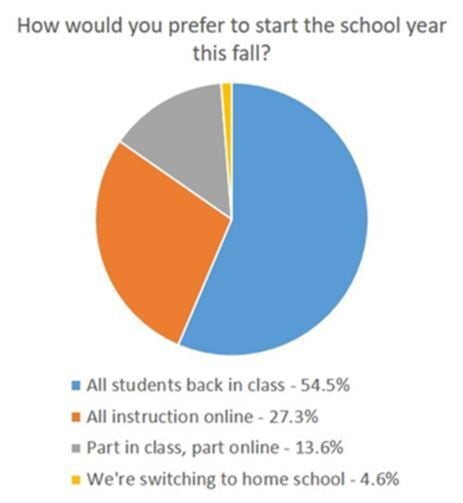 Many local parents want their kids back in school this fall, regardless of the coronavirus pandemic.
More than 50% of people who responded to our elkodaily.com poll this week said they would prefer to start the school year with all students back in class. A little over a quarter of the respondents said they wanted to see all instruction take place online.
Instead, Elko County schools will be reopening under a hybrid plan that puts students in classrooms half the week and taking online instruction the other half. That option was favored by only about 13% of respondents.
A New York Times analysis published this week using Harvard Global Health Institute and World Health Organization guidelines said only one school district in Nevada met the criteria for reopening. Mineral County got the green light while Elko and six other counties were on the "not ready" list because of their high test positivity rates.
Like schools throughout the country, Elko County is seeing plenty of division over the return to reading, writing and arithmetic. Teachers are concerned about their own health as well as their students'. While children face relatively few health dangers from contracting the virus, they can spread it from child to child and then to homes where more vulnerable segments of the population live.
School officials face a true dilemma as they prepare to deal with the issues that are surfacing over the reopening plan. Some parents want their kids at home where they will be safe, others want them back at school where they will receive a better learning experience. Some want their children to wear masks and others think it is unnecessary.
Part of the reason for so much disagreement is the enigmatic nature of the virus itself. There have been so many mixed messages from health authorities and political leaders that the average person has been left to use his or her personal judgment – or imagination — without the benefit of many facts. This virus straddles the line on all fronts, from level of contagion to morbidity rates.
The virus is nowhere near as deadly as originally estimated, yet the death toll in the United States is rising above original estimates.
Here in Nevada, the case rate per 100,000 varies from zero in Esmeralda County to 1,100 in Elko County to 2,200 in Clark County. Elko has seen roughly twice as many cases as Winnemucca but fewer people here have died from the disease. The death rate in Elko County is 5.5 per 100,000 compared with 23.4 in Humboldt County, despite the similarities in lifestyle.
Elko's case numbers are continuing their steep rise, despite the closure of bars and banning of large gatherings. How does anyone make sense of the data?
School officials are dealing with countless issues heading into the new school year, regardless of how it takes shape on opening day. As they said at this week's school board meeting, for every question a dozen more seem to pop up.
The alternating schedule children will be on was called "confusing" by one board member. That's an understatement. Even more confusing is how teachers will handle their half-full live classrooms at the same time they are teaching the other half of the class online.
Like the judgment of Solomon, sometimes "splitting the baby" is not the best solution. The hybrid plan will put children at risk of spreading the disease half the time and give them an inferior online education the other half. But does anyone have a better solution?
Nearly 5% of our survey respondents said they planned to switch to homeschooling this fall. With many families having dual breadwinners, this isn't doable on a broad scale but it does have advantages for those who can manage it. The last of our four-part school series in today's edition of the Elko Daily Free Press takes a close-up look at the history and process of homeschooling.
However parents plan to handle their children's education this fall, we hope everyone stays safe as they resume their education. COVID-19 promises to keep everyone on their toes and in a learning mode for weeks and months to come.
Catch the latest in Opinion
Get opinion pieces, letters and editorials sent directly to your inbox weekly!