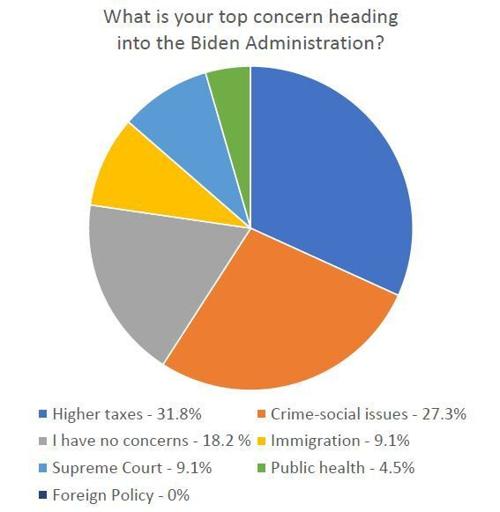 Elko Daily readers are concerned about the possibility of paying higher taxes under the new Biden Administration, according to a poll conducted last week at elkodaily.com.
Nearly one-third of respondents listed taxes as their top concern, closely followed by crime and other social issues at 27%.
Other responses were "no concerns," 18%; Supreme Court and immigration, 9% each; public health, 5%; and foreign policy, zero percent.
Biden assured middle and lower class voters during his campaign that they would not see any tax hikes if he was elected.
"Nobody making under 400,000 bucks would have their taxes raised, period, bingo," he said in a CNBC interview. That's considerably below the median household income of less than $70,000.
At the same time, he did pledge to raise taxes for those making more than $400,000, including corporations. And some critics say workers end up taking the brunt of corporate tax hikes in the form of lower wages and reduced retirement benefits.
Bloomberg reported Jan. 8 that "After three years of savings, top U.S. banks could face an increased tax bill of as much as $11 billion a year if Biden moves forward with corporate rate hikes he campaigned on."
Any action could be delayed until next year, however, because of the pandemic.
On the crime front, Biden has pledged to end mandatory minimum sentences. This is a reversal of actions he took in the 1990s to support them – along with other punitive measures resulting in high incarceration rates for minorities.
Today, Biden has pledged to work for racial justice. But during the primary debates, his now vice president Kamala Harris took him to task for his past relationship with segregationist senators. "You also worked with them to oppose busing. And there was a little girl who was a part of the second class to integrate her public schools, and she was bused to school every day," Harris said. "And that little girl was me."
Biden's record also has people wondering what he will do in regard to abortion laws. When his press secretary Jen Psaki was pressed this week to clarify his position on the thorny issue, she responded only that Biden "is a devout Catholic and somebody who attends church regularly."
Another concern expressed by Republicans is the possibility of Biden adding to the number of Supreme Court justices. The only reason for doing that would be to stack the court with liberal justices, after President Trump legitimately shifted the balance to the conservative side with his appointments.
Conservatives are also worried that Biden's stance on immigration will result in an influx around the 450 miles of border wall that Trump was able to construct during his administration. Psaki outlined Biden's goals "to responsibly manage the border, keep families together, grow our economy, address the root causes of migration from Central America, and ensure that America can remain a refuge for those fleeing prosecution."
Public health is only a slight concern here in Elko, though the coronavirus pandemic continues amid a rising death toll and the threat of more contagious variants. Biden took some heat in the press Friday about his "100 vaccinations in 100 days" goal not being any higher than the level already underway. Biden snapped back at the Associated Press reporter, "When I announced it, you all said it was not possible. C'mon, gimme a break man."
So far, Biden's strategy for getting a handle on COVID doesn't appear to be plowing much new ground. Fauci is still Fauci.
One new requirement that had rural Nevadans chuckling was Biden's executive order requiring citizens to wear face masks on federal land. Nevada is more than 80% public land, and our vast open spaces are the least likely place on the planet for anyone to catch coronavirus.
Elko County has roughly 8 million acres of federal land and only about 50,000 people. That raises the timeless existential question, "If a face mask falls in the forest and no one is around to suck in the COVID germs, will anybody get sick?"
Our country has plenty of real problems for government to deal with. Biden is focused on four of them, which he calls a perfect storm of crises: "The worst pandemic in over 100 years. The worst economic crisis since the Great Depression. The most compelling call for racial justice since the '60s. And the undeniable realities and accelerating threats of climate change."