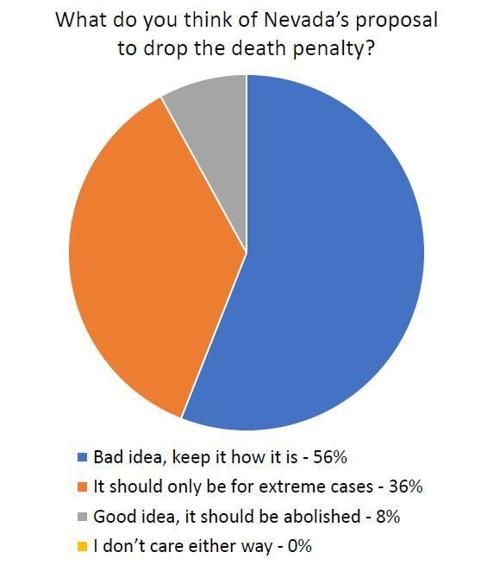 Proposals in the Nevada Legislature to eliminate the death penalty are not seeing much support in the rural part of the state.
More than half of the readers who responded to this week's poll at elkodaily.com said it was a bad idea. A total of 56% said the law should be kept as it is, while 36% said keep it for extreme cases only. Eight percent were in favor of eliminating it.
Nevada is one of 30 states with capital punishment, although no one has been executed here since 2006. The last high-profile case involved Scott Dozier, who killed a man at a Las Vegas motel who was trying to buy thousands of dollars' worth of methamphetamine ingredients from him. Dozier sawed up his body and stuffed parts into a suitcase although the head and arms were never found.
He was sentenced to death in 2007 and asked repeatedly for the execution to be carried out. Instead, he ended up hanging himself in his death-row cell at the state prison in Ely.
Dozier's execution was delayed as companies that manufactured ingredients for lethal injections began suing over their use following botched executions. States began backing away from capital punishment and the federal government stopped in 2003, but former president Donald Trump resumed federal executions last year.
Two bill draft requests have been filed in the Nevada Legislature to abolish the penalty, according to The Nevada Independent, and support for them may be growing.
Gov. Steve Sisolak said when he was running for governor that he generally opposes the death penalty except in extreme cases. A 2017 poll conducted by The Nevada Independent showed a majority of respondents in favor of keeping it legal.
The fate of Nevada's legislation may lie with Senate Majority Leader Nicole Cannizzaro, a Democrat from Las Vegas who also works for the Clark County district attorney's office. She was described as "noncommittal" on the issue in a discussion last month with the Independent.
The topic is currently of particular interest in rural Nevada because of potential death penalty cases in Elko and White Pine County. As the Elko Daily Free Press reported earlier this month, capital punishment has been raised in three homicide cases over the past year.
One involves an Ely man who is accused of killing Nevada Highway Patrol Trooper Ben Jenkins after Jenkins approached his car parked along U.S. Highway 93 to see if he needed help. Another involves a 19-year-old Spring Creek man accused of killing and sexually assaulting a 16-year-old girl. The third involves a 24-year-old Winnemucca man accused of walking up the drive-through window at McDonald's and shooting a 16-year-old female employee.
Death penalty cases are generally reserved for the most heinous crimes involving "aggravated circumstances." The last such case prosecuted locally was in the 1990s, when two men were accused of beating a man to death and stuffing his body into a dumpster in downtown Elko. One of them pleaded guilty and the other was found guilty by a jury and sentenced to death in 2000. That case cost Elko county more than half a million dollars to handle, and his death sentence was later reversed.
One of the death penalty's most active opponents is the American Civil Liberties Union, which believes it violates the constitutional ban against cruel and unusual punishment and the guarantees of due process of law and of equal protection under the law.
The ACLU says capital punishment in the US "is applied in an unfair and unjust manner against people, largely dependent on how much money they have, the skill of their attorneys, race of the victim and where the crime took place." They also say it is a waste of taxpayer funds and has no public safety benefit.
Proponents consider the death penalty to be a moral form of retribution and an effective deterrent.
Virginia is poised to be the latest state to abolish it, after lawmakers voted Friday along mostly party lines.
"Democrats favoring abolishment said the death penalty is an archaic punishment in an era when many countries have already moved away from the practice, and too costly to implement, given the litigation involved," reported The Associated Press. "They also said it has been applied unfairly, with people of color, the mentally ill and the indigent more likely to end up on death row."
On the other side of the aisle, "Republicans raised concerns about justice for the victims and their family members, and warned that some killers who otherwise would be on death row could end up being released on parole."