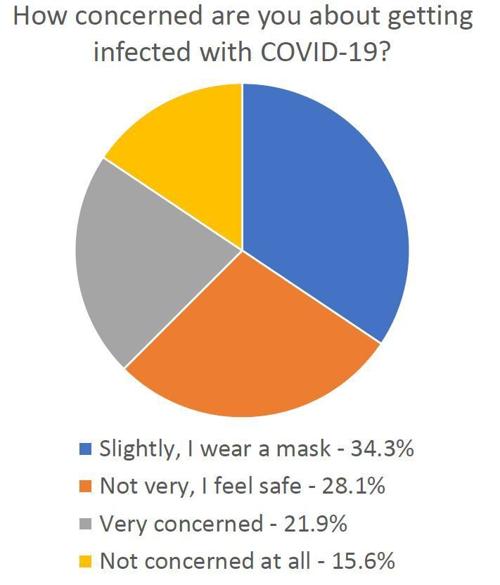 Elko residents appear to be just as divided as the rest of the country over how serious the threat of COVID-19 is to public health.
A little more than half of the respondents to this week's Elko Daily poll said they were slightly (34%) or very concerned (22%), while less than half said they were not very concerned (28%) or not at all (16%).
That disagreement has been apparent on the national level, where over the past two weeks we saw the Democratic Party Convention held under tight lockdown conditions while the Republican National Convention included events with little or no masks or social distancing.
Confusion over the coronavirus is understandable because of its vast range in the severity and variety of symptoms, along with contradictory recommendations from national and global health officials.
What has been well known from the beginning, however, is that the virus is highly contagious and can be deadly to the elderly and people with certain health conditions. We saw early on in New York City how the disease can overwhelm medical facilities and result in mass deaths when feeble attempts are made to contain it.
But we don't need to look that far. Here in Nevada, an early outbreak in Winnemucca spread rapidly and resulted in four deaths. And closer to home, Elko County saw few cases while the state was under a lockdown but the number exploded after Gov. Steve Sisolak eased restrictions in June.
Elkoans were slow to adopt safety measures such as wearing masks and avoiding crowds. Even big-box stores here were allowing patrons to enter without masks after the governor issued his statewide requirement.
The number of cases jumped from a couple dozen at the beginning of June to more than 100 by July and more than 500 by August.
Today, we are seeing the same dire scene play out here that has happened in so many communities across the country. The virus has entered Elko's nursing home complex and taken its first life there.
We have no doubt that Highland Manor has been following the necessary precautions to prevent this from happening. Yet in a one-week period from confirming its first case, the number of staff and resident infections rose to two dozen.
One can argue that this was inevitable. Or one can be outraged that we haven't done more to address the threat in Elko County, which has the second-highest positivity rate in the state despite a relatively low number of tests being conducted each day.
No one has ever said that masks are 100% effective in containing the virus. What we do know is that they can help slow the spread, if used in combination with social distancing.
Following these recommendations is not difficult. Understanding the benefit of following them is. Deciding to wear a mask is much more about consideration for others than it is a question of personal liberty.
Despite all of the disagreement over how dangerous COVID-19 is and what should be done or not done to deal with it, what we do know is that an infected person in Elko County spread it to another person who spread it to another person, and so on, until it reached vulnerable people who succumbed to the symptoms.
Now it has entered the heart of the county's most vulnerable population and is spreading rapidly, with fatal results.
We may not agree on how big a threat the coronavirus is to us personally, but pandemics are more about public health than personal concerns.
What should unite us is sympathy for the family and friends who have lost loved ones to an invisible but very real enemy spreading through our community with steady and disturbing persistence.
Concerned about COVID-19?
Sign up now to get the most recent coronavirus headlines and other important local and national news sent to your email inbox daily.