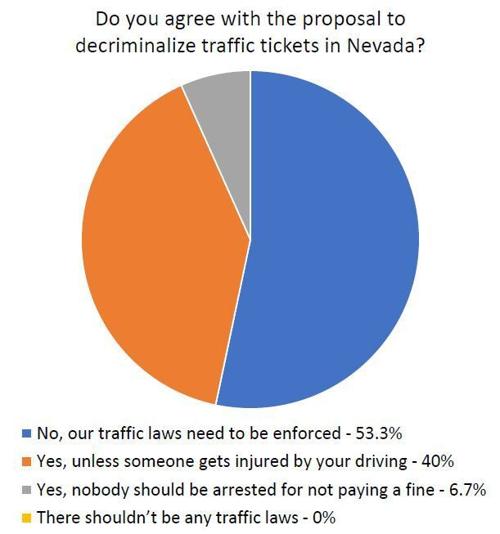 Traffic regulations make our streets safer, everyone should agree.
But is the practice of fining people for violating them – and arresting them if they fail to pay the fine – a legitimate tool of law enforcement or just a way for local governments to pad their budgets at the expense of people who are too poor to pay fines?
Nevada lawmakers took up the issue for the fifth time this session, pointing out that our state is one of only 13 to still criminalize traffic tickets.
"Minor traffic offenses are considered criminal misdemeanors that — if unpaid — escalate to warrants that can lead to arrest and are punishable by up to six months in jail," explained The Nevada Independent in its coverage of Assembly Bill 116. The bill would make them civil infractions not punishable by jail time.
Readers who answered a poll at elkodaily.com were split on their opinions of the bill. Slightly more than half (53%) did not want to decriminalized traffic tickets. A total of 40% said they should be decriminalized unless someone gets injured by your driving. Only 7% said "nobody should be arrested for not paying a fine."
Traffic ticket revenue mostly goes to local court systems and can be significant in smaller, rural counties. Clark County estimated it would lose only about $13 million of its general fund revenues of $1 billion if the law were passed. Lincoln County lost about a quarter of a million dollars from fines during the pandemic, when police were minimizing their exposure to the public. That was a significant chunk of its $4 million budget.
Any revenue needs to be balanced with the cost of enforcement. The group Americans for Prosperity says that issuing warrants is "a counterproductive and expensive method of coercing people to pay a traffic ticket." They say the average person arrested in Clark County on a traffic warrant spends almost three days in jail at a cost to taxpayers of over $400 per day.
The revenue from traffic tickets should be enough to cover the costs of enforcement, but balancing the books is not what this law is about. The premise is the same as the one used to argue that people accused of a crime shouldn't have to pay bail if they are unable to afford it.
"The reality is that most unpaid traffic tickets are a consequence of valid inability to pay or simply a matter of an individual forgetting the date their payment was due," stated Americans for Prosperity.
Those arguments don't hold water with a majority of Elko Daily readers. Anyone who can afford to make car payments, buy gas and insurance should be able to pay a $200 speeding ticket if they make the choice to exceed the speed limit.
While "forgetting" a payment is easy to do with something like car registration – especially if you miss the reminder that is supposed to get sent to you each year – a traffic ticket comes with a clear due date. The reason someone might procrastinate to the point of missing the deadline is the same reason people violate laws such as speed limits in the first place: they don't really believe that the laws should apply to them.