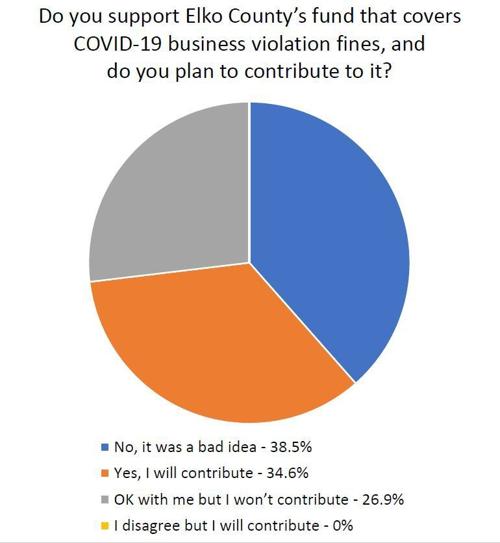 Elko County got the state's attention this month when commissioners passed a resolution establishing a fund to compensate businesses fined for COVID-19 violations.
A handful of rural counties began revolting in the New Year as Gov. Steve Sisolak's coronavirus restrictions continued to hamper local economies – particularly restaurants, bars and casinos. Facilitating a fund to cover fines took the issue a step further, enabling local communities to subvert state authority over what have largely been seen as the key safety measures needed to battle the pandemic.
Most people who responded to a poll this week at elkodaily.com were fine with the idea. A little over a third (35%) said they would contribute their own money to the fund, while another 27% said they agreed with the idea but wouldn't contribute. A minority of 38% said it was a bad idea.
Resistance to COVID restrictions has been strong in Elko. It grew over the summer as it became apparent few people would die from an infection, and grew even stronger by year's end even as the death toll began to rise. As many people died from coronavirus in December (17) as had in all of the prior months combined.
Meanwhile, enforcement of restrictions was not being done in an even-handed manner. The state agency headed by former Elko City Manager Terry Reynolds was hardly equipped to launch or maintain a statewide enforcement campaign. A few small businesses here and there got hit with hefty fines, while some larger businesses paid no fines at all.
The number of active COVID cases peaked here in early December at over 600, then dropped in early February to near 100. Since then the rate has hovered in the 140-150 case range.
Even with the lower numbers, socially oriented businesses were kept restricted to 25% occupancy under Sisolak's extended "pause" orders. The time was ripe for a revolution.
Much of the work on the county's resolution was done by Rex Steninger, a county commissioner and former Elko Daily Free Press editor and publisher; and Lee Hoffman, chairman of the county's Republican Party and a former city councilman.
Steninger argued that the restrictions were in violation of the First and Fifth Amendments, and not based on science. He cited the conclusion of tens of thousands of medical professionals who passed their own declaration saying "Current lockdown policies are producing devastating effects on short and long-term public health" and "Keeping these measures in place … will cause irreparable damage."
Sisolak further extended his "pause" this week, although the governor did ease business restrictions slightly from 25% to 35% capacity, with the promise of increasing it to 50% a month from now. And his latest action did include a dim light at the end of the tunnel. Sisolak said he would turn control of some decision-making over to local governments on May 1.
"Statewide directives will still remain in place to control the spread of COVID-19 — including, but not limited to, mask requirements and social distancing protocols — but decisions about how many people can be in a business at any one time and how large or small public or private gatherings should be will be left up to local governments," reported The Nevada Independent.
How well this system will work depends in large part on the virus itself. Will case numbers continue to decline as more people get vaccinated, or will new variants of the disease result in even worse outbreaks than we have already endured? If going into a crowded bar without a face mask is a bad idea, neither is it safe to make any assumptions about what the future of life under the coronavirus will bring.
When Joe Biden was running for president he called for mandatory face masks and for "Local authorities to also make it mandatory to buttress their state orders." Now we are being told by Nevada's governor that it is safe for local authorities to set their own rules.
Maybe more local control – or at least some communication — would have helped from the beginning. It is a well-known fact of human behavior that people are more likely to follow rules when they are involved in creating them.