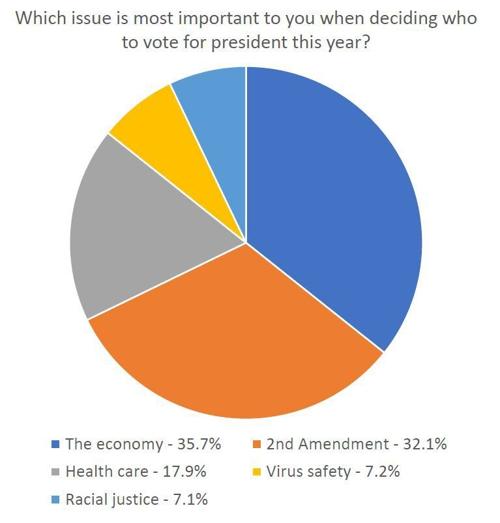 Elko Daily readers are less concerned with today's hot-button political issues than they are with long-standing concerns when it comes to electing a president.
This week's poll asked readers to pick one of five topics as the most important when they cast their votes in November. The economy was number one, followed closely by the Second Amendment. Health care was third, with only a small fraction choosing coronavirus safety or racial justice.
More than a third (38%) are focused on the economy, which has been battered by the coronavirus but is in much better shape than it could be during a pandemic. This is particularly true in Elko and other rural northeastern Nevada counties.
Unemployment prior to the outbreak was in the 3% range in Elko County. It briefly jumped to around 14% in April but quickly rebounded to 4%.
The stock market has also rebounded to pre-pandemic levels, after rising significantly throughout President Donald Trump's first three years in office. The lower-tax and less-regulation political environment indicated that the economy can perform better when government gets out of the way.
Mining was virtually the only sector in the state to show year-over-year growth in Nevada this summer. Metal ore mining was up more than 11% as activity continued throughout the lockdown because mines were considered essential businesses.
Gun rights have always been a big concern in rural America, and northeastern Nevada is no exception. Firearms are less essential in city environments where they are more apt to be used to commit crimes than they are to hunt for food. Whenever big-city politicians call for more gun control the main result seems to be an increase in gun sales.
The city-rural Second Amendment divide has grown larger in Nevada following legislation aimed at stopping gun violence. Large crowds turned out when Elko County took up the issues of expanded background checks and red-flag laws.
Health care is always a big concern, and it came to the forefront in Elko when Medicare patients reported they were having trouble finding a doctor. We have seen a good response to Elko's health-care challenges at the state level and hope for continued improvement when it comes to serving rural Nevada's most vulnerable residents.
While these issues have been in the news for countless political cycles, two new issues have dominated headlines throughout 2020. Of course the coronavirus pandemic has generated the greatest attention, as the highly contagious disease continues to claim lives and disrupt livelihoods.
We hear claims almost daily that the virus is being handled as a political weapon, and that the President has not responded strongly enough to stop it. Contender Joe Biden and his running mate Sen. Kamala Harris were quick to call for a nationwide mask mandate, in contrast to Trump's policy of leaving such decisions to the states.
There is also a large gulf between the candidates when it comes to the second most widely reported controversy of 2020: racial injustice. Both Trump and Biden recently visited the hotspot of Kenosha, Wisconsin with completely different perspectives on the issue.
Both COVID-19 and racial injustice are serious challenges that America must deal with in the coming months and years. When it comes to voting for president, however, rural Nevadans are more focused on the broad issues of economic opportunity, gun rights and health care.
The November election isn't entirely about nationwide or global controversies, however. We invite Elko Daily readers to learn more about local issues over the next two weeks as we present candidate forums on the races for county commission, city council, school board and district court.
Elko Daily readers can follow the action on our Facebook page as we join the Elko Area Chamber to present live forums on Sept. 9, 10, 16 and 17, beginning at 6 p.m. each day. We have also asked candidates to submit written responses to questions, and their answers will be published in the coming days both in print and at elkodaily.com.
Catch the latest in Opinion
Get opinion pieces, letters and editorials sent directly to your inbox weekly!