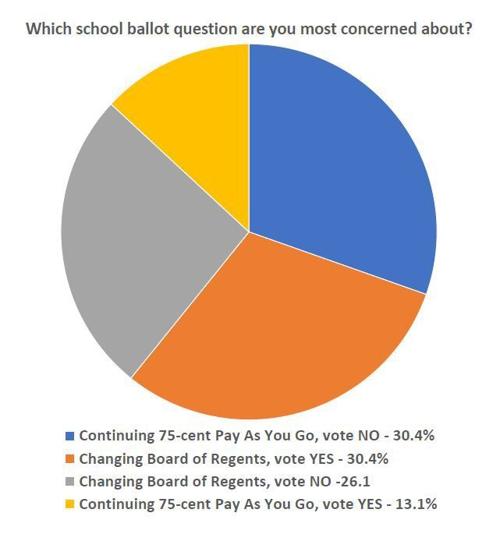 Two questions on this year's ballot could have significant implications for education: One asks voters if they want to renew the 75-cent pay-as-you-go property tax that funds school construction in Elko County; the other asks whether to strip state constitutional provisions from the Board of Regents.
Elko Daily readers who were polled about their views this week opposed renewal of the school building tax and favored changes affecting the Nevada System of Higher Education (NSHE).
Thirty percent of respondents said they would vote against pay-as-you-go, while 13% they would vote to renew it.
The school tax has served Elko County well for more than three decades, enabling the construction of new school buildings without saddling taxpayers with the high interest that would come with bonds. This was particularly important during the many "boom" years of the gold mining industry, which led to rapid population growth and forced students into modular facilities.
Elko's population is not growing as quickly as it once did. Our school district now has the highest capital rate in the state, according to official arguments against County Ballot Question No. 1, which state "This has severely limited other governmental agencies in the County from levying any additional taxes for any projects over this period of time."
The argument against passage is particularly critical of a new arts auditorium at Elko High School, pointing out that the nearby Elko Convention Center has been providing similar space at a fraction of the cost. "There is no voter oversight or approval of projects funded by this tax on a project basis," says the argument.
Supporters say without the tax, future construction projects could become cost-prohibitive. Pay-as-you-go has funded $240 million in construction projects, including the recent Liberty Peak Elementary, West Wendover Elementary, and maintenance on older structures districtwide.
Differences of opinion about the tax also came to light in a recent candidate forum sponsored by the Elko Area Chamber's Government Affairs Committee. In both contested races for open seats on the school board, the incumbents spoke in favor of the tax while the challengers indicated some of the money currently going to school construction should be available to other entities in the county for items such as a recreation center.
On the statewide ballot, Elko Daily poll respondents expressed interest in passing Question No. 1 regarding the Board of Regents. About 30% were in favor of making changes while 26% said they would vote against it.
The question asks voters if they would like to amend the Nevada Constitution to "remove provisions governing the election and duties of the Board of Regents and its control and management of the State University and require the Legislature to provide by law for the State University's governance, control, and management and the reasonable protection of individual academic freedom at Nevada's public higher education institutions."
A college degree might come in handy when trying to sort out the implications of this proposal. It is notable that supporters come from such diverse backgrounds as conservative Assemblyman John Ellison and the liberal Battle Born Progress organization.
Ellison urged voters to approve the question in a commentary published by the Elko Daily.
"The passage of Question 1 will ensure that NSHE and the Board of Regents operate with greater transparency, oversight and accountability, something sadly missing right now based on their actions," he wrote.
More specifically, he implied that the future of Elko's Great Basin College could be at stake. "During a recent NSHE board meeting, Chair Mark Doubrava suggested that colleges, like GBC, may be a target for budget reductions and even elimination," he wrote.
We have seen in recent years how community colleges, with their heavier focus on vocational education, have been devalued by the Board of Regents through changes in its funding formula.
There is no doubt that tensions over budgeting will continue as Nevada struggles to recover economically from the coronavirus pandemic. A yes vote would give the Legislature more control.
The year 2020 will be remembered for many things, not the least being dramatic changes in education. These two ballot questions were in the works long before the pandemic arrived, but they may be seen from different perspectives as we look toward the future.