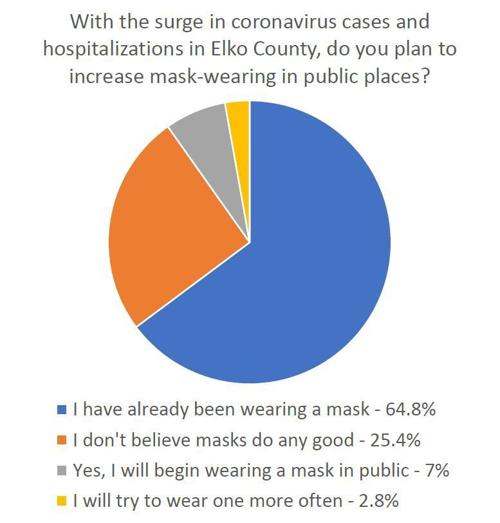 A big surge in COVID-19 cases this week in Elko County means residents are 10 times as likely to be exposed the virus as they were at the beginning of autumn.
When Dr. Deborah Birx visited with city and county officials at the end of October she predicted a major increase once the weather turned cold. Her prediction was correct, only it turned cold here much sooner than she was expecting.
This week we asked Elko Daily readers whether the rising case numbers made them more likely to wear face masks in public. Nearly two-thirds said they have already been doing so.
This was not a scientific poll by any means, but the results seem to match what we have seen when venturing out in public. The problem is that two-thirds compliance is not enough to slow a virus that spreads as easily as COVID-19. If two-thirds was enough, we would not be seeing the alarming rise in numbers that we are seeing today.
By the time this newspaper reaches homes on Saturday morning the total number of people infected by the coronavirus since the pandemic began will likely have reached 2,000 or more – roughly 4 percent of Elko County's population.
The majority of those people either did not get sick or had symptoms similar to the flu. For others – older people, and those with underlying medical problems such as cardiovascular disease, diabetes, chronic respiratory disease, and cancer – it has resulted in serious illness or death.
Hospitalizations in Elko County jumped from five at the end of October to 18 by Nov. 4 and now stand at 14. Deaths have nearly doubled from eight at the start of autumn to 15 as of this week.
Wearing a mask in public would seem to be the courteous thing to do for anyone concerned about our most vulnerable residents. Yet resistance remains high. One out of four people who responded to our poll said they do not believe masks do any good.
Confusion about the efficacy of masks was understandable in the early days of the virus. Early recommendations from public health experts such as the World Health Organization did not include the widespread use of face masks. The fear was that there would not be a big enough supply for health professionals and the public at large.
That advice changed, and Elko County has been recommending face masks for months now. Nevada Gov. Steve Sisolak even issued a statewide mask mandate at the end of June, although it did not include any enforcement provisions if someone chose not to wear one. The only penalties have been fines against businesses that do not enforce the mandate.
This week, Sisolak warned Nevadans that new restrictions could be coming in two weeks if the surge is not brought under control. Like in many other states, Nevada's hospitals could soon be reaching capacity because of the increase in patients.
With the possibility of another "lockdown" looming, or increased restrictions on businesses, it makes sense to take any steps possible to reduce the spread of coronavirus in our community. The dynamics behind this happening go beyond political pressures, as we have seen our governor take an approach similar to what President Trump has been so widely criticized for.
As the virus surges, both state and federal levels of government have been leaving it up to local governments to set their own restrictions. This sounds like "passing the buck" but it isn't. Our governor was thoroughly pounded over his earlier "one size fits all" approach to handling the virus in Nevada.
Any well-measured public health actions need to be taken on the local level to be effective without being overbearing. What remains to be seen is whether local governments will rise to the challenge. Here in Nevada, hospitals in the Reno and Carson City area are "on the verge of being overwhelmed," the Reno Gazette Journal reported Friday, yet Reno's mayor still had not imposed a mask mandate.
Even with masks, the Centers for Disease Control notes that social distancing must be practiced to prevent the spread of COVID-19.
Seven percent of our poll respondents said they are concerned enough about the latest surge in coronavirus to begin wearing a mask. Another 3% said they would try to wear one more often.
If they do, that will raise Elko's mask compliance from two-thirds to three-quarters of our 50,000-plus residents.
Here is what the CDC currently advises, if we want to keep our hospitals from the point of rationing care:
People age 2 and older should wear masks in public settings and when around people who don't live in their household.
Masks offer some protection to you and are also meant to protect those around you, in case you are unknowingly infected with the virus that causes COVID-19.
A mask is NOT a substitute for social distancing. Masks should still be worn in addition to staying at least 6 feet apart.
Wash your hands with soap and water for at least 20 seconds or use hand sanitizer with at least 60% alcohol after touching or removing your mask.
Masks may not be necessary when you are outside by yourself away from others, or with other people who live in your household.