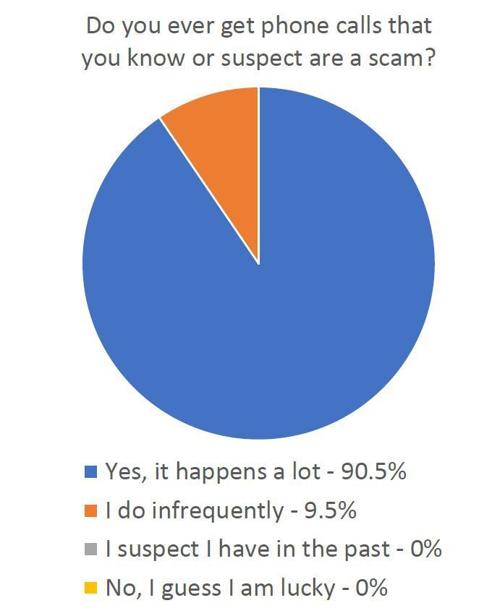 Just when you think it is safe to get back into the holiday spirit, here comes another story about someone getting scammed over their cellphone. Con artists prey on distraction, and there are plenty of distracted people to target this time of year.
A poll conducted this week at elkodaily.com found that everyone who responded has received at least one phone call that they knew or suspected was a scam – and most (90%) said "it happens a lot."
Indeed, it does. As we were writing this column we received a phone call from an apparent scammer, plus an email from our cable TV provider warning customers about imposters contacting them with threats to cut off service.
Nobody likes to be taken for a sucker, and most of these scams are easy to spot. Still, they get more sophisticated as time goes on and it doesn't matter how many people hang up on them. The scammer begins by pressing some emotional button that temporarily sidetracks your sense of reason. In order to get their illegitimate "paycheck" they only need that one elderly or gullible person to suffer a momentary lapse and fall for their scheme.
With all of the advances in today's technology and its incredible surveillance capabilities, one would think that phone scams could be made a thing of the past. There always remains a gap, however, between security and convenience.
The instrument that is currently enabling these modern-day pickpockets is the ubiquitous gift card. You see them hanging on racks in nearly every store, offering an easy way to shop for anyone without fear of rejection. It's a great way for stores – both local and with global reach – to advertise their products and finalize a sale before any merchandise is pulled from a shelf or downloaded off the internet.
Gift cards are like cash, and that is why they are so attractive to criminals. They can be used anywhere without leaving a trace.
Police have no way of tracking who cashes in a gift card, even though each card has its own identification number. Scammers know this, and they are so confident about getting away with their crimes that they are now flaunting their skills directly in the noses of law enforcement agencies.
This month, the Elko Police Department warned the public that a scammer was using the police station's phone number – verified by caller ID – to contact people with a bogus story designed to separate victims from their money.
These callers can fearlessly impersonate an officer, pull off their cleverly crafted con, and cash in without fear of being caught. In this particular case, the caller was able to convince a local employee that her manager was being questioned at the police department about fraudulent bills (the irony!) and convinced the employee to purchase a gift card with money from the till.
The Elko County Sheriff's Office reported a similar scam not long ago, in which the caller claims to be from the IRS or from the courthouse – claiming the person has missed jury duty or has a family member who is incarcerated and need bail – and convinces them to solve the problem with a gift card purchase.
Variations of the story are endless. We all wonder how anybody could be so stupid, but how many of us have been duped in similar ways against our better judgement?
Hopefully, the financial wizards behind gift card technology will someday come up with a way to trace fraudulent gift card usage. Until then, we all need to follow the simple advice of never purchasing a gift card at someone else's request – even if Caller ID says it is a legitimate party.
"Gift cards are for gifts, NOT payments," says the Federal Communications Commission. "Anyone who demands payment by gift card is always a scammer."
Better to spend your hard-earned money on buying gift cards as gifts, and spreading Christmas cheer instead of the Grinch's fear.