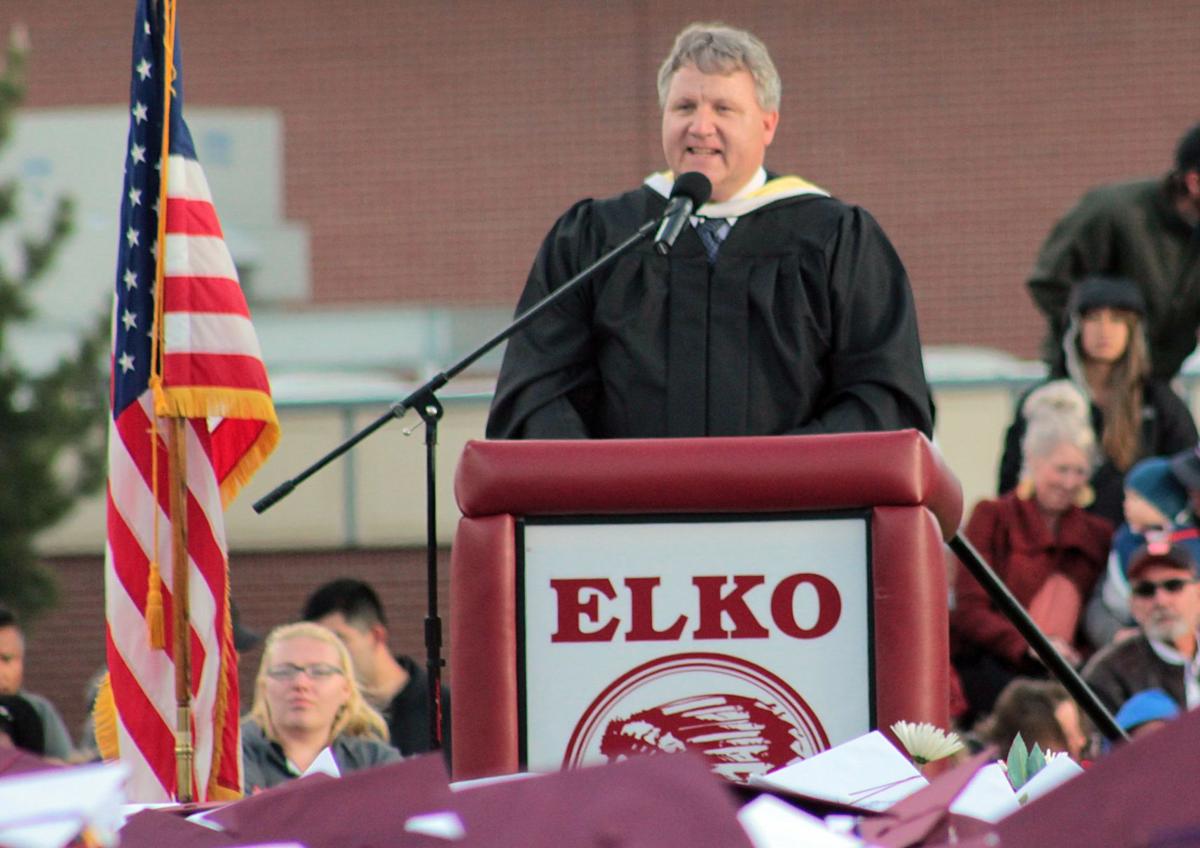 2019-20 has been a very strange year indeed for Elko High School. For our community of 1350 students and over 100 faculty and staff, our lives were suspended — left hanging in the air — with less than 24 hours notice. Schools were closed on March 15th, initially for a month, then for the remainder of the school year.
One day, our students were procrastinating the studying they needed to do for their Monday math quiz, running races and high-jumping in a track meet in Spring Creek, or playing baseball and softball on their home fields. Quite literally, the next day the school year ended. Belongings were left, inaccessible, in lockers. Missed tests not made up.
As time passed, and the novelty of an early and extended Spring Break wore off, we began to worry. Kids missed their friends and teachers. What about Prom and Senior Walk? What about learning in our classes? What about awards ceremonies? What about Regional and State tournaments? And what about Graduation?
When schools were officially closed for the remainder of the year, those questions changed from "What about ...?" to "How can we ...?" And since that announcement, our entire school community has been working hard to figure that out.
We have had to create different plans to deliver curriculum to students who don't have internet, students who have internet but no computer, students who have both, and students who have neither. We have had to figure out how to hand out 300 caps and gowns to seniors, how to deliver yearbooks, get lockers cleaned out, check in textbooks, collect student fines, and dozens of other things — all while communicating with people solely via phone or email and while observing CDC guidelines for gatherings and distancing.
Most of our students, of course, are freshmen, sophomores and juniors. For them, there is next year. Kids are tough. They are resilient and flexible and adaptable and, generally, optimistic. For 75% of our students, this crisis will probably be remembered as an unpleasant bump in the road. But for the class of 2020, there is no next year of high school. We can't make up Prom, or an athletic season, or an Awards Convocation or that very special time with your friends together at school when the weather is getting warmer and everyone is excited to finally begin their lives as adults. Not for these kids. They are mourning what has been taken from them, and we are just as sad as they are. Last Tuesday, the Elko City Council met at their regularly scheduled time although, like most meetings these days, it was done virtually with an awkward application that all of us are still struggling to master. The last topic on the agenda was the proposal for our Class of 2020 Graduation Parade. Elko High School typically applies for just one parade each year for our Homecoming celebration. This one is much different. It will be over a mile long, bumper to bumper, and will last around three hours.
This type of event presents some very real problems for law enforcement and some inconveniences for our fellow citizens as they go about their business. For these reasons, we were somewhat apprehensive. The parade is an integral part of our "Plan B" for graduation this year. It is the option that was chosen by the students in the event that our traditional ceremony is not possible. So, we were somewhat apprehensive. As it turns out, we needn't have been.
Our City Council discussed the issue only briefly. The item passed unanimously, and we were relieved. But something even more wonderful occurred. Mandy Simons offered to pay the fee personally. Mayor Keener (who paid the fee two years ago), offered to assist. Then Chip Stone. And then the entire group collectively agreed to contribute to pay the fee, noting that former Mayor Chris Johnson had also volunteered.
I find it very moving that our City Council members are so deeply invested in our community that they immediately recognize the importance of our graduation ceremony — particularly this year — and are not only willing to exercise their duties as elected officials to the benefit of our students, but also to make a personal financial contribution to this event. As Elkoans, we can all be proud that the members of our community whom we have chosen to lead us do so with such consideration and care.
Our traditional ceremony includes our Band of Indians, our entire faculty and staff, and a crowd of friends, family, alumni, and community members that regularly tops 5,000 people, making our annual graduation just about the largest single gathering of people in the county. This year, we must reinvent, and we have been very busy working on the logistics.
The Class of 2020 Graduation Parade will be the evening of Friday, June 5th. Businesses and residences along the parade route will receive a letter of notification which includes an invitation to decorate lawns or fences or just come outside to wave to our graduates and wish them well. We apologize, in advance, for any inconvenience this event may cause to the citizens of our community, but we hope that you will continue to support our efforts as we honor the EHS graduating class of 2020!
Tim Wickersham is principal of Elko High School.
Catch the latest in Opinion
Get opinion pieces, letters and editorials sent directly to your inbox weekly!