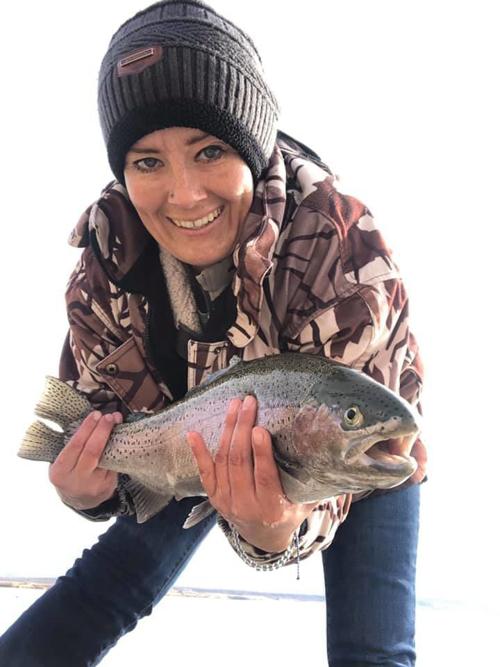 We are in that transition stage where many of our waters are covered in unsafe ice. So, little to no fishing since you can't access the water and no ice fishing because the ice is way to unsafe to venture upon. Hopefully things will turn around by New Years so that we can start getting on the ice.
Last week we talked about winterizing your spinning gear. This week let's talk about winterizing your fly fishing gear.
Waders first. Thoroughly clean and dry them before storage. Many breathable waders may be cleaned by hand washing or on the delicate cycle of a washing machine with cool water. Do NOT dry them in a clothes dryer. If you have Goretex waders, add a water repellent treatment to them to help rejuvenate the water-resistant finish and then dry using a hair drier to set the repellent.
For non-Gortex waders, hang them inside out to dry and then right side out. To store them for the winter, hang them by the suspenders in a cool, dry place out of the sun. If you don't have a place to hang them, don't fold them. Roll them up to avoid creases. This will help prevent weak spots developing on the crease which will lead to leaky waders.
For wading boots and sandals, remove any laces, wash and dry thoroughly and store them next to your waders. Add new laces if the old ones are worn. If you have felt bottoms that are becoming detached, use a waterproof glue to re-attach the old ones or add new ones.
Take the reel off your rod, take the line off of your reel and clean both the reel and line. For the reel, set the drag to its lowest setting, take the spool off and remove any dry material with a brush or compressed air. Wash with a mild detergent, dry and reapply lube to the manufacturer's specifications. Wipe excess lube off and store the reel in a neoprene reel case in a cool dry place.
Hand stretch the line to remove memory and soak it in a mild detergent that doesn't contain any grease cutting compounds. Rinse it off and dry it by pulling through a towel. For floating lines, apply a light application of fly line dressing. Coil loosely and store in a cool dry place.
Take your rod apart and put a light coating of paraffin on the ferrules. Carefully wash the rod with a mild detergent using a cloth or sponge (nothing abrasive), dry thoroughly and apply furniture polish to the rod for protection. Check the ferrules for sharp edges and have them replaced if found. Use a liquid household cleanser to clean the cork handle, rinse and dry thoroughly before storage. To help keep the handle clean in the future, apply cork sealer.
Open your fly boxes and make sure that none of the flies have rusted. Sharpen hooks and lightly lubricate any metal hinges. Make sure everything is completely dry and store in a cool dry place.
This is also a great time to empty your fishing vest or pack and remove all the extra junk that you may have put in it during the fishing season. You would be surprised at what people forget they put deep in a pocket. Re-organize the gear into appropriate pockets and make a list of what you may need to replace. It is recommended that all tippet and leaders be replaced annually.
Once spring comes all you have to do is put your line back on your reel, your reel back on your rod and you are ready to go fishing.
WILDHORSE
As of Thursday, the lake was completely ice covered with very unsafe ice. Unfortunately, it was raining, which will weaken the ice. The 10-day forecast is mixed with most nights in the teens and 20's and daytime highs in the 30s and even around 40 degrees, so while ice will continue to grow, safe ice is still some time away. The campground is open and on a first come, first served basis.
SOUTH FORK RESERVOIR
As of Wednesday, the lake was still ice free. There were even some boats on the water. Trout fishing has finally gotten good here with a number of angler reporting limits of three to five-pound trout! Coyote Cove is still producing some nice fish averaging 14 to 18 inches using worms or PowerBait. Fly rodders from float tubes and boats have done well with sparsely tied leech patterns along the weed beds at the south end of the lake and anywhere there is a ledge dropping off into deeper water. One angler reported catching a number of fish in the 15 to 20 inch size using a size 4 olive bunny leech with some red flash in the body. Fishing is fair to good from the main boat ramp cove up to the dam. Black leeches have worked at the south end and chironomids were working at the main boat ramp cove. Other flies to try include black, brown or wine colored wooly buggers and leaches, hares ears, prince nymphs, Carrie specials, balanced leeches and copper Johns. For spin anglers dark spinners with gold or yellow contrast colors and minnow imitating lures should all work. Bait fishermen should use very small worms on a small hook or PowerBait rolled into a bell shape and floated off of the bottom using a slip sinker. Bass fishing is probably done for the year.
JIGGS/ZUNINO RESERVOIR
This impoundment is covered in unsafe ice with the aerators running to prevent a winter fish kill. There will be no fishing report until spring when it becomes ice free.
WILSON RESERVOIR
No recent fishing report from Wilson. It may still have some open water like SF. Generally, the same presentations, flies, baits and lures as used at South Fork should also work well here. With this week's precipitation, expect 4WD conditions to get to Wilson Sink Reservoir.
You have free articles remaining.
RUBY LAKE NWR
Water levels in the collection ditch are low and clear and fishing for trout is fair to good depending upon the day. However, some parts of the ditch are icing up. Stormy, windy or cloudy days seem to be the best. Anglers would do well to target areas where springs flow into the ditch or around culverts that create some flow between the ditch and the units. Very small dark flies fished dry or just under the surface have worked as have streamers and spinners. Anglers should also plan to use the usual small nymphs such as PT's, hares ears, olive soft hackles, red or blue copper Johns and prince nymphs in sizes from 14 to 18. Wooly and crystal buggers in black, purple or olive are also working. Egg patterns should be working now. There was about an inch of unsafe ice at the main boat ramp. Travel over Harrison Pass is not recommended.
JAKES CREEK/BOIES RESERVOIR
Jakes Creek was covered with approximately 2 inches of unsafe ice.
COLD CREEK RESERVOIR
This lake is at about 80% capacity and was 100% open water as of Thursday, with fish rising to small midges.
CAVE LAKE
Due to work that needs to be done on the dam, the water level is down about 12 feet and is covered with approximately 2 inches of unsafe ice. With the dropping of water level and the recent precipitation the shores are VERY muddy and since there isn't open water, anglers should stay away for now.
COMINS LAKE
Has ice ranging from two to four and a half inches. The thicker ice is at the south end and some anglers have been catching nice trout through the ice. Anglers should drill test holes as they venture onto the ice to check for thickness with the variable weather.
ILLIPAH
Illipah is completely covered in two to three inches of porous unsafe ice and is spilling.
This lake is covered in unsafe ice.
Angel Lake is completely frozen over and the road is closed for the winter, so there will be no fishing reports until late next spring or early next summer depending upon winter weather.
The high mountain lakes are iced over and there will be no fishing reports on the high mountain lakes in the Rubies or East Humboldt's until late next spring or early next summer depending upon winter weather.
STREAMS
With low flows, cold nights, rain and snow, fishing is slow on the streams and streambanks are difficult to navigate. Recent precipitation has the streams flowing a bit more but they are turbid. Nymphs and small streamers should be working though expect bites to be very subtle in the cold weather. Fishing the tailwaters below both Wildhorse and South Fork dams has been good for reservoir sized fish and flows below South Fork Reservoir have picked up making the water turbid but fishable. As of Thursday, the East Fork of the Owyhee flowing at 41 cfs near Mountain City, the Bruneau River up to 39 cfs but you have to get there from Idaho, the Jarbidge River at 7 cfs, Salmon Falls Creek at 70 cfs, Lamoille Creek at 5 cfs, South Fork of the Humboldt between 25 and 40 cfs, Cleve Creek at 9 cfs and Steptoe Creek at 5 cfs.