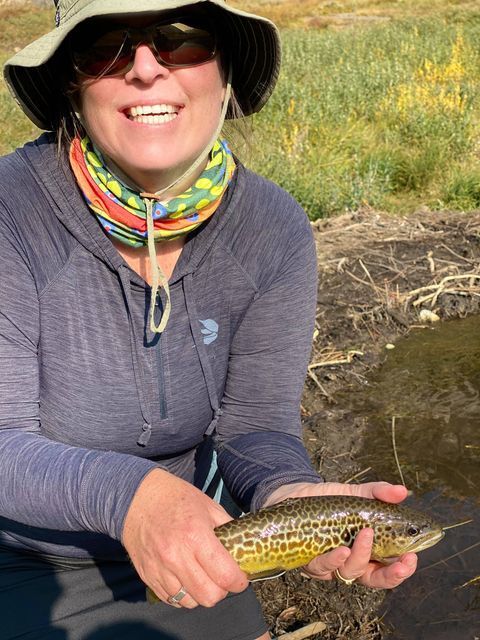 Last Saturday night's precipitation helped clear the air of smoke and haze. The cold front that came through this past Wednesday finished the job and we are having beautiful fall weather perfect for fishing.
Surface water temperatures have dropped into the 50s and in some areas, mostly high elevation lakes, are approaching 50 degrees. This is starting to kill off some of the weeds which in turn is causing leeches to search for new homes. Area reservoir trout are targeting leeches. Fly rodders, you know what to use.
Brown and brook trout are in their spawn and in the streams that call these trout home, egg patterns should work. Suspend an egg pattern below a hopper or caddis dry fly pattern can be deadly. Bait anglers may want to use processed salmon eggs or a small piece of orange or red PowerBait rolled into a ball to target fish in these waters.
The other byproduct of the colder weather and shorter days are the plants going dormant and cutting back on their water usage. This frees up water and increases flows in area streams. Because of the very dry summer, every little bit of extra water helps.
Despite a slight increase in flows, they are still well below average in many areas in eastern Nevada. Anglers really need to step up the quality of their rain and snow dances because it is looking mighty grim for moisture over the next week or two.
Wildhorse
Surface water temperatures have dropped into the 50s and while the algae is dying, there is still some suspended in the water. With overnight lows below freezing, the algae and weeds are disappearing, all that is needed now is for a big wind event to break them up. Trout fishing has been spotty, with anglers having both good and bad days. Fishing for perch is still good for numbers and fair to good for size. Bass fishing is fair. Find the perch and you should find the bass as they fatten up for winter. The usual PowerBait and worms for bait anglers have been working for trout. For fly fishermen midge larva, hares ears, and PT nymphs are good patterns to use under an indicator. Black or olive wooly and crystal buggers are taking fish as well if you can get them deep enough. Balanced leeches under an indicator have also been effective, especially if there is a chop on the water. Most anglers are fishing Penrod and Hendricks arms. However, when fishing is slow in the arms, anglers should move out to the main body of the lake, especially the south end. Target perch in just about any cove with some vegetation. Fishing below the dam is fair using hoppers and other dry fly patterns and fair to good swinging streamers and dead drifting nymphs. Silver or white minnow imitations have been working in the stream for spin anglers, but with shallow water fish the deeper pools and runs.
South Fork Reservoir
Fishing for trout is picking up with anglers reporting productive mornings on the lake especially at the south end and in the larger coves. Bass fishing is slowing down but anglers continue to catch nice sized bass. Surface water temperatures are have dropped into the 50s and algae is starting to clear. Aquatic plants are also starting to die off. Fly fishermen are catching fish at the south end of the lake along the dying weed beds using black or brown leech patterns with an intermediate sink line. They also continue to have success fishing chironomids (midge larvae) or small nymphs in black or red under an indicator. Fishing snow cones and midge larva a foot off the bottom in four to 10 feet of water is working well. Fishing mud bottoms with these presentations on the northwest side of the lake has been effective. Trout are moving into the coves as the water cools and fishing from shore has definitely improved. Bait anglers have had success using nightcrawlers with a bit of PowerBait or a marshmallow to help them float off the bottom. Bass fishing has been fair to good for both smallmouth and largemouth using soft plastic baits in dark colors near structure. Fishing below the dam in the river has been slow with very low flows. The state park campground is open at 50% of capacity. South Fork was stocked with 9 to 10 inch rainbow trout this week.
The water level is average for this time of year and surface water temperatures have dropped into the 50s. Fishing is picking up for chunky 12- to 15-inch trout and bass fishing is fair to good. Just like other reservoirs, the trout are moving up in the water column and into shallower water.
The water level is very low and weeds are thick in the south marsh, but you can still launch a boat at the main boat landing. However, launching anything but a canoe or kayak at the Narciss boat launch is not recommended. Bass fishing is just fair with the cooler weather and water though larger bass are caught this time of year. The best tactic continues to be four-inch soft plastic jigs rigged weedless. Just fish them more slowly than during the heat of the summer. Dark colors such as black, blue, motor oil and guacamole with flashy flakes in them seem to work the best. Fishing is good for 10 to 13-inch trout at the collection ditch which has been planted with approximately 7,000 trout over the past few weeks. Water level in the collection ditch has improved and large browns and tigers are on the prowl during this fall spawning season.
JAKES CREEK/BOIES RESERVOIR
Little or no change here. The water level is down due to irrigation, but normal for this time of year and with the weed growth, fishing from shore is still difficult, though aquatic vegetation is starting to die. Anglers should plan on fishing from a small boat or float tube and cast back towards the weeds for both bass and trout. Both bass and trout fishing is fair to good though bass fishing is slowing.
The water level is low but fishing is fair to good for both trout and bass. Best times seem to be early morning here as the trout can be seen taking insects off or just below the surface.
Very little change here as fishing at Cave Lake has been fair to good for eight to 10-inch trout, with very low water levels due to a drawdown due to concerns with the dam.
Comins Lake has water temperatures in the 50s and both trout and bass fishing are fair to good. Fly fishermen should use wooly buggers, leech patterns, and nymphs patterns (midges, beaded pheasant tails … etc.) fished under an indicator. Bass fishing is still good and anglers are reporting decent sized bass using soft plastics, crankbaits and poppers on quiet evenings and mornings.
Fishing has been fair to good all summer and should be good as the trout start to prepare for the long winter under the ice. The usual worms under a bobber or PowerBait fished off the bottom with a slip sinker are working as are small spinners and rooster tails. Give the spinners and rooster tails a few seconds to sink before starting to reel them in. If using a bobber, put your bait about 18-inches to two feet below the bobber. For fly rigging a dry and a dropper is still working. Good flies for the dry are hoppers, yellow stimulators and humpies. Yellow or red seem to be the colors that work best for dries and olive or peacock for the droppers.
With the hot dry weather, access to the alpine lakes in the Ruby Mountains and East Humboldts is good. However, with below freezing temperatures at night expect skim ice first thing in the morning on the higher elevation lakes. As we get closer to November these lakes should start freezing over. The fish in these high mountain lakes are very cooperative and the further you get from the trailhead the better the fishing. With shorter days the fish are putting on the feedbag anticipating the long winter ahead.
The colder water temperatures and nights below freezing have shut off most hatches in area streams, but there are still some small caddis and stonefly hatches here and there. While trout are still taking a few dries, be ready to switch to sub-surface flies if these aren't working. Fishing continues to be good at the beaver ponds in Lamoille Canyon and other streams in the area, especially those that hold tiger, brook or brown trout.
Be the first to know
Get local news delivered to your inbox!