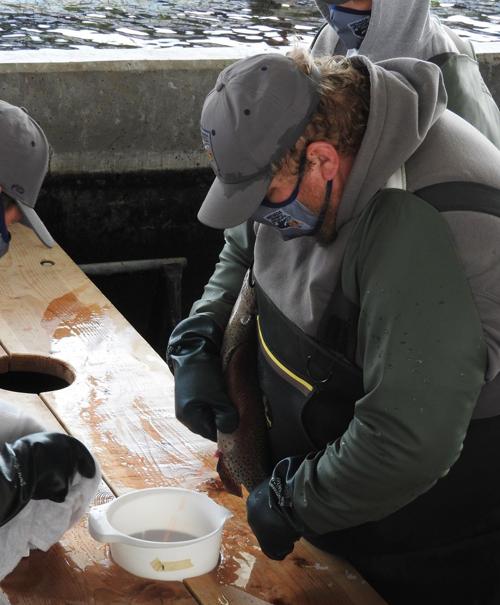 A couple of weeks ago we discussed the gear needed for ice fishing and some basic techniques, but didn't go into much detail on the techniques end. Ice fishing has been good at for trout at Comins Lake in Ely and for perch and trout at Wildhorse Reservoir in northern Elko County.
There are a number of techniques for ice fishing for trout and they are pretty straightforward. The easiest is the same as bait fishing for trout, with hook, some bait (worm or cheese type) and a bobber.
When fishing for trout through the ice, they will often be in water between six and 12 feet deep and generally somewhere in the middle of the water column. Set the bobber so that the bait is suspended about four feet under the ice and wait for a bite. If there are no takers after about a half hour, drop the bait down about a foot and try again. Continue this until you find the depth they are at.
Another popular method is jigging for trout. Take your favorite trout spinner, spoon or a soft plastic grub, and tip it with a small piece of worm. Again, start fishing about four feet below the ice only no bobber this time. Lift your rod up every 30 seconds to a minute and let your presentation settle back down. Often the strike comes on the downfall so be ready.
Target perch in 25 to 35 feet of water and get your presentation right on the bottom. For the best chance at catching a fish, the bait needs to be within a foot of the bottom. Again, using a very small jig, tip with a piece of worm or mealworm, lift the rod up every minute or two and let the presentation settle back to the bottom.
Perch bites are very subtle, so you will need either a lighter rod or add a spring to the tip of the rod that will show when the fish are biting. Give the perch a chance to get the bait in their small mouths, so don't always try to set the hook the second the rod moves. If you miss the bite, don't pull your line in to see if you have any bait left right away, let it settle down to see if the fish will come right back and try again.
Perch travel in schools so once you find them, they often provide good action for a while, so make sure to take the kids along. Perch fishing is great fun for the whole family.
Wildhorse
The ice is continues to improve averaging about 10 inches as of Thursday and in some areas approximately a foot. It rained here on Wednesday which knocked down much of the snow cover on the ice making walking easier. With the warm weather of the week, expect some water on top of the ice in the afternoons. The pressure ridges have settled down but still use caution around them. There is little snow on the ice or on shore so leave the snow machines at home. Very little change in fishing conditions though as anglers are doing well for both perch and trout. Perch were being caught in 30 to 35 feet of water using small plastic grubs or lures tipped with a bit of worm right off the bottom. Trout were being caught in shallower water, 10 to 12 feet, fishing about halfway up the water column. Location doesn't seem to be as important as fishing conditions were similar in Penrod, Hendricks and off the state park boat ramp. Worms were working for trout. Many perch between nine and 11 inches are being caught. Trout were averaging between 14 and 18 inches. The river below the dam has low flows and the shorelines are very icy but fishing the pools has been fair to good using streamer patterns and nymphs for fly fishermen and minnow imitation lures for spin fishermen. Wildhorse was stocked with just over 100,000 trout in 2020.
Still a bit of open water by Jet Ski Beach, but most of the lake is ice covered. A few fish are being caught along Jet Ski Beach. In some areas, like the main boat ramp, the ice is averaging five to eight inches, while in others it is only a couple of inches thick. If you do decide to fish some of the areas, please make sure to drill test holes as you venture upon the ice due to the variable conditions. Fishing below the dam in the river has been slow with very low flows. South Fork was stocked with almost 107,000 trout in 2020.
No recent report, but this lake often mimics South Fork so expect it to be covered in borderline safe ice. Expect the road to be 4WD only with the recent precipitation.
The collection ditch has plenty of open water for fishing, but travel is through Secret Pass as Harrison is rough going. With the warmer weather and winds this week, much of the collection ditch has open water for fishing. Water level in the collection ditch is up, especially as you get closer to Brown Dike, which is good news for anglers. The water clarity is variable, being murky in some parts and clear in others. Anglers report catching fish averaging 12 to 16 inches at the collection ditch using balanced leeches, crystal buggers, #14 hare's ears, and #16-18 PT nymphs. Other flies working include the usual small nymphs, olive soft hackles, red or blue copper Johns, prince nymphs and egg patterns. Small brightly colored spinners were doing well for spin fishermen.
JAKES CREEK/BOIES RESERVOIR
Jakes Creek is covered in ice except for a small patch of open water at the shallow end. By the dam there is seven inches of ice and anglers have been fishing through the ice with good results for 10 to 15 inch trout.
Cold Creek Reservoir has open water for shore fishing, with a few fly rodders catching some 10 to 15 inch trout using small nymph and chironomid patterns. Green or olive colors seem to be the best. A total of 4,050 Rainbow Trout were stocked into the reservoir in 2020.
Comins has 10 to 12 inches of good ice and fishing has been good. Worms seem to work best through the ice though PowerBait is also catching some fish. Jigging with minnow imitations can also work. Anglers please note that NDOW has placed radio tags in several Northern Pike. These pike will have an orange floy tag near their dorsal fin and a small antenna coming from their stomach. Please return these fish to the water for research purposes. If it doesn't have the transmitter tag, please humanely dispatch the fish. Don't put it back in the lake.
Illipah has about eight inches of ice and fishing has been fair to good. Black or olive jigs tipped with worms jigged slowly often works well through the ice here. Anglers may also have luck with just worms or PowerBait.
Snow, ice and muddy bank conditions are making fishing difficult. With the colder temperatures, stream fishing is slow to fair. Expect the fish to be sluggish and anglers will need to put their presentations right in front of the fish and work them slowly. Stream flows have changed little in the last week and are still very low. As of January 14, the East Fork of the Owyhee has very low flows and is showing ice at the gauging station, the Bruneau River also showing ice and travel is not recommended here, the Jarbidge at 6 cfs (access through Idaho), Salmon Falls Creek at 63 cfs, Lamoille Creek showing ice but a couple of weeks ago was at a low 3 cfs, the South Fork at a low 9 cfs, Cleve Creek at 5 cfs, Steptoe Creek at 3 cfs and Kingston Creek at 2 cfs.