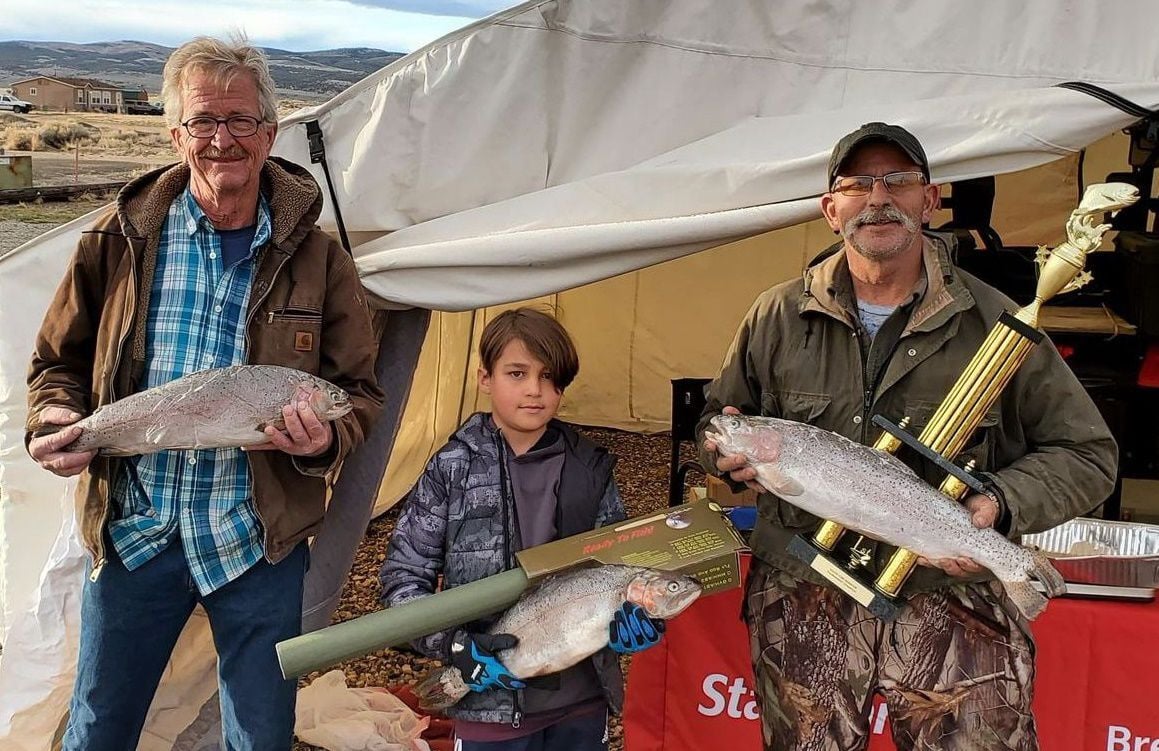 Last week's South Fork Fishing Tournament saw more than 300 anglers compete for prizes ranging from $500 to $1,000 and the competition was tough. Doug Munson set the bar high with a 6.7-pound trout to take the first $500 prize in round one of the tourney.
Then 8-year-old Blake Sirotek showed that youth can be mighty too, taking round two with a beautiful 5.7-pound fish. This also put him on top of the leader board for the youth division. The third-round winner David Stephen was crowned on Friday with a 5.35-pound trout.
Saturday dawned with stormy weather and one day of fishing left. Would someone be able to catch Doug or Blake on this last day? Quite a few tried, but to no avail and Doug Munson was crowned tournament champion while young Blake Sirotek held on to win the youth division.
Elko Lions Club will be distributing all the money raised to local youth organizations who have been impacted by Covid and would like to thank all the sponsors who made this possible. Thank you to Elko Lions Club, Brent Stokes State Farm Insurance, Elko Realty, Nevada Bank and Trust, Riverton Elko and Coldwell Banker Excel for all you did to make this event possible.
In other fishing related news, join NDOW for the online presentation of "When Less is More – Midges" where you will learn about midges and how to fish with midge patterns. Ruby Mountain Fly Fishers President and Nevada record holder, for largest rainbow trout, Mike Mott will be giving this presentation on April 1 at 7 p.m. through Zoom. Go to NDOW's Facebook page or website to get the link.
WILDHORSEAs of Thursday, March 25, the ice was averaging 17 inches thick and anglers could access it though, ATVs were not recommended. By this weekend, expect very soft edges and deteriorating ice. By Sunday it may be difficult to get on the ice. Not as many anglers have been on the ice, but fishing has been fair to good depending upon the day. Perch numbers are still good, but not as many keeper sized are being caught. If you start catching a lot of small ones, you may need to move to catch keepers. Perch are being caught in 25 to 35 feet of water using small plastic grubs or lures tipped with a bit of worm right off the bottom. Trout were being caught in shallower water, 10 to 12 feet, fishing about halfway up the water column. Worms were working for trout. If you start catching a lot of small ones, you may need to move to catch keepers. Trout were averaging between 15 and 20 inches. The river below the dam has low flows and the shorelines are icy but fishing the pools has been fair to good using streamer patterns and nymphs for fly fishermen and minnow imitation lures for spin fishermen.
SOUTH FORK RESERVOIRThe lake is ice free and surface water temperatures are in the high 40s. With the warmer temperatures expected this weekend, they may even climb to around 50 degrees by Monday. The dock is in at the main boat ramp and the water level is good for launching a boat here. However, the boat ramp at Jet Ski Beach is not useable due to a drop-off at the end of the ramp which will get your trailer tires stuck. Anglers are having success with both worms and PowerBait with fish averaging 15 to 18 inches and a few over 20, though the catch rate is fair. Fish have moved closer to shore, with trout being caught 20 to 30 feet from shore. Flies that have caught fish include leech patterns, wooly buggers, hares ears and midge patterns. On windy days with the waves stirring up the muddy bottom, fly fishermen should do well fishing the edges of the mud plumes with chironomids. Fishing at Jet Ski Beach has been fair to good depending upon the day. Cloudy, windy days seem to be best for catching, while calm, bluebird days seem to be the best for fishing. Fishing in the river below the dam and above the reservoir has been slow with very low flows.
JIGGS/ZUNINO RESERVOIRThe lake is ice free with very low water levels and a soft muddy shoreline. There was a trout die off last summer, so no trout are left here. A few bluegill and bass, but no report on how fishing is.
WILSON RESERVOIRNo recent report on road or fishing conditions. Expect a rough road that is 4WD only due to recent precipitation and fishing conditions to be similar to South Fork.
RUBY LAKE NWRFishing has been fair to good depending upon the day and location, with high water levels and turbid water. The fish that are being caught are with leech patterns, balanced leeches, crystal buggers, #14-16 hare's ears, and #16-18 PT nymphs. Other flies working include the usual small nymphs, olive soft hackles, red or blue copper Johns, and prince nymphs. On warmer afternoons if you see insects hatching, switch to midge emergers, blue wing olive emergers or dries. Small brightly colored spinners were doing fair for spin fishermen. Travel is not recommended over Harrison Pass due to this week's storms.
JAKES CREEK/BOIES RESERVOIRThe lake is opening up and last week was 60% open water so may be almost ice free now. The road is muddy. No recent report on angler use.
COLD CREEK RESERVOIRCold Creek Reservoir is now at minimum pool due to outlet structure repair being done by Kinross. There is very little water and is mostly ice free.
CAVE LAKECave Lake is sitting approximately 15 feet below normal water levels and is fluctuating. The ice here is unsafe due to melting edges and water withdrawal. Give it a week or two and there should be some open water for fishing.
COMINS LAKEComins Lake is ice free. Fishing in the north lake has been very good for 14-to-18 inch trout, while the south lake seems to be better for northern pike. Worms seem to work best, though just about anything has been working. Flies to try include hares ears, wooly buggers, PT nymphs, chironomids and leech patterns. Minnow imitations and large streamer patterns have been working for northern pike. Anglers, please note that NDOW has placed radio tags in several Northern Pike. These pike will have an orange floy tag near their dorsal fin and a small antenna coming from their stomach. Please return these fish to the water for research purposes. If the pike doesn't have the transmitter tag, please humanely dispatch the fish. Do not put it back in the lake.
ILLIPAHNo recent report, but expect the ice to be softening and a ring of open water around the edge of the lake. Going onto the ice is not recommended. There should be open water later in the weekend for fishing if there already isn't some now.
The road is closed, and the lake is ice covered. There will be no fishing reports for this lake until late spring or early summer depending upon the winter.
With snow on the mountains only the most experienced backcountry travelers should attempt to reach the lakes. The lakes are frozen, and fishing is done until summer. There will be no more fishing reports for the high alpine lakes until late spring or early summer depending upon the winter.
Snow, ice, and muddy bank conditions are making fishing difficult. Stream flows are still low, even for this time of year, and fishing in most streams is slow. Expect the fish to be sluggish and anglers will need to put their presentations right in front of the fish and work them slowly. As of March 25, the East Fork of the Owyhee was flowing at 52 cfs, the Bruneau River still showing ice and travel is not recommended here, the Jarbidge is flowing at 9 cfs (access through Idaho), Salmon Falls Creek at 77 cfs, Lamoille Creek showing ice but has had flows around 3 to 4 cfs, the South Fork up a bit but still well below average at 15 cfs, Cleve Creek at 5.1 cfs, Steptoe Creek at 2.7 cfs and Kingston Creek at 2.5 cfs.