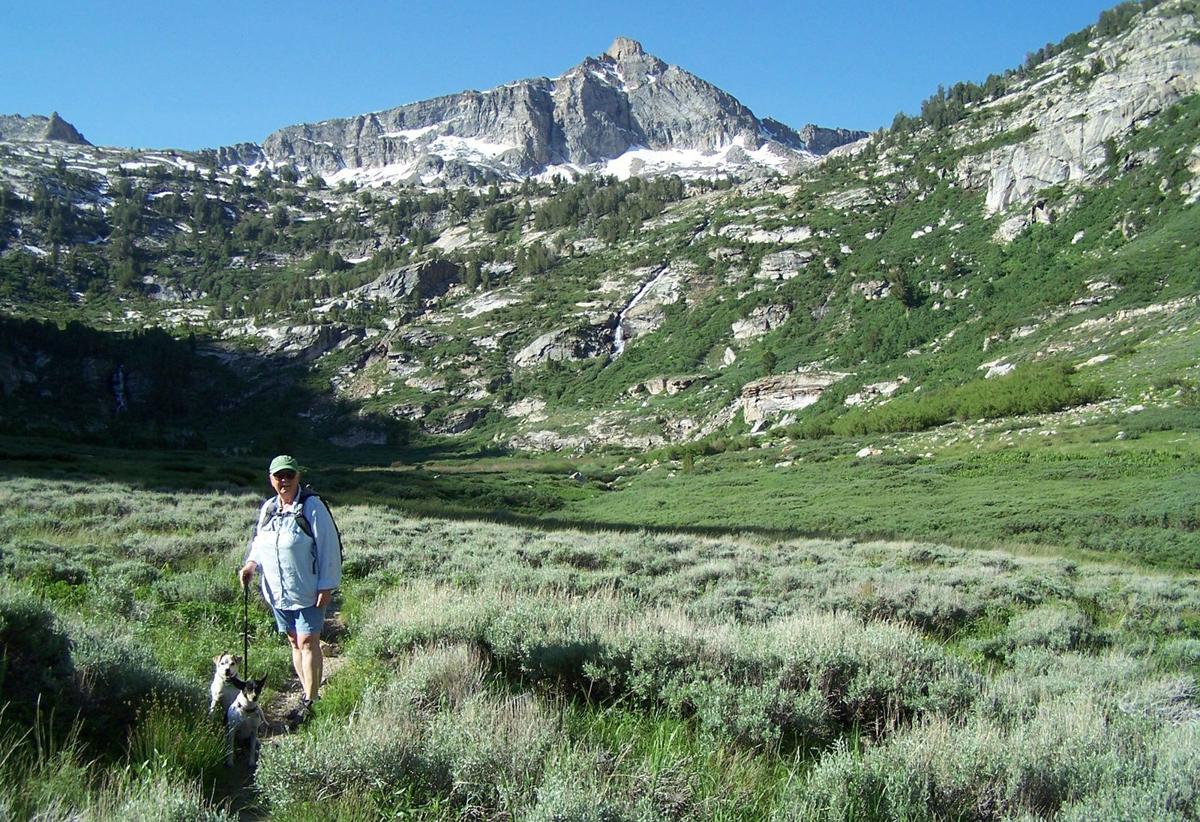 The Ruby Mountains is a range of high, rocky peaks, with many peaks rising over 11,000 feet in elevation. What follows is a tour, both driving and hiking, of the easier ones to see.
The highest peak is Ruby Dome, at 11,387 feet. It stands out boldly against the sky when seen from Spring Creek. Look for a dome or rounded shape. I think it looks like an old-style tent or a gambrel barn roof.
Just to the left (east) of Ruby Dome is a more pyramid-shaped peak, known to many as Pyramid Peak or even Stone Chair Peak but its official name is Ruby Dome-East Peak. At 11,360 feet it is the second highest peak. To the right (west) of Ruby Dome is a rather lumpy shaped peak, Lee Peak, at 11,025 feet. Farther to the left (east) of Ruby Dome-East are two peaks not easily seen, Mount Silliman, at 11,258 feet and Mount Mazama, at 11,040 feet.
As you drive toward Lamoille Canyon, pull off at Pikes Road. Look ahead into Lamoille Canyon, where you can see flat-topped Thomas Peak at 11,344 feet (third highest peak). It rises north of Island Lake but is easily seen from this spot.
Inside Lamoille Canyon, stop at the Glacier Signs and look up Right Fork Canyon for a dominant peak on the right side, Mount Gilbert, at 11,120 feet. Stop at Thomas Canyon Campground and look up Thomas Canyon for a view of Mount Fitzgerald, at 11,215 feet. Also from this spot, you can see Verdi Peak, the only 11,000-plus-foot peak to be on the left (east) side of the canyon. Verdi Peak rises between the Nature Trail and the Terraces, but you cannot really see it from the road. It can also be seen from the End of the Road, looking back down canyon. Beyond Verdi, (north) but unseen from the canyon, is Mount Talbot, at 11,080 feet.
From the End of the Road, Liberty Peak, at 11,032, stands out above Lamoille Lake. To the right is Snow Lake Peak, at 11,137 feet, but it is not visible from the road. As you hike up the Hiker's Trail toward Lamoille Lake it becomes visible across the canyon, above the Stock Trail.
Hike to Island Lake. Standing at its outlet and looking across the lake, two peaks are in view. Full House Peak, at 11,120 feet, is on the left (southwest). Thomas Peak is on the right (northwest) although the actual peak cannot be seen from the lake.
Hike to the top of Liberty Pass, so you look down at Liberty Lake, then farther south to Favre Lake and Castle Lake. Beyond Castle Lake (south) is Wines Peak, at 10,893 and left of Castle Lake (east) is Lake Peak, at 10,922 feet. While not above 11,000 feet, both are prominent peaks.
The East Humboldt Range has three peaks over 11,000 feet. These are best seen from US Highway 93, west of Clover Valley. Hole in the Mountain Peak is the tallest, at 11,301 feet. To the south is Black Top at 11,120 and Humboldt Peak at 11,020 feet.
If you want more information and maps of these peaks, a good source is peakbagger.com.
Most of these high peaks are glacial artifacts, called glacial horns. A horn is a mountain peak that once had glaciers — usually three — plucking rock from its slopes. These glaciers left behind a very rugged, rocky peak.
The most famous horn is the Matterhorn in Switzerland. Mount Gilbert, Mount Fitzgerald, and Snow Lake Peak are classic horns.
Snow Lake Peak was once surrounded by glaciers in Box Canyon, Thomas Canyon and Lamoille Canyon. Ruby Dome and the East Peak probably do not qualify as horns since only their front edges, the faces we see, are vertical walls chiseled by glaciers. Their backsides are rounded and were not glaciated.