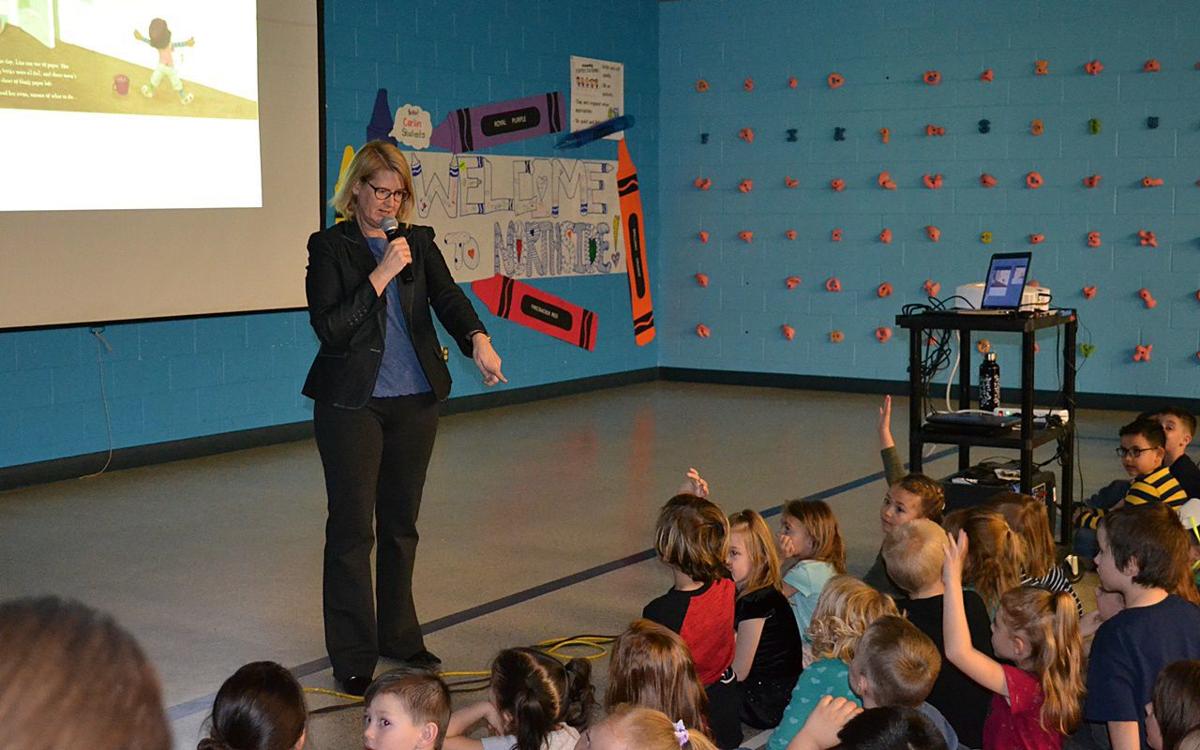 ELKO — Elko County students were able to learn "the story behind the story," in March during Visiting Author week. Hearing an author in person describe covering herself in mud, hiking up an erupting volcano and taking a dog surfing captivated students at Northside Elementary.
Sponsored by the Elko County Reading Council, local children were visited by award-winning author Elizabeth Rusch, who toured Elko County schools encouraging local children to not only read and write, but to follow their curiosity.
"I like to inspire, not just kids to read and to write, but also to be interested in this wide variety of topics," she said. "There could be budding scientists and historians, you know, so I feel like I'm not just touching them, inspiring them about writing, but also about lots of different subject matter."
Rusch is based out of Portland, Oregon. Her publications can easily be called eclectic with a wide range of topics, both fiction and nonfiction. She writes for all ages from board books to chapter books for middle grade and young adults, and magazine articles for adults.
Rusch began her presentation to the kids at Northside Elementary School by describing her form of art.
"I think everybody has in them some kind of artistry, some kind of creativity. And my kind of artistry is: I make art with words," said Rusch. "And with those words I can write about robots and dogs, and waves and mud and anything in the whole word that interests me. And that is true for you guys too."
She explained that she gets ideas from past and new experiences, from reading, and also her own interests. She told students how she loved crayons as a kid and got in trouble for coloring on things she should not have. When she became a mom, one day her own children began drawing on a basketball court with sticks dipped in a mud puddle.
"I thought, kids are so creative they can make art out of anything and that gave me the idea for my book, 'A Day With No Crayons'" said Rusch. The book is about how the main character gets her crayons taken away and then finds ways to make art in other ways.
She also encouraged students to write about things they love or are interested in and emphasized that they don't have to be an expert to do it. Rusch told students that although she's not a scientist, she has written three books about volcanos and three books about space exploration.
She went on to explain the writing process and told them what she did after she had an idea for a book. She talked about research, interviews and immersion in her subject matter. These experiences educated her and helped her write her books.
The students took particular interest and connected with her, asking a lot of questions about the immersion experiences she shared with them. She said she hoped students would get a sense of what it's like to be a writer, even if it seems hard.
"You guys can do anything that you want. You can be writers and scientists, musicians, even if it's hard you can still do it," said Rusch. "In fact, I think it's even better when it's hard because you learn more and it's more satisfying."
She told the students about the complete journey of publishing a book that includes writing several drafts and revisions, reading it aloud, and finding a publisher, editor, illustrator and getting it printed.
Rusch told students if all goes well, she will eventually find herself opening a box full of one of her newly published books.
"When I'm done I have an actual physical book and that book goes out all around the country and actually those books go out all around the world," Rusch said. "I have books translated into Chinese and Korean, so there are kids all over the world reading my books and that's amazing," she added.
Rusch was brought to the area by the Elko County Reading Council, which promotes literacy both in the classroom and at home. The organization is responsible for bringing visiting authors to local students each year.
According to council member Kathy McLeod, this year Rusch was able to give 20 presentations to more than 4,000 students, kindergarten through eighth grade, across Elko County. More information about Rusch and her books is available at elizabethrusch.com.
Be the first to know
Get local news delivered to your inbox!