STORRS, Conn. — Souley Boum scored 21 points, Colby Jones added 20 and No. 13 Xavier went on the road and held off No. 19 Connecticut 82-79 Wednesday night.
The win was the 13th in 14 games for the Musketeers (17-4, 9-1 Big East) and it gave them a season sweep over the struggling Huskies (16-6, 5-6).
Jack Nunge had 12 points and Jerome Hunter added 11 for Xavier, which led by 17 in the first half and 39-24 at halftime.
Jordan Hawkins scored 26 of his 28 points in the second half for UConn, leading a comeback that fell just short.
Tristen Newton added 23 points for the Huskies, who won their first 14 games this season but have dropped six of eight since.
The Musketeers never trailed but had to withstand UConn runs that cut the lead to a single point four times in the second half.
A three-point play from Hawkins made it 78-77 with 2:40 left. But a second-chance layup from Nunge put the lead at 80-77 just over a minute later.
Newton was fouled with two seconds left by Desmond Claude, but his apparent attempt to miss his second free throw went into the basket.
Boum then hit two free throws at the other end, and Newton's final attempt from just beyond halfcourt was well short.
Xavier jumped out to a 9-0 lead as UConn missed its first nine shots.
A 3-pointer from Zach Freemantle gave the Musketeers their first double-digit lead at 20-9, and another from Jones pushed it to 35-18.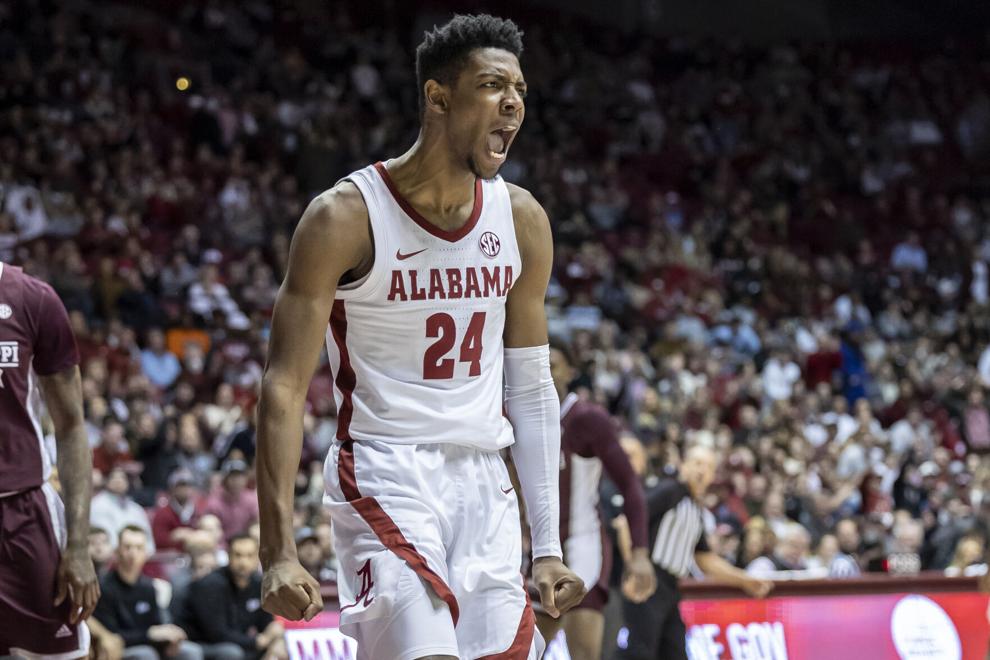 NO. 2 ALABAMA 66, MISSISSIPPI ST. 63: Jahvon Quinerly scored 14 points and host Alabama rallied from a 10-point deficit in the second half to beat Mississippi State.
The Crimson Tide (18-2, 8-0 SEC) had to climb out of a hole and then hold on two days after reaching the program's highest ranking since rising to No. 1 in the 2002-03 season. The result was a ninth straight win and the first real scare during that stretch.
The Bulldogs (12-8, 1-7) had one last chance to tie but Noah Gurley blocked Shakeel Moore's 3-point attempt in the final seconds. They had also had two potential tying shots at the end of a 61-59 loss to Florida over the weekend.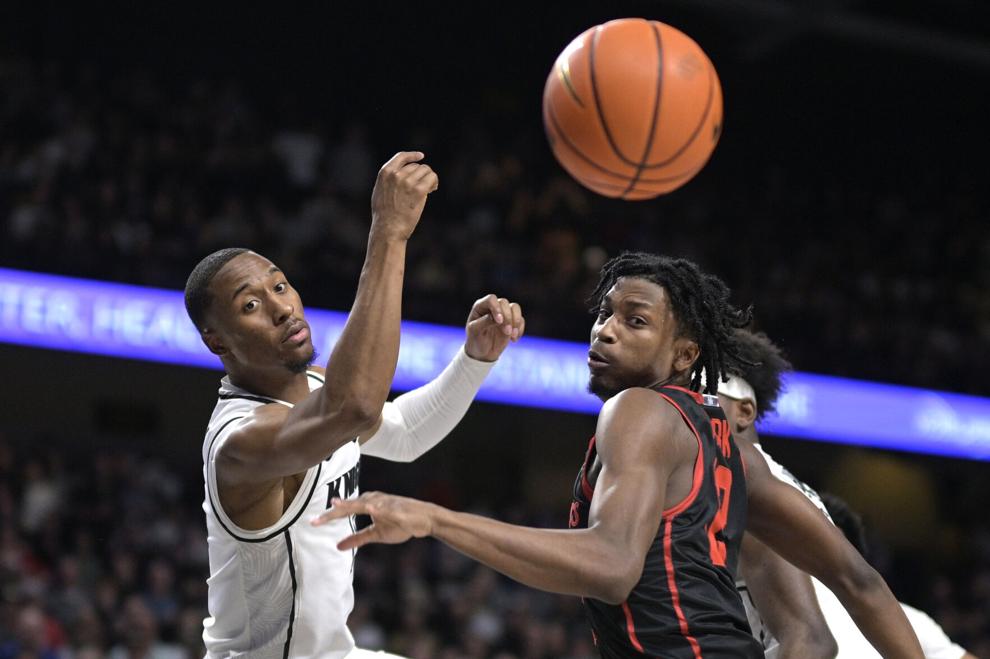 NO. 3 HOUSTON 82, UCF 71: Emanuel Sharp came off the bench to score 18 points and Houston bounced back from a loss that knocked it from the top spot in the rankings, beating UCF in Orlandon, Fla.
Jarace Walker added 17 points, Jamal Shead had 14 points and 10 assists, and Marcus Sasser also scored 14 for the Cougars (19-2, 7-1 AAC), who lost 56-55 at home to Temple on Sunday. Coach Kelvin Sampson's team is now 19-2 on the season.
Ithiel Horton scored 18 points and Taylor Hendricks had 17 for UCF. (13-7, 4-4)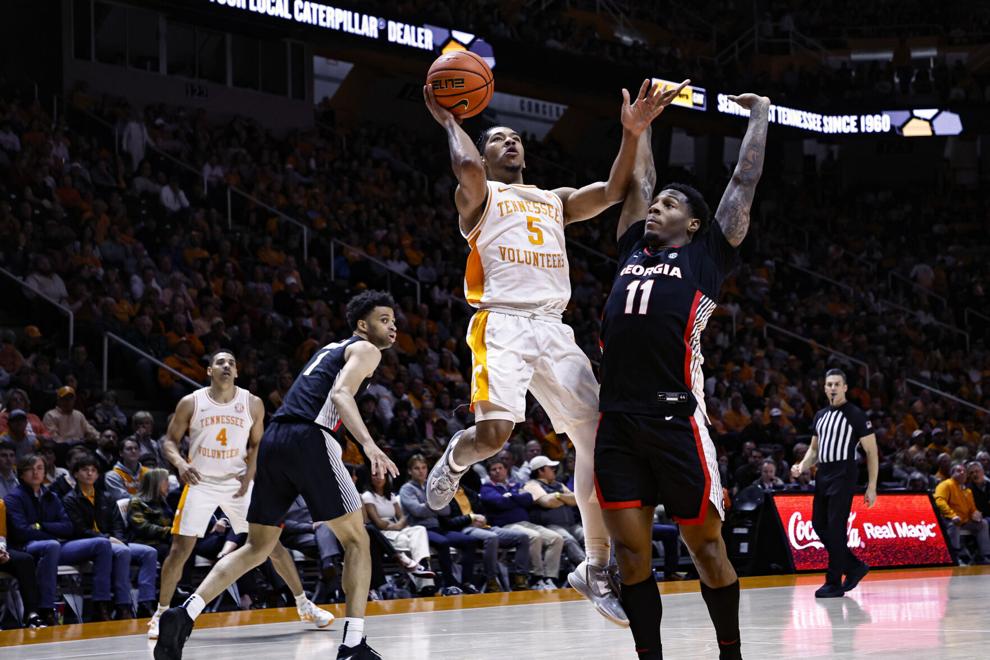 NO. 4 TENNESSEE 70, GEORGIA 41: Zakai Zeigler had 11 points and seven assists, and Tennessee held its 10th opponent to 50 or fewer points as the Volunteers routed Georgia in Knoxville, Tenn. Tennessee's 22-6 run early in the second half turned an interesting game into a rout.
Tobe Awaka came off the bench to score 10 points. Santiago Vescovi had six rebounds, four assists and six steals to go with his eight points as Tennessee (17-3, 7-1 SEC) got its first win at home since having its 25-game home winning streak stopped by Kentucky more than a week ago.
The Bulldogs (13-7, 3-4), who managed just 29% shooting from the field, were led by Terry Roberts with 11 points. 
TEXAS A&M 79, NO. 15 AUBURN 63: Tyrece Radford had 30 points and nine rebounds and Texas A&M beat Auburn, ending the nation's longest active home winning streak at 28 games.
The Aggies (14-6, 6-1 SEC) used a strong offensive start to hand Auburn (16-4, 6-2) its first loss at Neville Arena since Feb. 23, 2021. Texas A&M shot 58.6% from the field in the first half to build a 45-30 lead.
Wade Taylor IV made all three of his 3-point attempts in the first half and finished with 15 points on 6-of-9 shooting for the Aggies. Texas A&M had only made a combined six 3-pointers in its previous two games, but it matched that total inside the first 14 minutes and finished 7 of 19 from long range.
NO. 23 PROVIDENCE 79, BUTLER 58: Bryce Hopkins had 16 points and seven rebounds as Providence dominated Butler inside for a victory in Providence, R.I.
Devin Carter added 10 points and 10 rebounds for the Friars (16-5, 8-2 Big East), who have won two straight since back-to-back losses at Creighton and Marquette. Providence had a 42-24 rebounding edge and outscored the Bulldogs 48-20 in the paint.
Eric Hunter Jr. had 12 points and Jayden Taylor scored 10 with a team-high five rebounds for Butler (11-11, 3-8).