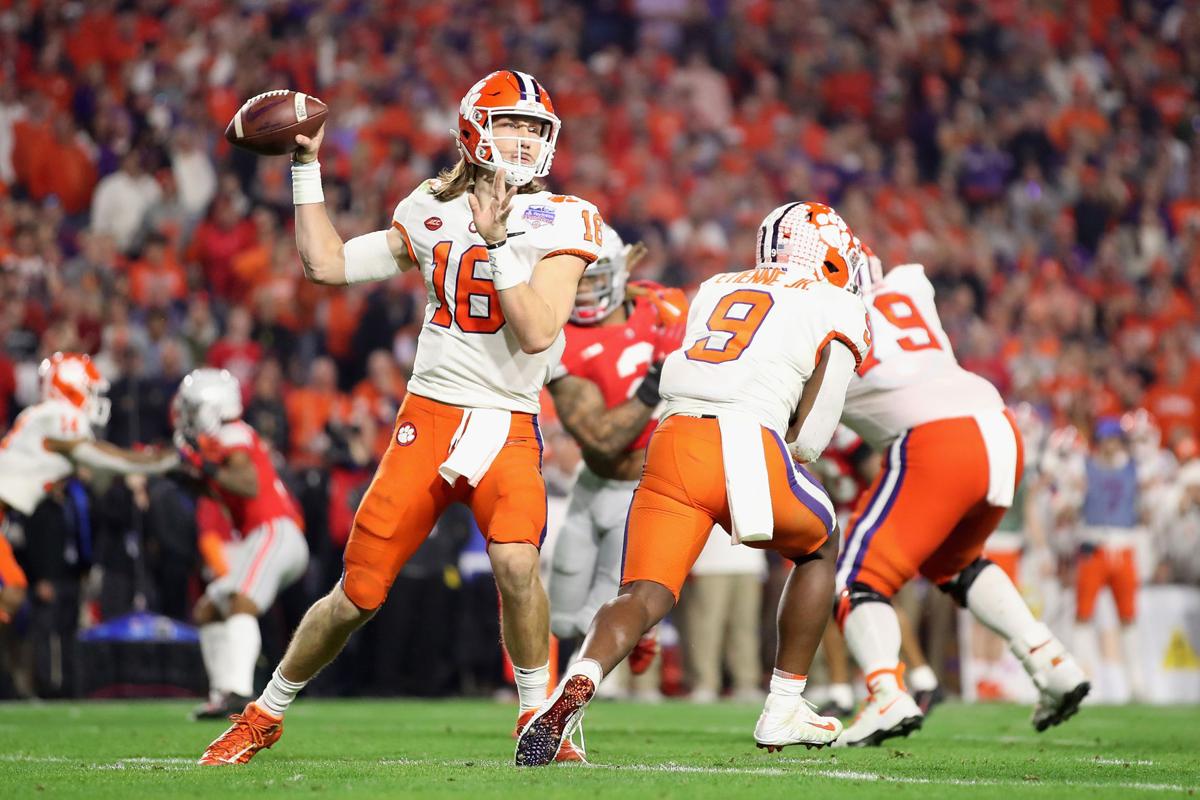 At what point does someone in a position of authority in college football look at the unsteady footing we're all on with the coronavirus pandemic and say, "Why are we pretending to have the season as scheduled?"
We've moved from how some sports could return to why they ever would in this pandemic. No big-time coach or conference wants to be the first to say so about college football, so they're making us watch them day by day, baby-step by baby-step.
Ohio State, North Carolina and Kansas had enough positive COVID-19 tests amid the shady charade of voluntary workouts to suspend summer programs. The Big Ten and Pac-12 announced this week they would only play games in conference, in a statement that had the undercurrent: If they play at all.
Those are good and logical steps, even as it's getting more difficult to see where this ends except without a fall football season. It's difficult enough for pro leagues entering an invented biosphere, like the NBA and Major League Soccer, to carry through with their plans.
The glimmer of hope remains the Europeans soccer leagues. They're playing. But their backdrop isn't the rising coronavirus issues as in America. The question with sports accompany the larger issues and, in baseball, some big names like Washington's Ryan Zimmerman and Arizona's Mike Leake say they're not even playing.
That begs the question: Will Clemson quarterback Trevor Lawrence, the hands-down No. 1 pick in the NFL draft next spring, return for this shaky season? Will anyone projected in the first round? That adds another layer to what's happening if a couple of dozen players like Miami defensive end Greg Rousseau say they're sitting this one out.
That should be a consideration for them, too. When college administrators and coaches put players at the front line of risk they forfeit the idea of having the players' best interest in mind. The campuses are empty yet practices go on. The cases rise but workouts aren't stopped in most places.
No matter how much good the planning is from coaches and athletic departments, the plan can't work. It relies on the kids acting properly. We've seen how that's gone in places far beyond the athletic fields these days. Florida International had 12 football players test positive, and were sent into a 48-hour isolation while re-testing was done. Seven of them broke isolation, former trainer Kevin O'Neill said.
That's the story all colleges have trouble with right now. It's the reason Ohio State and North Carolina simply told kids to go home rather than pretend they can keep players healthy. The simple rule for colleges should be when the campuses are deemed safe again for classes, they'll be safe again for sports.
That gets wrapped in another matrix of faculty's concerns, student safety and, yep, money. Let's not be cynical or preachy over money, too. It's a natural concern. The hypocrisy is college sports often pretend money isn't a function of their games.
The loss of a football season comes at a severe human cost beyond simply players, too. The University of Miami athletic department, like many businesses (including the South Florida Sun Sentinel), furloughed some employees. Florida State slashed its athletic budget by 20% on Friday, eliminating 25 jobs and administering pay cuts.
Stanford axed 11 sports this week: men's and women's fencing, field hockey, lightweight rowing, men's rowing, coed and women's sailing, squash, men's volleyball, wrestling and synchronized swimming. That's nearly 250 athletes and 20 coaches.
None of them are football or basketball, so it's not the headlines. It barely was headlines when the Ivy League announced it was suspending all sports until Jan. 1 at the earliest.
"It's been kind of like Santa Claus and the Easter Bunny," long-time Dartmouth football coach Buddy Teevens said to the New York Times. "You kind of knew they didn't exist, and then finally you were told."
It's time to tell everyone. It's less than two months to the scheduled Sept. 5 kickoff for Miami, Florida and Florida State. But the football season won't be happening as scheduled. The question becomes who's the first to stand up and admit that.
Be the first to know
Get local news delivered to your inbox!