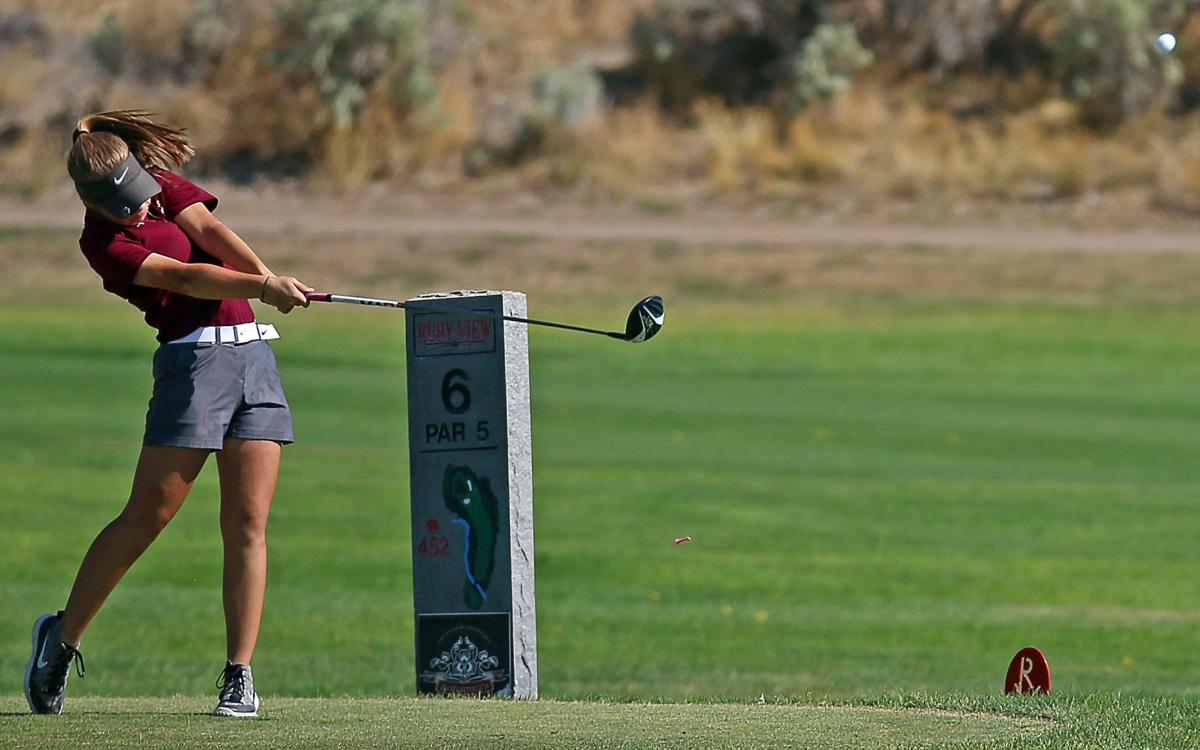 "We look pretty good," said Elko coach Jeff Sarbacker.
Despite swinging three 1st-Team All-League sticks in 2018, the Lady Indians saw their string of two Division 3A North titles come a close — Elko looking to climb back to the top of the mountain in '19.
Returning
The Lady Indians will greatly appreciate the services of senior Caresse Basaraba and junior Gabby Bement.
Basaraba gave Elko its second member of the 1st-Team All-League selections in 2018, posting a season average of 95.3 strokes.
She tied for third place in South Tahoe with a score of 91 and finished the season with a bang on her career-best 86 for fourth place in the league finale during the Lowry tournament — one in which Elko won and tied its season low with a team score of 373.
Bement made the third Lady Indian on the 1st-Team All-League selections last year, finishing the season with an average card of 96.9 strokes per round.
She came on late in the season, posting her career best of 88 in Fallon (third place) and following with an 89 in Fernley.
After a first-round 93 during the 3A state tournament, Bement bounced back and blistered an 89 in round two — finishing with a two-day total of 182 — earning a 2nd-Team All-State honor and finishing eighth overall.
At state, Basaraba struggled in the opening round with a 99 but shaved off 10 strokes in the second round — carding 188 for the tournament — also notching a 2nd-Team All-State nod and ranking 10th individually.
As a team, the Lady Indians finished third with a two-round team score of 774 — making a big improvement in round two — posting rounds of 399 and 375.
"Caresse and Gabby will be our one-two punch," Sarbacker said. "Gabby was battling some shoulder problems, but she has been looking good."
Elko will bring back two more members from its 2018 state squad — graduating just two of six members who shot at state — senior Chilz Negrete and junior AJ Anthony looking to solidify their positions as the No. 3 and No. 4 scorers for the Lady Indians in 2019.
Negrete scored for Elko during both rounds of the state tourney, making a six-stroke improvement between rounds — opening with a 116 but closing with a 110 — posting a two-day total of 226.
She finished 28th in the state.
Anthony rounded out the roster at state as a sophomore.
Like Negrete, she improved in a round two — making a huge jump — notching a 127 the first day, following with a 117 in round two.
Her two-round tally of 244 ranked 35th overall.
"Chilz never played a lot before last year and got better as the season went along," Sarbacker said. "AJ has been with us since she was a freshman, and she is playing pretty well right now."
You have free articles remaining.
Newcomers
While not new to the EHS golf program, two members will make the jump from the junior varsity to the varsity team.
"Katrina DeGuzman is a junior and Julianna Lozano is a sophomore." Sarbacker said. "They are challenging for the fifth and sixth spots to play in the varsity tournaments."
Elko's other three newbies are the definition of newcomers.
Madison Preston, Gabriella Peracchi and Reganne Wakefield are all freshman.
"Madison has some golf experience, and she is playing pretty well," Sarbacker said. "The other two are pretty new to the game, but they are progressing nicely."
Sarbacker said all nine girls in the program attended Elko's camp, noting that "shows the dedication to getting better and the program."
For the upcoming season, the Lady Indians' manager will be junior Sophie Zimmerman — who elected not to return to the Elko girls soccer team.
Key Losses
A crucial void was left by the graduation of 1st-Team All-North and 2nd-Team All-State golfer Sarah Sarbacker.
Sarbacker missed a 1st-Team All-State bid by one spot, finishing seventh at the state tournament with a two-round total of 178 on rounds of 91 and 87.
Despite missing two league tournaments with a knee injury, she was consistent all season.
In six 3A North events, she medaled five times — winning second once and placing third in four tourneys.
She finished the season with an average score of 87.7 strokes, posting a career-best 82 in Elko.
Elko's fifth score during the state tournament came from a two-round 230 by graduated Blaikley Alcorta — who carded rounds of 117 and 113 — placing 31st in the state.
Focuses
"We have to focus on our course management and chipping and putting," Sarbacker said. "When you start talking about shaving a stroke and there, the short game is the quickest place to look. We have to play smart."
Schedule
The Lady Indians will swing the clubs for the first time in a competitive atmosphere during the Icebreaker Tournament — playing Spring Creek and Lowry — at 10 a.m. Tuesday, at Winnemucca Golf Course.
Elko's first league event of the season will take place at 9 a.m. Sept. 3, at Spring Creek Golf Course, following with the Lady Indians' home tourney on Sept. 4, at Ruby View Golf Course.