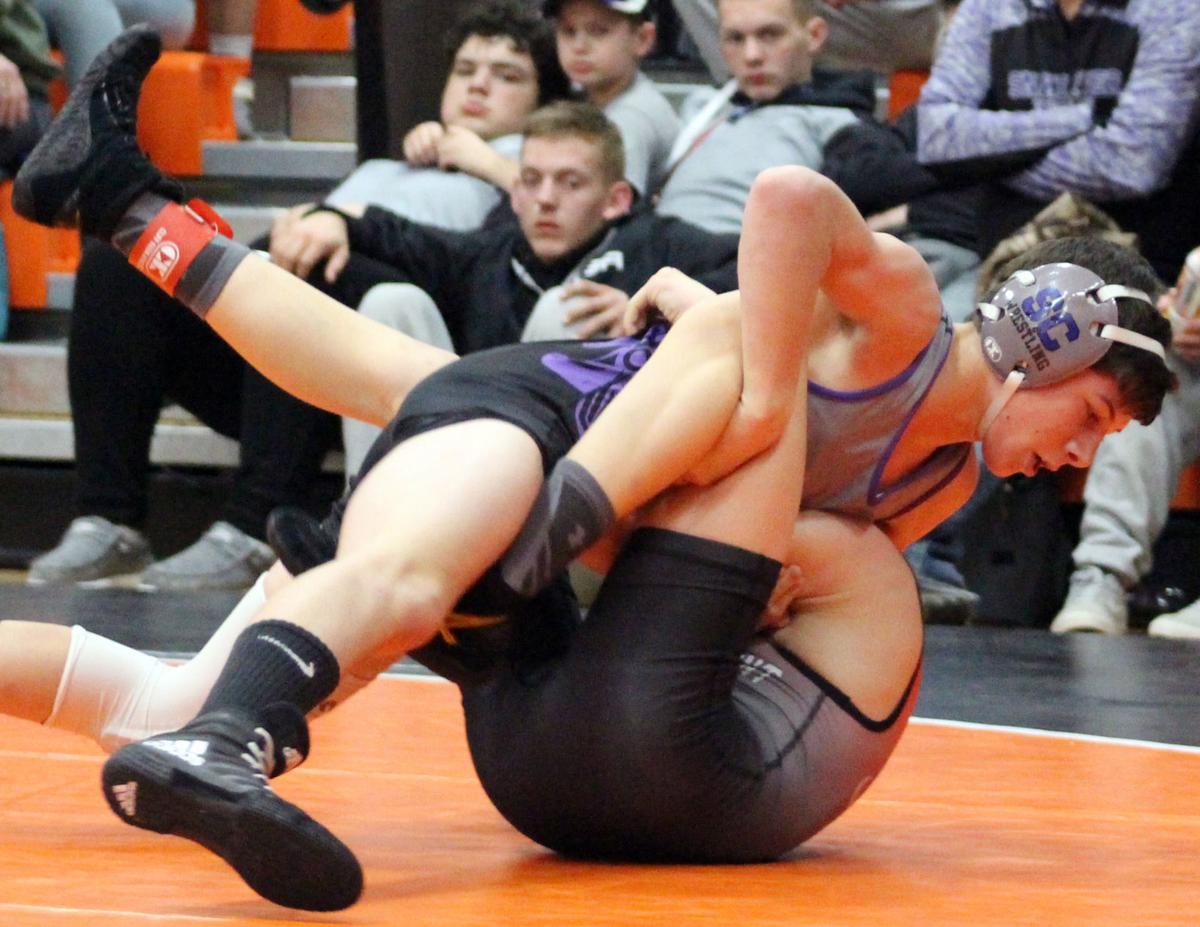 He finished with a 3-0 record with two pins, leading a team that scored 250 points — the Spartans serving as the runners-up to champion South Fremont's tally of 253 points.
Browne pinned Twin Falls, Idaho's Tyson Tatton at the 2:38 mark and earned an 8-4 decision versus American Falls, Idaho's Cooper Evans.
In the championship, Browne needed 5:20 to pin South Fremont's Dillon Gneiting for the title.
Behind Browne's first-place finish, Spring Creek tallied a trio of second-place grapplers.
At 126 pounds, senior Kodis Campbell's lone loss came in the final — finishing with a 3-1 record — notching all three of his victories by pinfall.
Senior Jeff Guthrie also posted a 3-1 mark in the 195-pound weight class, tallying a pair of wins with pins.
Junior Chase Milligan — competing in the 113-pound division — closed with a 2-1 mark and notched both victories by fall.
Behind a champion and three second-place wrestlers, the team success continued for the Spartans with a quartet of consolation champs.
Sophomore Terror Mogensen was busy, wrestling seven times.
He finished with a 6-1 record — his lone loss coming in the quarterfinal round to Gooding, Idaho's Wes Shaw in a 6-3 decision — posting four wins by pinfall.
Mogensen bounced back with four-consecutive victories — two by fall and another by major decision — and claimed the third-fourth match with a hard-fought, low-scoring 3-0 decision versus Kohl Nielsen (North Fremont).
At 145 pounds, junior Bear Browne also went 6-1 and posted three wins by fall.
While Mogensen's comeback was impressive, Browne's was classic — losing his opening match by a score of 5-3 versus Buhl's David Tennant.
Browne tore off six straight victories — three by fall and another by major decision — and avenged his only defeat.
In the third-fourth match, he squared off with Tennant for the second time and dominated the action — winning the consolation championship with a 6-0 shutout.
Wrestling at 98 pounds, freshman Jake Bradford also took third place with a 5-1 record with four wins on pins.
Bradford lost his quarterfinal contest by fall at the 3:11 mark to South Fremont's Ryker Simmons but advanced to the consolation final with three-consecutive wins — all coming by fall.
In the third-fourth match — like Bear Browne — Bradford took out the only wrestler who beat him, racking up a 12-5 decision over Simmons.
Junior Q Boyd only lost one match but also won his last, closing with a 4-1 record and two pins at 152 pounds.
Following consecutive wins by fall, Boyd was pinned in 1:42 by Snake River's Tate Benson in the semifinal.
However, he dug out a 5-2 win over Weiser, Idaho's Matthew Morris in the consolation semi and rolled past North Fremont's Hayden Maupin by a tally of 10-4 in the third-fourth match for the consolation title.
Senior Hunter Hood — unlike four of his teammates — did not claim a consolation title, his second loss coming in the third-fourth match of the 220-pound division.
You have free articles remaining.
Hood closed with a 3-2 mark, notching all of his wins with pins.
After consecutive wins by fall, Hood fell for the first time in a tight, 3-2 decision versus Fruitland, Idaho's Greg Grissel in the seminal.
Hood then pinned Snake River's Nicholas Parris in 1:42 and advanced to the third-fourth match, but he came up short in a 6-4 loss against Declo, Idaho's Dawson Osterhout in the consolation final.
A pair of Spartans ranked fifth in the respective weight classes.
Freshman Wesley Ricaporte notched a 4-2 record at 98 pounds — posting a pair of major-decision victories and another by technical all — senior Riley Fuchs finishing 3-2 with two pins in the 132-pound division.
Ricaporte lost for the first time in the semifinal when he was pinned at the 1:37 mark by Fruitland's Ezra Clemens and was then downed by his teammate, Bradford, in 1:55 during the consolation semifinal.
However, in the fifth-sixth match, Ricaporte tallied an 8-2 decision over American Falls' Grayson Williams.
Fuchs pinned each of his first-two opponents but lost a narrow, 3-2 decision versus South Fremont's Hunter Hobbs in the semifinal and was pinned by American Falls' Tanner Hansen at the 2:11 mark of the consolation semi.
In the fifth-sixth match, he put his name back in the win column with a forfeit by Battle Mountain's Jose Guizar.
Kimberly (Idaho) Duals
On Thursday, the Spartans kicked off their 2020 campaign with dominant performances during the Kimberly Duals.
Spring Creek went 3-0 with lopsided wins of 62-12 against Marsh Valley, 81-3 versus Declo and 71-9 over host Kimberly.
The Spartans had 11 wrestlers finish with undefeated records during the duals: Ricaporte, Colton Browne, Milligan, Campbell, Fuchs, Mogensen, Bear Browne, Boyd, 160-pound junior Beau Chacon, Guthrie and Hood.
Canyon Ridge JV Tournament
During the Canyon Ridge JV Tournament, Spring Creek ranked sixth of 38-scoring teams with 144 points.
While the team finished sixth, two Spartans placed their names at the top of the heap.
Senior Joey MacDiarmid won the 145-pound division with a 5-0 record, notching four wins by tech fall and another by major decision, claiming the championship with an 18-2 victory against Salmon, Idaho's Cole LaMoure.
Fellow senior Gabe Ekanger claimed the next weight class with a 4-0 mark and four pins at 152 pounds, falling South Fremont's Trevor Kay at the 3:21 mark in the championship.
Sophomore Bryan Montoya took second place at 120 pounds, finishing with a 3-1 record and two wins by fall.
Senior AJ Ekanger took second place in the 138-pound division, posting a 2-1 mark with a pin.
In the 120-pound class, senior Jacob Taylor won the consolation championship — finishing with a 5-1 mark and three pins — blanking Jerome, Idaho's Jordan Fisher 7-0 in the third-fourth match.
Junior Dylan Dunn ranked fifth at 170 pounds, closing with a 3-2 record.
In the fifth-sixth match, Dunn dusted Weiser's Calvin Clapperton by a score of 8-1.
Spring Creek Kiwanis Invitational
The Spartans will host the 27th annual Spring Creek Kiwanis Invitational, the wrestlers hitting the mats at 3 p.m. Friday and 9 a.m. Saturday.
2018-2019 Spring Creek Wrestling Highlights