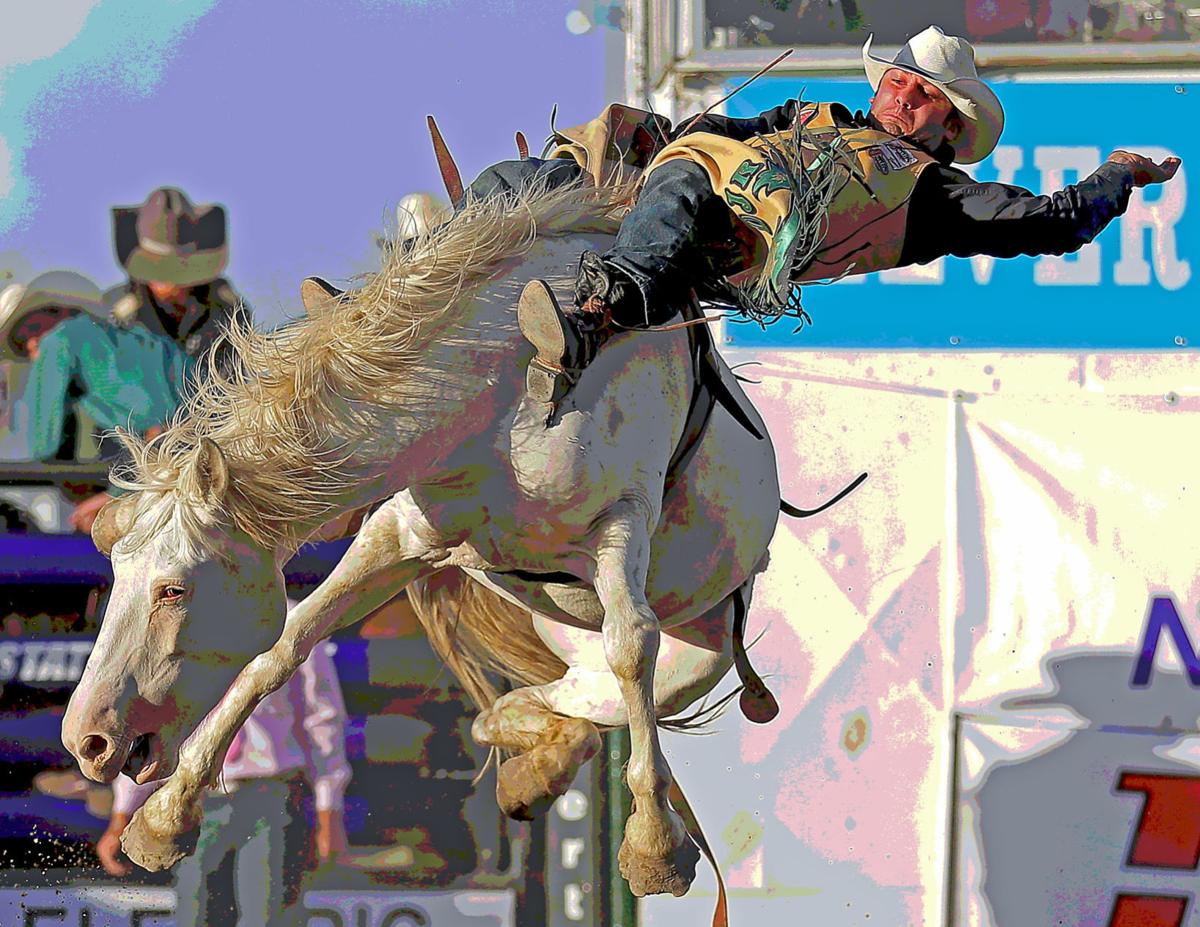 ELKO — For the first time, the Silver State Stampede can be viewed online, across an app and on TV.
The Cowboy Channel — Channel 232 on Dish Network and Channel 603 on DirecTV – which has a six-year contract with the Professional Rodeo Cowboys Association, recently added the Stampede to its lineup.
During a Zoom call with the PRCA and Cowboy Channel President and General Manager Jeff Medders — who has called the action of the National Finals Rodeo for TV broadcasts 28 times — talks of the Stampede earning a broadcast chance took place.
"Due to COVID-19, (broadcasting rodeos) has been a challenge. We lost one great rodeo after another. With losing those destination rodeos, we reached out to that next tier," Medders said. "Through the PRCA, we had a mega Zoom call and started asking places if they'd be interested (being on the Cowboy Channel). We told them that they would need an in-house feed with good internet. Elko was super excited about it, they were great about doing what they needed to do and they will get a lot of coverage through the Cowboy Channel — streaming live, broadcast on TV and across the Cowboy Channel Plus app."
"On the call, they (PRCA CEO George Taylor and Medders) said they wanted to get out to rural communities. I told them that we are the oldest rodeo in the state and that we may be the only rodeo in the state this year," said Cathy Laughlin. "I explained to them that Dakota Eldridge is from here — they know about him — and that Tony Barrington won fourth in the bareback riding at The American this year. I told them I would do everything I could to get a good internet connection. We had that enthusiasm."
Laughlin was told she needed a connection with an upload speed of at least 20 MB.
Fingers crossed, the connection that will now be available should supersede the requirement and then some.
"(Elko Mayor) Reece Keener called Rise Broadband (Inc.), but they did not get back to me quickly, but White Cloud, in Twin Falls, (Idaho), responded to me immediately," Laughlin said. "They said they could give us 100 MB upload speed, and Dave Skinner installed everything."
Not only will the Stampede have internet access, any future event at the Elko County Fairgrounds will also have the luxury at their disposals.
"The signal goes to the announcer's stand. It runs through a satellite over on Indian View Heights Drive," Laughlin said. "It's free, but it won't always be on. Whoever wants to use it can turn it on and off as needed."
While the Cowboy Channel will broadcast the coverage of the Stampede, the action will be filmed and produced by Walton Scoreboards Inc., of Billings, Montana, which first introduced a 20-foot by 12-foot, full-color LED video board to the Stampede's viewing experience back in 2016 — showing live footage, instant replays, standings, scores and times.
"Scott (Walton) and his production crew have worked with the Cowboy Channel before, so Jeff (Medders) was excited we had someone who was familiar with they like and look for," Laughlin said. "They have to film the rodeo for TV, which is a lot different that only shooting for the fans here and the Jumbotron."
While the Cowboy Channel started a couple years ago — often showing reruns of previous NFRs — Medders said Rural Media Group CEO Patrick Gottsch set a goal to "get the NFR contract."
Mission accomplished for 2020, pending the NFR's actual occurrence in December — given that COVID-19 protocols allow — simulcasting with RFDTV and the Cowboy Channel Plus app.
Rural Media Group consists of the Cowboy Channel, RFDTV and Rural Radio.
"I've only been with the Cowboy Channel since March. I produced PRCA content for a decade, but he (Gottsch) really wanted to bring rodeo to the screens and in the homes of everyone. There had some crazy ratings earlier in the year, starting with Denver (National Western Stock Show and Rodeo)," Medders said. "Then COVID-19 hit and knocked it back. So, the Stampede is good for us and it's good for them."
Laughlin said the Stampede will receive $4,200 from the PRCA for earning the broadcast — broken down to $1,000 per performance, $300 per performance given to the announcer and $100 per performance awarded to the sound guy.
"We will take out money to pay Walton for filming the rodeo. It's kind of crazy the rodeo gets money, the announcer gets money, the sound guy gets money but the video crew doesn't get paid," she said.
Broadcasts of the Stampede will be in conjunction with The Parker County Sheriff's Posse Frontier Days in Weatherford, Texas, and The Dinosaur Roundup Rodeo in Vernal, Utah.
"We're going to start with Weatherford for 30 minutes and focus on Vernal, but we'll bouncing back and forth to Elko," Medders said. "It's almost like an NFL game. During breaks at one rodeo or during specialty acts, we'll cut to another, or we'll jump across for a fast run or a big ride."
Schedule
The action on the Cowboy Channel and the Cowboy Channel Plus app — along with Weatherford and Vernal — will start at 6 p.m. PST Friday, televising at 12:30 p.m. PST Saturday, 6 p.m. PST Saturday, 10 a.m. PST Sunday and 9 p.m. Sunday PST.
Be the first to know
Get local news delivered to your inbox!