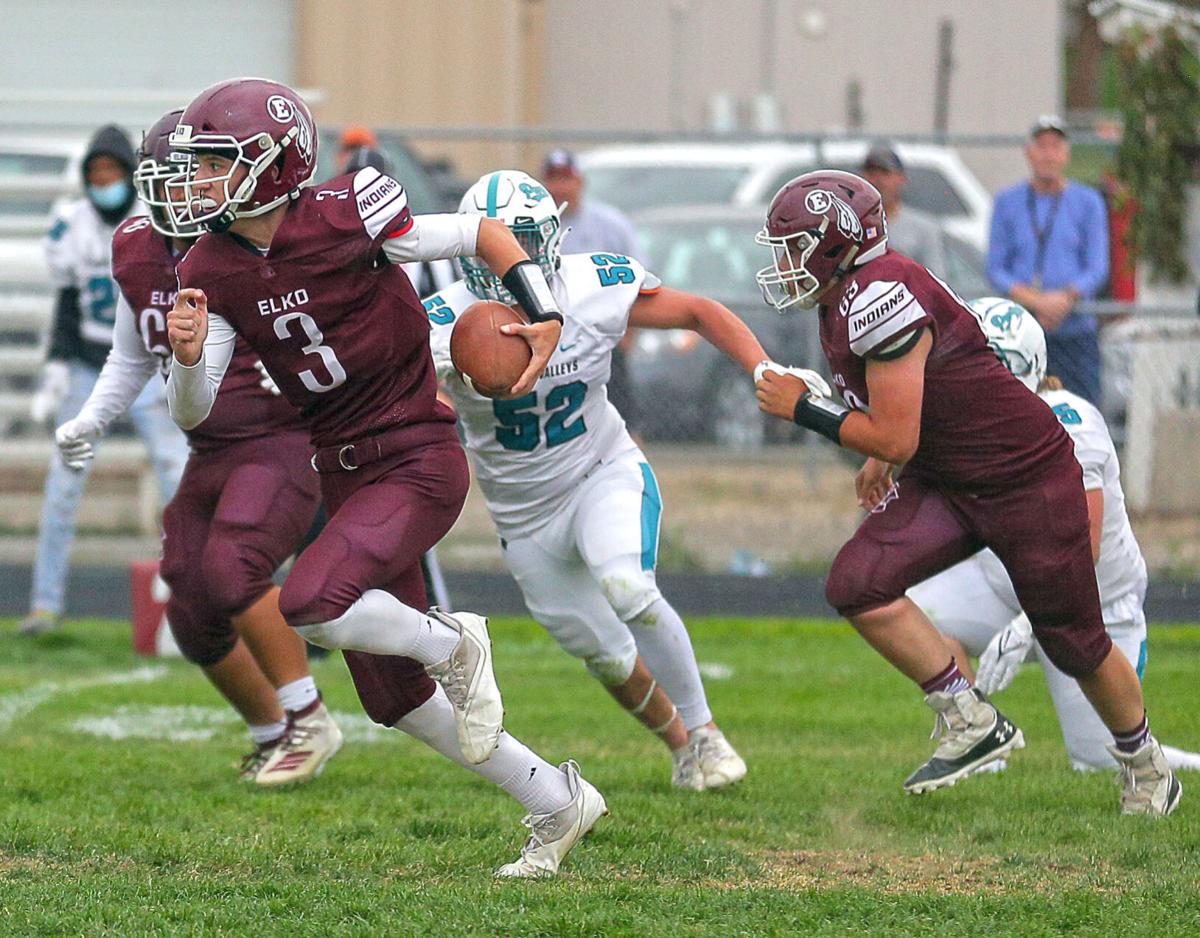 ELKO — The Elko football team faces one of its toughest and most critical games of the season in its Division 3A north-East opener.
On Friday, the Indians (2-2) will travel to Winnemucca — where they will look to hand unbeaten Lowry (4-0) its first loss of the season.
Both teams are freshly removed from wins, Elko pasting Hug on the road — shutting out the Hawks 48-0 — while the Buckaroos survived a 39-36 barnburner in Sparks.
Through three games of stats reported to MaxPreps — numbers missing for the Bucks in their most recent contest against the Railroaders — Lowry has shown a propensity to do damage to opposing teams with balance.
Sophomore quarterback Joseph Vankuiken has played a tough position well — considering his age — completing 31-of-57 passes for 564 yards with two touchdowns against one interception, adding a rushing touchdown as well.
He has found a number of targets.
Senior receiver Giovani Sapien — who never played football until last season after serving as a star on Lowry's soccer team — leads the Bucks with 12 receptions for 249 yards with a pair of touchdowns.
He has also carried the ball 11 times for 102 — averaging 9.3 yards per tote — and scored one rushing touchdown.
Sapien is also a major threat on special teams, already taking a punt return a kick return to the house.
Junior Braden Hammargren has snagged 11 balls for 242 yards, and sophomore Marcus Montes has made an impact with 10 catches for 105 yards and a TD.
Hammargren was tied with Sapien for the team high with three offensive TDs, all coming on the ground — carrying 17 times for 90 yards.
More young weapons are at the disposal for the Bucks, as sophomore Jesse Jeronimo paces the rushing attack with 108 yards on 22 carries with a score.
Senior Joseph Garcia has run to paydirt twice, rushing for 60 yards on 12 attempts.
Through three games of stats, senior Roberto Lopez led the Bucks' defense with 17 tackles from a linebacker position and intercepted a pass.
Garcia, Montes and senior Troy Manske had recorded 13 tackles each.
Montes led Lowry with three takeaways — snagging a team-best two picks and recovering a fumble — and Manske had tallied one INT, Garcia causing one fumble.
Junior defensive back Lance Brenigar had 11 tackles, and junior linebacker posted 10 stops through three contests — adding a sack.
Junior linemen Brennan Colman and Tyson Terry were tied for the team lead with two sacks each.
Against the Hawks, Elko broke out of an offensive funk in a big way — using a lesser opponent with limited athletes — rolling up points and yards at will.
Junior quarterback Justus Nielsen accounted for five touchdowns, throwing for three and running for two more.
He finished 4-for-9 for 149 yards and no INTs, rushing for 86 yards on nine carries.
As a team, the Indians ran for 257 yards on 32 attempts — averaging eight yards per rush — and four TDs.
Sophomore Eli Finlayson scored twice on the ground — running for 42 yards on eight carries — and added a 19-yard touchdown catch.
Senior Andres Cervantes paced the attack with 117 yards on 10 carries, moving the sticks on average with every touch at 11.7 yards.
Junior Ayden Whiting hauled in two balls for 83 yards — including a 66-yard touchdown— and sophomore Preston Chamberlin's lone catch went for a 47-yard TD.
Defensively, the Indians held Hug to 230 yards of total offense (110 passing, 120 rushing).
Seniors Andoni Fesenmaier and Blaze Jones topped the team with seven tackles apiece, the Indians gaining five stops apiece from sophomore Cael Sellers, Chamberlin, senior Braedon Swaffield and sophomore Christian Felix.