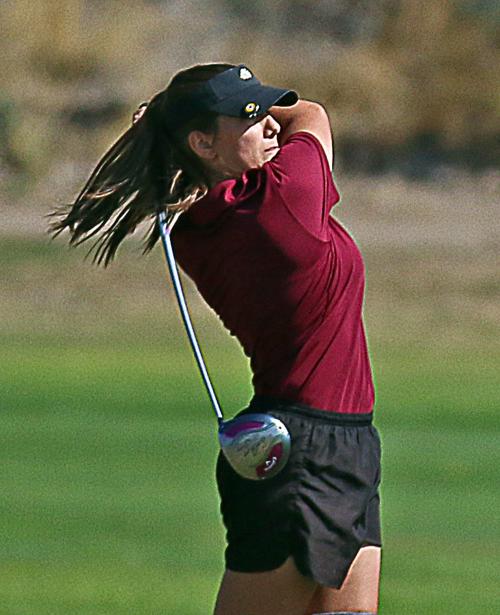 WINNEMUCCA — So far, so good.
Annually, the Elko, Spring Creek and Lowry girls golf teams compete against one another in a preseason tournament — the Lady Indians breaking the ice with a 67-stroke victory Tuesday.
Lowry competed with only three players, not compiling enough totals for a team score.
Senior Caresse Basaraba and junior Gabby Bement not only led the way for Elko, they each shot round-best scores of 90.
Senior teammate Chilz Negrete rounded out the top-three with a score of 93.
Spring Creek senior Emalee Ingram topped the Lady Spartans' card with a fourth-place 94.
Lowry's three scores were similar — separated by a total of seven strokes – led by a 101 from Angelina Martinez and followed by a 106 from Katelyn Hales and a 108 by Bailey Hayes.
The Lady Spartans' lone junior — Jordan Maher — closed her day with a 110.
Elko junior AJ Anthony rounded out the scoring for the Lady Indians with a 114.
Spring Creek senior Rachel Merwin gave the Lady Spartans their third-best score with a 115.
In a non-qualifying score, Elko junior Katrina DeGuzman finished up with a 118.
The final card that counted toward the Spring Creek's team total came from senior Shelby Millard, who shot a 135 in her first high school tournament.
She was followed by a 137 from teammate Holland Miller, and the Lady Spartans' roster was capped by a 139 from senior Marie Howard.
In her first taste of high school golf, Elko freshman Madison Preston finished off the roster and her round with a total of 146.
League Opener
The Division 3A North opener will take place at 9 a.m. Sept. 3, at Spring Creek Golf Course, the second league event of the season following on Sept. 4, at Ruby View Golf Course.
Be the first to know
Get local news delivered to your inbox!