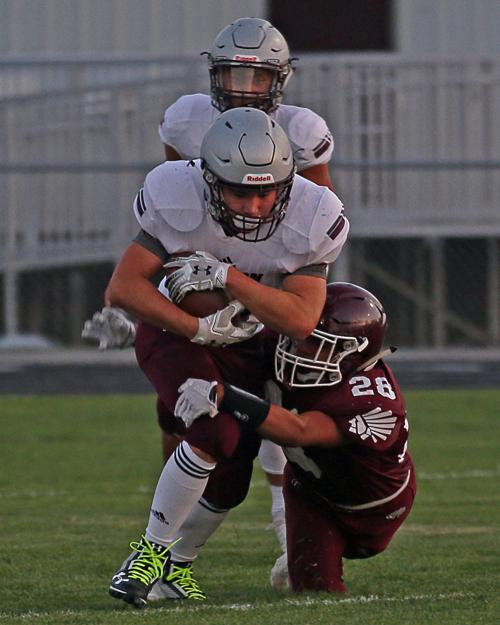 ELKO — New team, new mascot, new level, same mindset.
In perhaps the strangest circumstances high school, college or professional athletes have ever endured, it's only fitting that Elko senior Rolando Acosta will face a new challenge at a different position.
Despite his senior season of baseball being cutting short due to COVID-19, the Indians' 1st-Team All-League and 2nd-Team All-State nose guard will look to continue to wreak havoc on the football field at the collegiate level while playing a new position.
Acosta has committed to hit the gridiron for Feather River Community College, in Quincy, California.
"I sent them my game film after Christmas and took a visit about two months ago. They offered me two days later," Acosta said. "I really liked the campus and that it's close to home, and I liked that the coaches gave me a position they want me to play."
When he straps on the pads and his helmet for the Golden Eagles, Acosta will transition from stopping from the run and sacking opposing quarterbacks to defending passes.
While Acosta will move to strong safety, the position will still allow him to stuff the run and also cover route runners.
"It will be different to worry about coverages a lot more, but they said against the run-heavy teams they will have me in the box a lot more," Acosta said.
High School Career
With Elko, Acosta began playing varsity football as a junior and turned in his first of two straight 2nd-Team All-State seasons at nose guard.
In 2018, he ranked 15th in the state with 78 tackles – including 60 solo stuffs.
On Sept. 21, 2018, Acosta turned in one of the truly-astonishing defensive performances one will ever see from a high school football player.
He tied his season high with 10 tackles (nine solo), made a sack, recovered a fumble, intercepted a pass and blocked a punt – the stymied boot picked up by teammate Ronin Rowley and returned 34 yards for a touchdown to close the first half – leading an Elko defense that made seven takeaways in the game.
As was the case in his ranking for tackles, Acosta also finished 15th in the state with 3-1/2 sacks – making 1-1/2 on Aug. 31, 2018, in a home blowout of Dayton.
His numbers were eerily similar in his senior season with the Indians.
With 74 tackles, he led Elko' defense — finishing 10th in the league — also topping the roster with 2-1/2 sacks, tying for 14th in the 3A North.
Despite leaving the game in the first quarter with a meniscus injury in his knee during the regular-season finale in Spring Creek, Acosta had already recorded five tackles.
He was unable to play in Elko's first-round playoff game against Truckee.
Acosta notched double-digit stops in three contests, finishing with a season-best 17 tackles (11 solo) in an unexpected 32-21 win during Elko's homecoming on Oct. 18, 2019, against No. 4 Lowry.
He also blocked a field goal and made a sack in the victory, swatting two kicks on the season.
Acosta forced a fumble in a narrow 14-12 win on Sept. 20, 2019, in Sparks.
Offensively, he averaged 5.2 yards per carry and racked up 342 rushing yards with five touchdowns, tying for 14th in the 3A North in rushing scores.
Current Happenings
While finishing his EHS curriculum online, Acosta is also working for his parents and their company, E&G Trucking.
"I've been helping with the maintenance of the trucks and running parts," he said.
As for graduation, plans are unspecified at the current juncture but there have been a few ideas tossed around.
"(Elko Principal) Mr. (Tim) Wickersham sent out an email and we have three choices for graduation. We can do an online or virtual graduation, have a parade or do a reverse parade," Acosta said. "I think the reverse parade is where people can drive by us. It's tough that we won't get to experience our traditions. We didn't get to finish our seasons, we never had our senior Prom and I won't be able to walk across the stage and receive my diploma."
Future Plans
In relation to the coronavirus, Acosta said the Feather River football staff recently sent out an email and detailed the program still intends to move forward as planned with its summer camp.
"For now, we have to report to camp on July 29," Acosta said. "I sent my dorm application and they will let us know who our roommates are and that sort of thing."
While at Feather River, Acosta plans to study business.
"I'm excited to experience something different, meet new people and see if I can go somewhere else after my time at Feather River," he said.
Congratulations to Rolando Acosta on a fantastic high school football career, congratulations on his athletic and academics successes, best wishes and he hits gridirons while at Feather River College and good luck in his collegiate and professional endeavors.