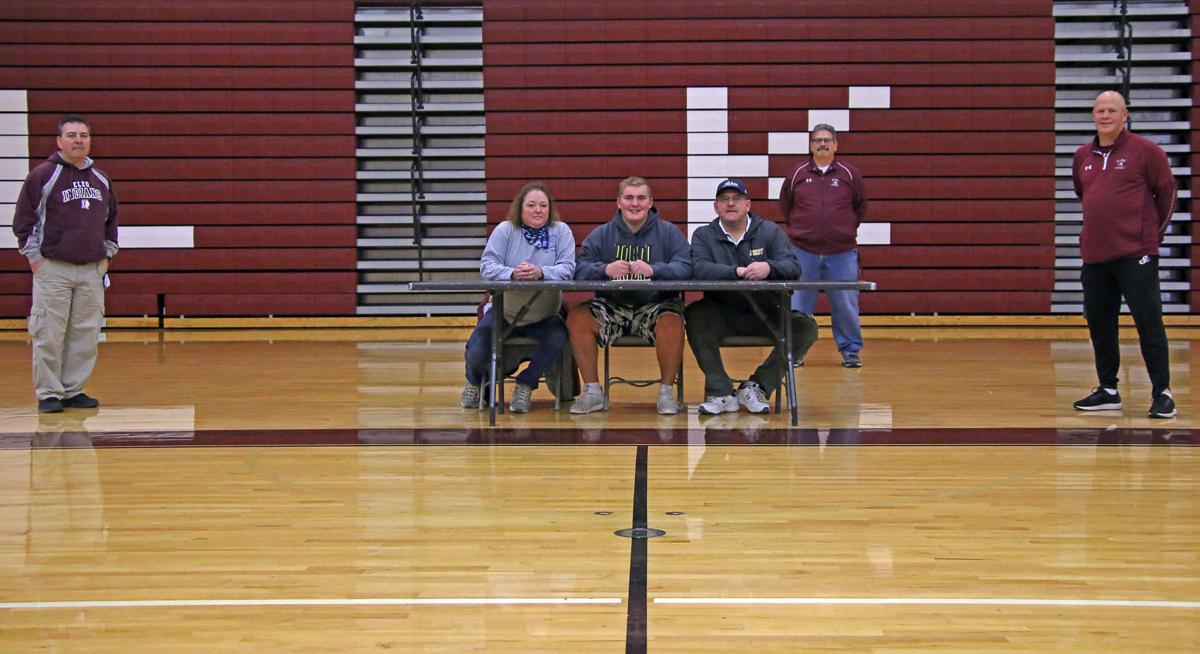 ELKO — While he may be an offensive lineman, Elko High School senior Earnest Gregory will play for the Defenders.
Gregory has signed his letter of intent to play football for Dordt University, in Sioux Center, Iowa, an NAIA program in the Great Plains Athletic Conference.
His journey to collegiate athletics has been an unusual one, both due to injury and COVID-19.
Gregory broke onto Elko's varsity team as a sophomore, but an injury during the summer of 2019 derailed his junior season.
"I tore my labrum and had to have shoulder surgery right before my junior year," Gregory said.
He missed the entire football season and was forced to also sit out his junior year of wrestling.
However, through a recruiting service — NCSA — Gregory was noticed.
"I made a profile, and they (Dordt) started texting me on and off," he said. "Then, I went on a visit."
Gregory and his parents made the trek (1,233 miles) to Sioux Center and thoroughly enjoyed their trip.
"I liked how nice everyone was and how together the football team was," Gregory said.
His parents also appreciated Dordt and the small-town atmosphere Sioux Center has to offer.
"It's going to be hard with him so far away, but he's in a good place," said his mother, Carrie Gregory. "They have small class sizes and set up kids to be successful."
"He won't get lost in the shuffle. There are more one-on-one interactions; maybe more like 1 on 25 but it's not like one on a couple hundred," said Earnest Gregory Sr.
While Dordt may have been Gregory's only visit, he was in contact with other schools as well — such as the University of Jamestown (North Dakota), Pacific Lutheran University (Tacoma, Washington) and the University of Puget Sound (Tacoma, Washington).
"They (Dordt) had his degree there, so that played a factor in the decision," Carrie Gregory said. "They have lots of scholarship opportunities."
While at Dordt, Gregory plans to major in electrical engineering and perhaps find a career in "designing computers," he said.
As for football, Gregory is expected to play center along the offensive front for the Defenders.
"I coached Ernie as a freshman. He has a big, wide body and really good feet," said Elko Athletic Director Clark Davidson. "He has matured quite a bit and will make an impact. Good centers are hard to find. He's a very coachable kid — something that's hard to come by these days — and he has a good support system."
Davidson said Gregory is a "quiet kid but a good kid" and "leads by example."
Although much of the country has either postponed or canceled football seasons, Dordt is nearly finished with its 2020 season and has — thus far — compiled a successful campaign.
The Defenders are currently 5-2 overall and 5-2 in conference play of the GPAC.
With two games remaining, Dordt was in third place — a game out of second and two games behind first — both defeats coming by narrow margins to the two teams it trails in the GPAC standings with a 48-40 home loss to No. 2 Northwestern (6-1) and a 35-30 home loss to No. 1 and unbeaten Morningside (7-0).
Congratulations to Earnest Gregory on his signing and best wishes as he transitions to the collegiate level at Dordt University.