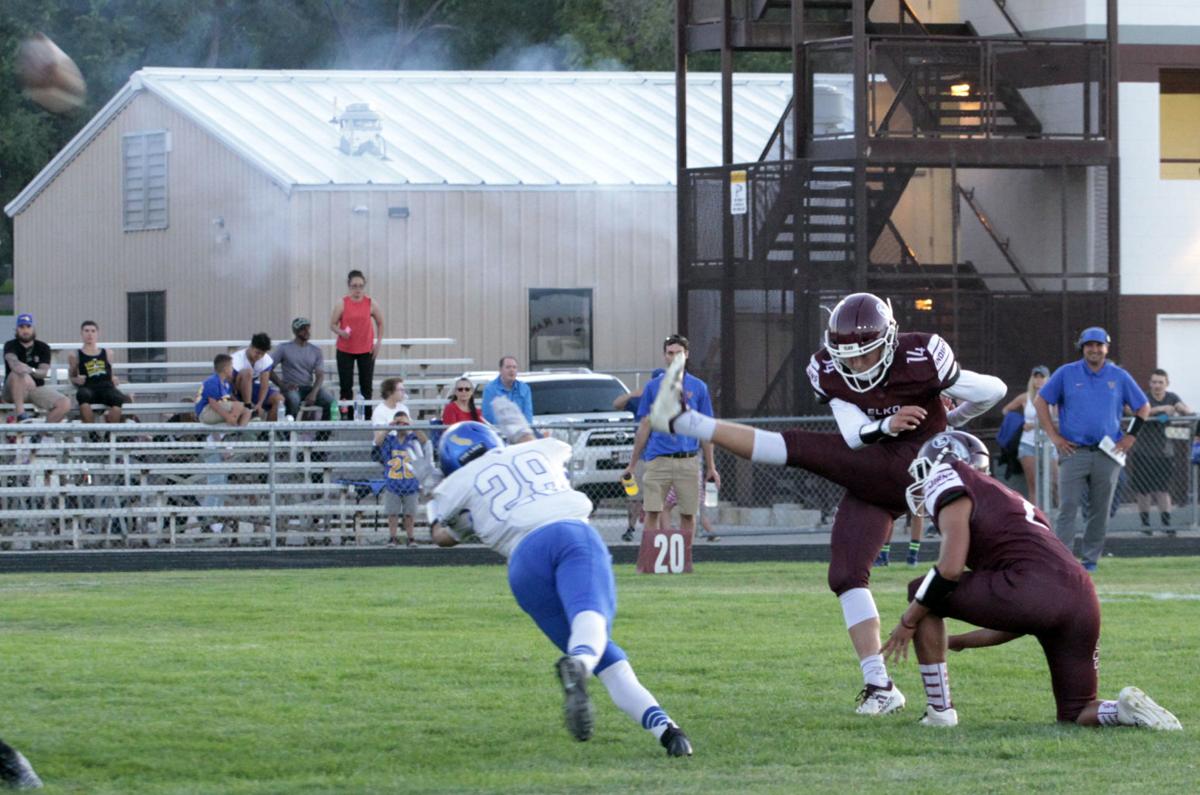 He's referring to a Canadian team playing at a Nevada school.
Due to an open spot on the schedule after Dayton went independent and dropped out of the Division 3A North — canceling its entire program at all levels this week — Elko needed to find a game or simply use the blank as a bye week.
"LCI's coach (Darren Majeran) called me around May and asked if we needed a game. I asked him if he realized we were in Elko, Nevada, because there is an Elko in Canada," Sellers said. "He told me that they would travel here, line up the passports and drive down. It's a long way; Butte (Montana) is about halfway."
According to Google Maps, the trip is 862 miles and takes nearly 13 hours (12 hours, 50 minutes) — guaranteed longer on a bus.
As for the actual matchup, the Indians and the Rams are both coming off a win.
LCI walloped Foothills Composite High School (Okotoks, Alberta, Canada) by a final score of 36-6.
Junior running back Spencer Stanko had a whale of a game, rushing for 217 yards on only 11 carries with three touchdowns — including a 71-yard TD gallop.
Taking over for the injured starter, sophomore quarterback Crew Hirsche threw for 139 yards and two touchdowns against one interception.
Senior wide receiver Cade Francis was the recipient of a 70-yard touchdown grab.
Defensively, junior outside linebacker Asher Bridge notched five tackles — one going for a loss — booking a sack and recovering a fumble.
From his cornerback spot, Francis recorded four tackles and a pair of sacks.
Junior defensive back Fraser Thomson made two tackles and picked off a pass.
Overall, the Rams outgained the Falcons 390 yards (251 rushing, 139 passing) to 175 (113 passing, 62 rushing).
"From film, it looked like they (LCI) were bigger, stronger and faster than the team the played. These guys are really good," Sellers said. "We exchanged game film, but we don't have any first-hand knowledge of each other."
Sellers said the Rams "run a little spread, kind of like Fallon" and use a wing, often cutting runs back the opposite way in a counter style.
Another change that may be interesting to watch is the difference in rules between Canada and the United States.
"They play on a bigger field, there's 12 guys on each side and there are a lot of players in motion," Sellers said. "They said they would go by our rules and play with 11 men. They sometimes play schools from Montana and Idaho."
You have free articles remaining.
"The kids played hard and came out fired up," Sellers said. "It was a good opening win."
A week after the Vikings hammered Arcata (California) 49-28 — South Tahoe racking up more than 600 yards of offense in the contest — the sledding was not nearly as easy against the Indians, who cut the total in half and gave up 352 yards of total offense.
The week prior, junior quarterback Jake Tarwater finished 17-for-26 for 368 yards with five touchdowns and no interceptions.
Against Elko, he was 15-for-24 for 238 yards with two touchdowns and an INT.
"Our defense got after him. They missed a couple home runs, but you have to complete those if they're going to be effective," Sellers said. "Our best pass defense is our pass rush. We did a good job of making him move his feet."
Versus Arcata, sophomore running back Jordan Adams rushed for 248 yards with two TDs — the number falling to 106 yards and no scores versus Elko.
Defensively, Elko was led by 12 tackles from senior Nick Kinder — senior Rolando Acosta following with five and gaining four apiece from senior Cameron Marvel and junior Lincoln Ratliff.
Ratliff also tipped a pass that was intercepted by senior Kaden Garcia.
Marvell tallied a sack, the Indians gaining a half-sack each from Acosta, senior Max Shurtz and senior Derek Peters.
The Indians — on the other hand — owned the point of attack, rushing for 401 yards as a team, led by a 213-yard night and a touchdown by Marvel.
In total, Elko scored four TDs on the ground — adding one rushing touchdown apiece by junior quarterback Jake Zeller (14 carries, 62 yards), junior running back Kaiden Cervantes (15 attempts, 53 yards) and Acosta (six totes, 34 yards).
"Our guys controlled the line of scrimmage," Sellers said.
Playing in his first start at QB, Zeller finished 5-for-9 for 65 yards with a touchdown to senior receiver Corbin Notestine (two catches, 32 yards).
"Jake did a great job in his first start," Sellers said. "He ran it well, he threw it well and he kept us rolling."
Along with his offensive production, Zeller also played a big role on special teams — nailing a 30-yard field goal.
He also punted twice for 78 yards — including a long of 45 yards — pinning the Vikings inside their own 20 on each boot.
"The kids played really well for it being the first varsity game for a lot of them," Sellers said. "They kind of set a standard. Now, we expect them to play like that."
Game Time
Come check out the "Star Spangled Banner" as well as the anthem from the north, "O Canada," performed by the Elko High School Band of Indians, under the direction of Michael Broyles, prior to Saturday's kickoff.
The inaugural game between Elko and Lethbridge Collegiate Institute (Alberta, Canada) is set for 6 p.m. Saturday, at Warrior Field.