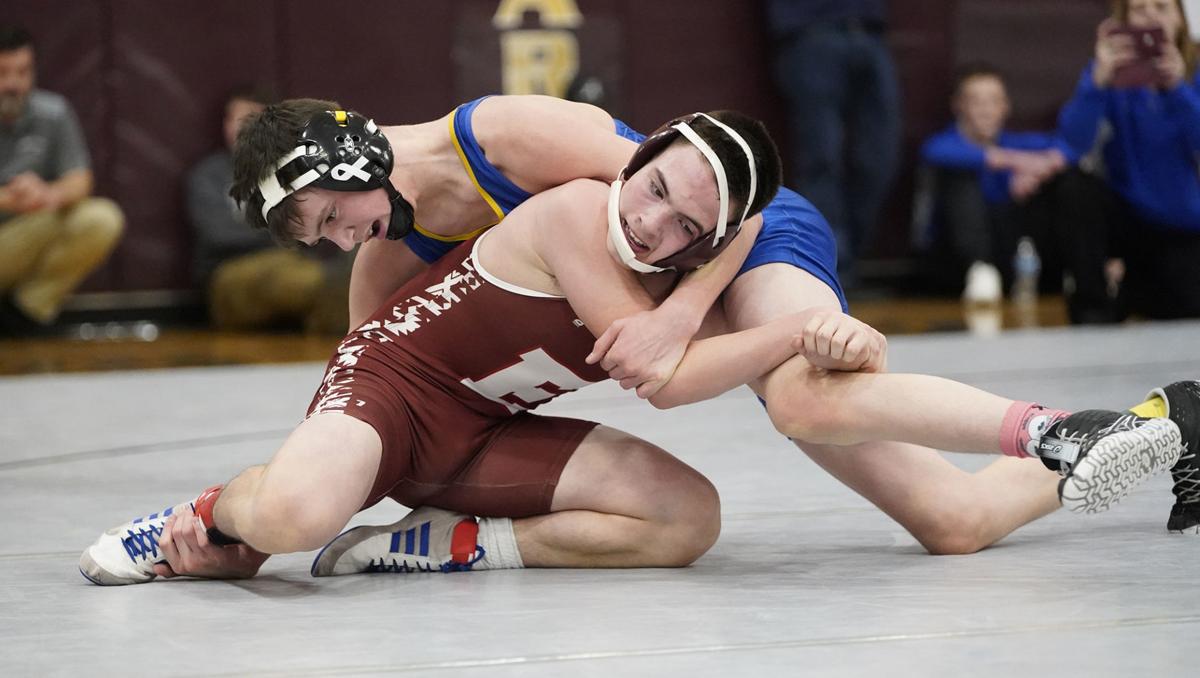 During the Division 3A North regional tourney, the Indians finished in fourth place with a team score of 139 points — sending seven wrestlers to state — closing 3.5 points behind third-place Fernley.
In the championship, he notched an 8-3 decision over Spring Creek junior Aiden Painter.
Regional Runner-Up
Behind Kinterknecht's regional crown, the Indians also gained a runner-up performance from freshman Craig Slater.
Competing in the 106-pound class, Slater tallied a 3-1 record with two wins by fall.
His lone loss came in the championship round, dropping an 8-4 decision to Spring Creek freshman Colton Browne.
Consolation Champions
The Indians mounted three consolation champions in their respective divisions.
Elko's first third-place wrestler came in the form of sophomore Noah Chacon, who posted a 4-1 record at 132 pounds.
After losing his first match to North Valleys' Joaquin Arevalo by a 9-3 decision, Chacon finished the tournament with four-consecutive wins — including two by fall — avenging his only loss and earning a 10-6 decision in the consolation final against Arevalo.
Junior Darin Legrand took third place in the 220-pound class with a 1-1 record.
He was pinned in his first match at the 2:51 mark by Spring Creek senior Hunter Hood, but Legrand bounced back with a 12-3, major-decision win over Truckee's Kevin Castellanos in the consolation championship.
You have free articles remaining.
Elko locked down consecutive consolation titles in the 285-pound class, senior Gabe Lozano going 3-1 with a win by fall.
Lozano lost his second match by fall in 2:50 versus Lowry's Shane Mattson, but he responded with consecutive victories — earning the consolation championship with a narrow, 3-1 win in sudden victory with a takedown in overtime against Spring Creek senior Nick Ortega.
Fourth-Place Qualifiers
A pair of Elko grapplers punched the fourth and final tickets to state in consecutive divisions.
At 113 pounds, freshman Titan Kennedy went 3-2 with two pins.
Kennedy lost his second match by fall in just 27 seconds versus North Valleys' Adrian Ruscetta but followed with consecutive victories, none more important than is 4-2 decision over Lowry's Morgan Zolyniak in the consolation semifinal.
The victory booked Kennedy's berth in the state tourney, but he dropped his consolation final by fall in two minutes — losing to Ruscetta for the second time.
Sophomore Blaze Jones gave the Indians a pair of qualifications in the 120-pound division — joining Kinterknecht — notching a 3-2 record and two wins by fall with another by major decision.
He had to come back early after 3-0 loss to Painter in his first match.
Jones defeated North Valleys' Alex Conner by major decision with the score at 19-6, pinned Fernley's Logan Bell in 1:58 and sealed his trip to state with a fall victory against South Tahoe's Patrick Webster at the 1:50 mark of the consolation semifinal.
In the third-fourth match, Jones was shut out in a 15-0 tech-fall loss to Spring Creek senior Jacob Taylor.
State Tournament
The Division 3A Nevada Wrestling Championships will open at 4 p.m. Friday, the second day of action starting at 9:30 a.m. Saturday, at Virgin Valley High School, in Mesquite.