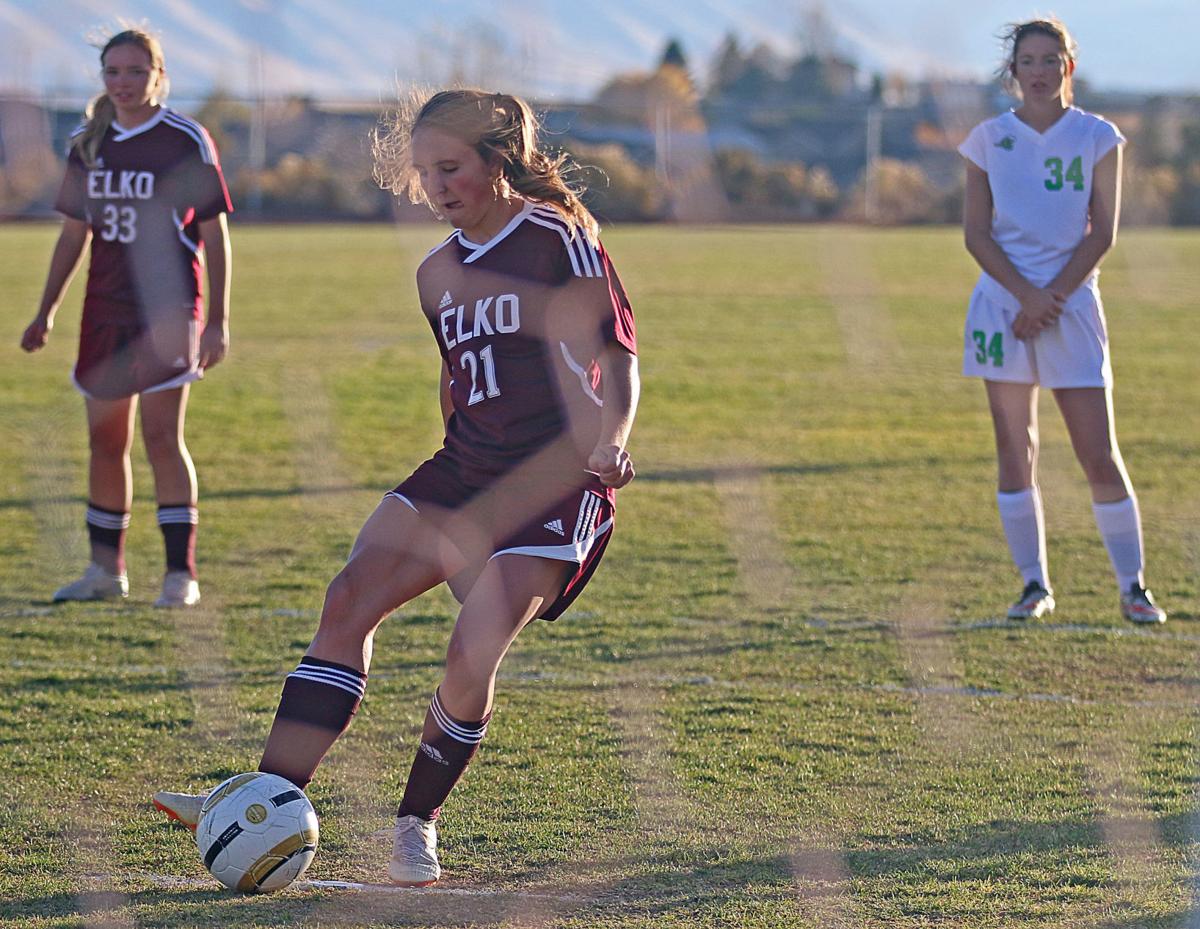 "We are in a complete rebuilding year," said Elko coach Michelle Nicholls. "Between injuries, girls not playing or moving away — I lost about 12 to 15 girls."
As the Lady Indians fight for a return to the playoffs, the journey will be an arduous one.
Returning
Only five players from the 2018 roster have returned — Elko finishing last season with a 6-12 record in the Division 3A North — after closing the year in seventh place of the "A" league standings, the top-five squads earning a position in the regional tournament.
One of Elko's key players in 2019 will be senior Olivia Smales, who started for the Lady Indians as a freshman in 2016.
Appearing to be on the fast track toward a dominant career in maroon and white, Smales suffered a torn ACL the summer before her sophomore year in 2017.
She worked her way back to the pitch in 2018, finishing with an honorable mention for the league awards as a central midfielder.
Beginning the year in the midfield, she then transitioned to sweeper in an attempt to shore up the Lady Indians' defense toward the final half of the season.
Her best offensive work came against Churchill County, dishing her lone assist of the season in a 2-0 road win on Sept. 28, 2018, in Fallon.
When the Lady Greenwave came to Elko on Oct. 25, 2018, Smales scored her only goal of the year in another 2-0 win for the Lady Indians to sweep the season series.
"Olivia is going to be our sweeper. She is strong on the ball and has a good field sense," Nicholls said. "She will transition well from center-mid."
With Smales' move to the last line of Elko's defense, a balance will be needed to spark Elko's offense — coming with another position change.
Senior Dariahn Primeaux — after playing the 2018 season as an outside defender — will double as an offensive initiator and a stopper for the Indians in the upcoming season.
"Dariahn is going to play at central midfield," Nicholls said. "She is distributing well and she's aggressive. She also has a great defensive mind."
While Smales and Primeaux are on the move to their new spots, senior Summer Nielsen is not be going anywhere.
"I'm going to keep Summer on the outside wing on the left side. She's a workhorse out there," Nicholls said. "She has worked a lot on her attacking, and she is goal-hungry. I think she can help our scoring this year."
Nielsen set up an Elko goal with one assist last season.
Elko's fourth-returning senior, Kasandra Ortiz, is another player Nicholls expects and needs to step into a scoring role.
"She played forward last year and will be our point-forward this season," Nicholls said. "She has improved her footwork, speed and her shooting. She is a potential goal scorer."
Ortiz's lone goal of the 2018 season came in the Lady Indians' finale, a 2-1 loss to Lowry on Oct. 26. 2018, at Adobe Middle School.
The fifth and final returning player for the Lady Indians has been unable to get off the ground during her high school career because of injury, facing another setback to start the 2019 season.
Junior Hailey Mariluch dealt with a badly-sprained ankle that would not heal last year, and she may be limited once more in the early portion of the schedule.
"Her ankle finally seemed good to go and she pulled her groin," Nicholls said. "We have to keep her healthy."
Mariluch netted her only score of the season in a 2-1 loss on Oct. 5, 2018, on the road in North Tahoe, California.
Newcomers
While senior Kaitlyn Walton is not necessarily a newcomer to Elko's varsity program, she did not play during her junior season.
However, she is a welcomed presence for the Lady Indians in what proves to be an uphill battle.
"I'm so glad we have Kaitlyn. She came back to finish her senior season and we're going to need her," Nicholls said. "She will play forward, kind of like where Brenna (Hendrix) was last year."
With some of the defensive and offensive positions set, Nicholls will place a "huge responsibility" onto the shoulders, hands and legs of junior Elayna Orr.
"Elayna will be our goalie. She's short but she's been working with Lauryn (Drake)," Nicholls said. "She has a lot of potential and she has no fear."
Sophomore Liz Luna, another junior varsity call-up, will likely find a familiar role during her transition to varsity soccer.
"She played outside-mid on the JV. I'm going to stick her there," Nicholls said. "She has really good footwork and is good at crossing the ball into her teammates."
Sophomore Joselin Garcia has already gotten her feet wet at the varsity level as a freshman.
"She was one of the girls who I pulled back and forth from the JV to the varsity last year," Nicholls said. "She will play mostly at forward but can possibly be a midfielder."
You have free articles remaining.
Junior Jenna Kidwell is poised to be an aid for the Lady Indians in keeping their opponents' shots away of the frame.
"Jenna really stepped up last year on defense," Nicholls said. "She will be an outside wing."
With the some returning upper classmen and a group that will take the next step in the progression of their careers, a pair of youngsters will be thrown into the fire quickly.
"I have two freshman on varsity, Peyton Jacaway and Avery Beatty," Nicholls said. "I will stick Peyton in the central midfield. She has a really good attack and distributes well. Avery will primarily be on defense between the center and the outside."
Strength
Despite a small group of returning players, those who did return offer many of the characteristics needed to be successful.
"Our strength comes from my seniors. They are great role models and lead by example," Nicholls said. "They have played for a long time and have great soccer sense."
Weaknesses
As mentioned, Elko's numbers are way down — the varsity roster containing only 12 girls.
"I will pull some girls up from the JV after the South Tahoe Tournament, but they are not ready yet. I want to see them play some varsity games first," Nicholls said.
With a large number of first-year players, knowledge and communication — combined with familiarity — will be paramount.
"We really need to focus on formation and team shape," Nicholls said.
Key Losses
The defense will be tested in 2019 without the help of a 1st-Team All-League and 2nd-Team All-State defender.
In her senior season, Mackie Griggs served as the Lady Indians' most-constant defensive stopper, leading a squad that gave up 57 scores on the season.
In 18 league contests, Division 3A North opponents scored 43 goals against Elko — the Lady Indians closing the year with a goal differential of minus 39 and minus 25 in 3A North play.
Griggs primarily played on the right side of the Lady Indians' defense, but she also possessed the ability to flip the field and make overlapping runs when Elko gained possession of the ball down the right sideline.
She scored the Lady Indians' first goal of the league season in a 1-0 victory road victory over Lowry, on Aug. 28, 2018, in Winnemucca.
Griggs also distributed the ball, assisting a score in Elko's 4-0 home victory on Sept. 22, 2018, over Sparks, at Adobe Middle School.
From dead-ball situations, she often did throw-ins and launched a number of free kicks.
The Lady Indians' only consistently-dangerous weapon from 2018 graduated following a 2nd-Team All-League selection.
Brenna Hendrix led Elko in scoring by a colossal margin with 10 goals (10th in the league) — adding two assists — finishing her senior season with 22 points.
Hendrix's offensive prowess was crucial for a team that struggled to put the ball in the net, scoring more than half of Elko's 18 goals on the year.
In fact, aside from Hendrix's double-digit goal output — no Elko player managed to knock home more than two goals.
Playing nearly exclusively at right forward, Hendrix's speed often translated into scoring opportunities.
While she never mounted a hat-trick, Hendrix drained six of her goals in three games — placing two shots in the frame in each contest.
Against Sparks, Hendrix paced a 4-0 shutout win with two scores and dished one of her two assists for the year on Sept. 22, 2018, at Adobe Middle School.
She carried the momentum into Elko's next game, burying each of the Lady Indians' two scores in a 2-0 road win on Sept. 28, 2018, in Fallon.
The hot streak continued for Hendrix, making it six goals in a three-game span, leading a 2-1 victory over Spring Creek on Oct. 2, 2018, at Adobe Middle School, notching each of her scores in the first 14 minutes of the first half.
In a 3-0 victory on Oct. 20, 2018, in Sparks, Hendrix booked her second-to-last goal of the season and set up another score with her second and final assist of the year.
As a senior, goalkeeper Hope Garvin was busy between the posts, finishing second in the league with 168 saves, allowing 54 goals in 17 games for a 3.6 goals-allowed average.
She made double-digit denials in 10 of 17 contests — closing with 15 or more three times — finishing with a season-high 16 saves on Oct. 13, 2018, against South Tahoe.
Garvin stopped 15 shots on Sept. 15, 2018, versus South Tahoe — closing with 31 saves in two games against the Lady Vikings — duplicating the performance with a 15-save ballgame on Oct. 5, 2018, against North Tahoe.
Schedule
The new-look Lady Indians will step to the pitch for the first time at 9 a.m. Aug. 23 against Shadow Ridge, in South Tahoe, California, closing with two games on Aug. 24 versus Carson and Pahrump Valley.
Elko will open Division 3A North play on the road at 6 p.m. Aug. 30, in North Tahoe, California.