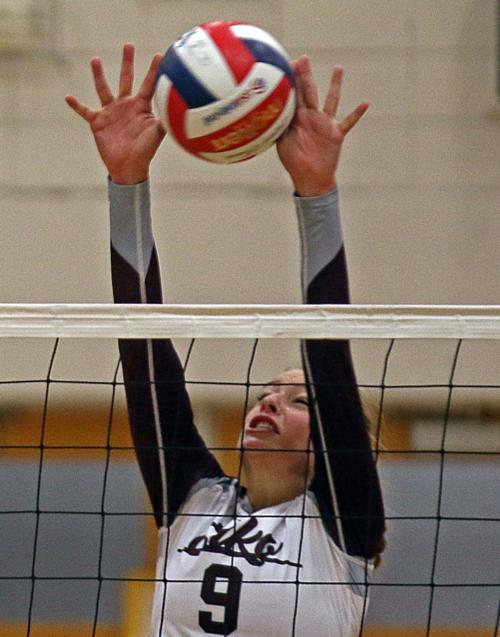 ELKO — It's hard to lose a 1st-Team All-State player and feel like the next season is going to be a huge success, but the Elko volleyball team's cupboard is far from bare.
Returning
"We return a good core group," said Elko coach Cammie Nelson.
An extremely-bright sign for Elko will be the fourth season of varsity ball from senior Cassie Spence, who has not only played very year on the varsity team — but also started since she was a freshman.
Nelson said not to expect many changes as far as Spence's role on the '19 roster.
"Cassie will be in the middle again. I don't want to shake things up too much," she said.
As a junior, Spence was the 3A North 1st-Team All-League middle blocker — also earning a 2nd-Team All-State nod.
She routinely denied opponents' shots — swatting 34 attempts — finishing second for the Lady Indians and ranking fifth in the 3A North.
Defensively, Spence also vastly improved her play away from the net and against drops, tips and roll shots into open areas of the floor — making a team-high 285 digs (sixth in the league).
Spence tied for second on Elko's roster wit 20 aces, closing the season with 78 kills.
The Lady Indians welcome back more ammunition in the form of senior Tara Welch.
As a junior, Welch built steam as the season progressed.
She ranked second on the team and 10th in the 3A North with 122 putaways, also flashing dominant defensive bursts at the net.
Welch finished third for Elko with 28 blocks, tying for eighth in the league.
She tied for second place three ways for the Lady Indians beyond the end line, serving 20 aces.
"I don't have a set position for her yet but if things go as planned, Tara will be an outside hitter," Nelson said. "Last year, she played outside when Elena (Howe) was at setter and played opposite hitter when Elena was outside. She is hitting the ball well and should be an impact hitter for us."
Now-junior Sarah Gorman will look to continue her growth after making notable contributions as a sophomore.
In 2018, she made plays in a variety of areas — tying for second on the roster behind the service line with 20 aces.
Defensively, she was fifth on the team 128 digs and sixth with 15 blocked shots.
Offensively, Gorman's 46 kills were also sixth-best for the Lady Indians.
"I haven't made a decision of where to put Sarah yet, but she will be a power-pin hitter," Nelson said. "She may be on the outside or in the back."
Nelson is excited about the potential emergence of senior hitter Madison Ballard.
"Madison put in a lot of time in the offseason, and she has really improved her court awareness," Nelson said. "I think she can surprise a lot of people."
As a junior, Ballard made 15 putaways and blocked 11 shots.
Every Batman needs a Robin, every hitter needs a pass.
Doing the bulk of the setting for the Lady Indians will be senior Courtney Mountford.
In 2018, she made 316 assists — second only to Howe's 339 dimes.
"I'm hoping to run a 6-2 offense," Nelson said. "I really like having three hitters going at the defense."
You have free articles remaining.
Gorman's supporting setter will be junior Piper Harris, who played on the junior varsity last season.
With offensive weapons available, a large portion of the defensive duties will be delegated to junior libero Mariah Johnston.
Like Gorman, her role within the team increased throughout the season — showing she has the mental fortitude to make big plays in big spots.
She dug-up 204 shots last year as a sophomore — the third-best total on the roster — also ranking third on the team with 112 assists.
Johnston served up and dropped down 19 aces, the fifth-best mark for Elko.
"I'm hopeful to keep her at libero," Nelson said. "She provides us with a lot of consistency there."
Nelson also has the ability to place senior Cassi Christensen at a number of positions.
"She is a good utility player. It's up in the air as to where she'll be the most," she said. "Cassi is consistent and does a good job wherever we put her."
As a junior, Christensen dug up 50 shots and served 12 aces.
Newcomers
As the Lady Indians prep to make another push toward the regional championship and a spot in the state tournament, some of the incoming players she will need help from are making the transition from JV to the varsity level.
"We have some ability. Hannah McIntosh, Amelia Moye and Shaylynn Jennings are all juniors, and EmmaJay Larsen is a sophomore," Nelson said. "If we are going to be successful, we need girls to step up if we are going to be consistent and play at a high level all the time."
Key Losses
The Lady Indians will need everyone to chip in if they are going to come close to replacing the performance of Howe.
After earning a 1st-Team All-League and 2nd-Team All-State selection as a junior, she upped her game another notch during her senior season.
Deservedly, she finished the year with 1st-Team All-League and 1st-Team All-State selections as a setter.
Her 339 assists ranked first on Elko's team and fifth in the 3A North, but what made Howe such a weapon was her effectiveness in multiple areas — possessing an all-around game with as many tools as a Swiss Army knife.
She led the Lady Indians with 156 kills — ranking sixth in the league — and her team-best 40 aces were 13th in the 3A North, blocking 20 shots (fourth on Elko's roster) and tying for 13th in the league.
Howe finished fifth on Elko's team with 146 digs, placing 14th in the 3A North.
Middle hitter Alexis Elquist closed her career with a 2nd-Team All-League selection as a middle hitter.
Nobody had more blocks in the league than Elquist.
She was a beast at the net for the Lady Indians, returning a league-high 59 shots back to their senders.
In Elko's four-set loss to South Tahoe in the regional semifinal, Elquist denied an insane nine shots.
Like Spence, Elquist doubled well as a defender away from the net — making the transition to the back row for the first time — finishing second on the team with 231 digs (eighth in the league).
As a hitter, Elquist ripped 84 kills (fourth on the team, 11th in the league) and served up 18 aces.
Graduated opposite-side hitter Kaitlyn Rizo earned an honorable mention for the league awards last season.
Rizo notched 119 kills from the right side of Elko's formation, finishing third on the team and 11th in the 3A North.
At the net, she added 18 blocks — finishing fifth on the roster.
Schedule
The Lady Indians will see their first action of the season against Eureka at 11 a.m. Aug. 23 during the Yerington Tournament, following with 1 p.m. and 5 p.m. matches versus North Tahoe and the Yerington junior varsity.
Elko will open league play of the Division 3A North at home, facing Spring Creek at 6 p.m. Aug. 28, at Centennial Gymnasium.