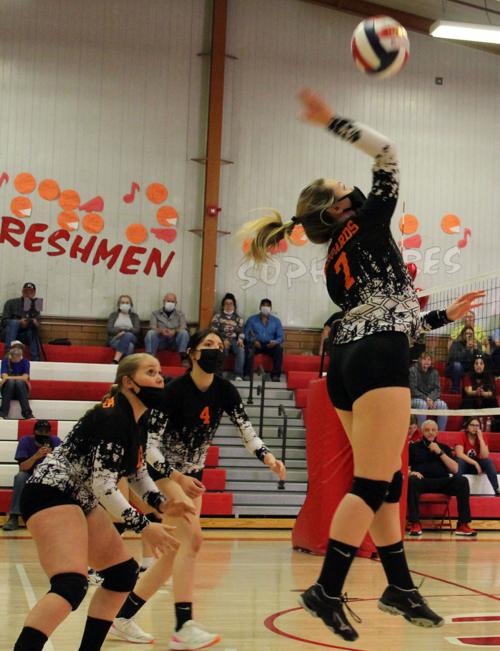 WELLS — Wells' volleyball team finished the season in about the same fashion as it started the year, a game above .500.
Following a 4-3 start, the Lady Leopards finished 2-2 down the stretch — closing the year with a 6-5 overall record and a 6-3 mark in the Division 1A East.
Wells' regular-season finale on Friday, April 2, in McDermitt, was canceled.
Versus Battle Mountain — March 23
Facing Battle Mountain for the second time, Wells did not fare any better in the road match as it did at home — losing in three sets once again.
The Lady Longhorns swept the Lady Leopards by scores of 25-23, 25-10 and 25-13.
Hunsaker said Wells earned only two points in the second set, saying the "rest came from rally scoring," and missed five serves in a row in the third set.
Senior Megan Morgan dished three assists and added a kill, and junior Kalee Higbee finished with two kills and two assists.
Sophomore Jillian Rodriguez posted two putaways and a block, and junior Evelia Garcia notched two blocks and a kill.
Junior Jasmin Garcia finished with two kills and an assist.
Versus Eureka — March 26
On March 26, the Lady Leopards lost to Eureka for the second time — falling in a five-set struggle at home.
Wells took the opening set 25-22 and rolled to a 25-19 victory in the second game, but the Lady Leopards were unable to put the Lady Vandals away.
Eureka stormed back with a 25-17 win in the third frame, forced a fifth set with a 25-22 win in the fourth game and edged out Wells in the race to 15 with a two-point win — claiming the match with three-straight victories.
"I thought after going up 2-0 that we would have some momentum going into the third set. We came out flat and just never gained the energy level that we had in the first two sets," said Wells coach Amy Hunsaker. "Libero Falen Iveson had a much better passing game, getting the loose balls and saving some points. Statistically speaking, we had a great game. Megan (Morgan) dished out 17 assists to our hitters and had three kills and Kalee Higbee had five assists and a kill. Jillian Rodriguez had 10 kills and seven blocks, while Evelia (Garcia) had eight kills and a block. Jasmin Garcia recorded eight kills, and Haylee Sethman recorded three kills and a block. Saige Hall recorded a block and a kill and Alaina Escamilla got a kill too."
Versus Jackpot — March 27
The Lady Leopards pulled off the season sweep of the Lady Jaguars, on March 27, in Jackpot.
Wells won the first set 25-16 and duplicated the score in the second frame, shutting the door with a 25-17 win in the third game.
"I wanted to make sur everyone got some court time," Hunsaker said. Some of our younger players were able to get some valuable time on the court, which will be huge come next fall."
Morgan led the way with 10 assists, three aces and a kill.
Rodriguez topped the offense with seven kills and served perfectly, followed by six putaways from Jasmin Garcia.
Higbee played a well-rounded game with six assists and five kills, Sethman finishing with four putaways and a team-high four aces — also serving perfectly.
Evelia Garcia tallied team-best blocks and three kills, and junior Saige Hall added a pair of putaways and two assists.
Hunsaker noted the play of Iveson in the back row, saying she "got under everything that was hit her way."
Versus Carlin — April 1
In its season finale, Wells swept the season series with the Lady Railroaders on a four-set victory on April 1, in Carlin.
After barely edging Carlin 25-23 in the first set, the Lady Leopards lost the second game 26-24 in extra points.
"I was very impressed with the Carlin team. They are much improved since we played them last," Hunsaker said. "They put together a string of incredible serves in the second set that we just couldn't seem to get a handle on."
Wells controlled the third and fourth games with relative ease, winning by scores of 25-16 and 25-15.
"We had consistent play from our starters and Jillian and Evelia were running on beast mode at the net," Hunsaker said. "They just seemed to be everywhere and a good hit by either of them really changed the tempo and momentum of the game in our favor."
Rodriguez booked 13 kills and a block, and Evelia Garcia posted six kills and a team-high four rejections.
Morgan dished a team-best 21 assists and made six kills herself.
Jasmin Garcia put down eight shots, and Hall contributed four kills.
"Alaina Escamilla and Falen Iveson were impressive in the back row," said Hunsaker. "I am very proud of the way the girls came together (today) and throughout the season. It truly has been a pleasure to step in and coach them."