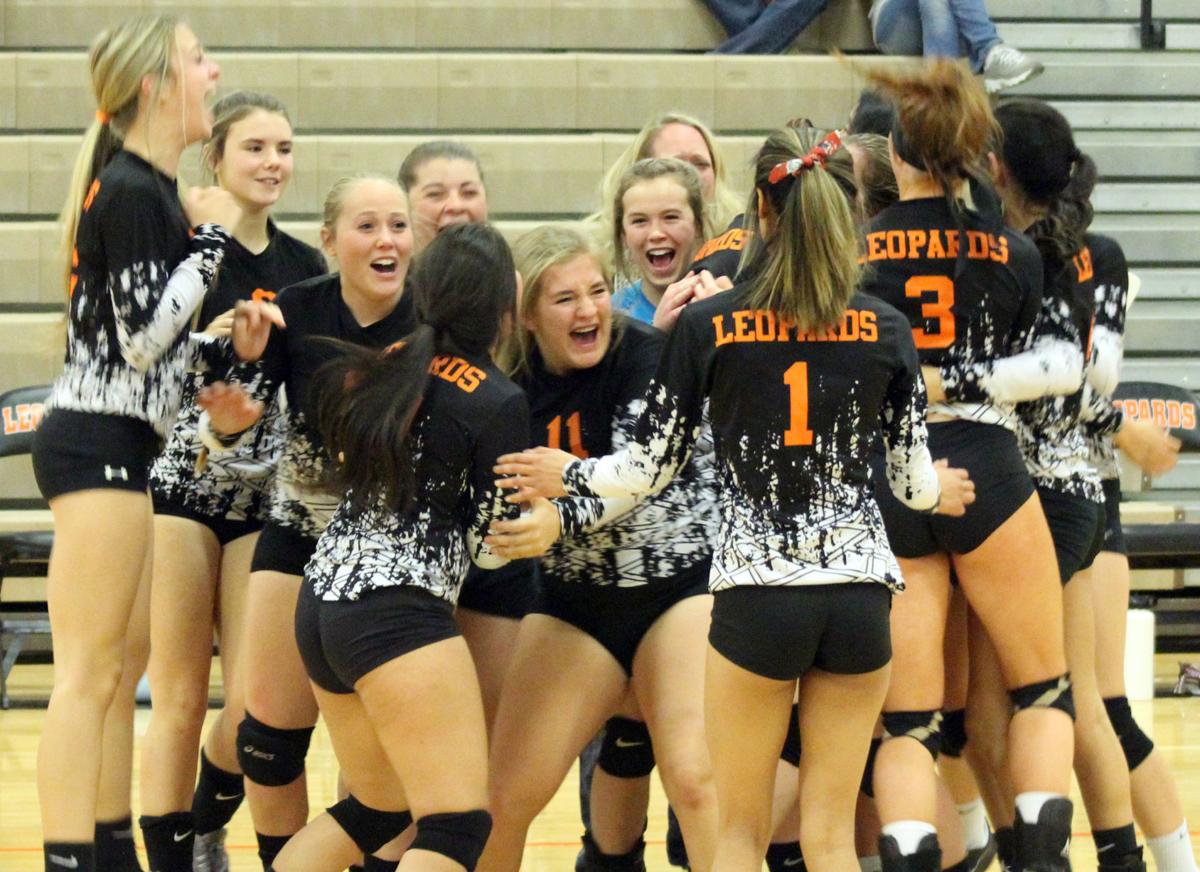 The Lady Leopards placed the outcome in their favor early, winning the first set against Eureka by a double-digit margin of 25-14.
However, the Lady Vandals bounced back and evened the match with a 25-18 victory in the second set.
"The second set, we made simple defensive errors that let them get ahead. The girls battled personally with their own mistakes," said Wells coach Cody Kulinsky.
The third set is often the deciding frame when the first-two games are split, and Wells was stellar in the third during the regular-season finale — rattling off a 25-7 domination.
"We regrouped, refocused and set a higher goal. The girls came out and dominated the set, offensively and defensively," Kulinsky said.
Wells made a pair of four-point service runs and a six-point run by senior Jackie Berumen.
In the fourth set, the Lady Vandals played well early — opening a 10-3 lead.
After a timeout by Kulinsky, Eureka still managed to score the next three-points.
The Lady Leopards began a hellacious comeback, slicing the deficit to four at 17-13 — Berumen serving for three points — eventually tying the game at 20-all with what Kulinsky called a "smart-placed kill" and serves by junior Megan Morgan.
"The team worked the hardest they ever have," she said.
Following a Eureka timeout, Morgan served four points in a row.
You have free articles remaining.
The Lady Vandals got the ball back and scored two points — making the tally 24-22 — but Kulinsky said Wells' serve-receive and defense "ended it with a bang."
"I have never been more proud of these girls to pull hearts and emotions together to fight and not let go of being undefeated," Kulinsky said.
Morgan served 15-for-17 with four aces in an all-around effort, finishing with five kills and four assists.
Berumen led the attack beyond the end line with seven aces — serving 24-for-27 — adding three kills and a block.
Sophomore Jasmin Garcia served 9-for-10 with five aces and drove five kills.
Freshman Jillian Rodriguez served 11-for-12 with a pair of aces, tying for the team high with five kills and a block.
Senior Aubrey Durant — in front of the Wells crowd for the final time — finished with two aces, a team-high 13 assists and a block of her own.
Senior Vanessa Solis put away three shots and blocked another, sophomore Kalee Higbee adding one kill.
1A South-East Regional Tournament
The Lady Leopards locked down the 1A East No. 1 seed with a 10-0 record and will face No. 4 South Beaver Dam at 6:20 p.m. Friday, at Pahranagat Valley High School, in Alamo.
East No. 2 Owyhee (7-3 in league) will play South No. 3 Beatty at 4:40 p.m. Friday.
Eureka (7-3 in league) lost the tiebreaker to the Lady Braves and closed with the East No. 3 seed, taking on South No. 2 Pahranagat Valley at 3 p.m. Friday.
Jackpot (4-6 in league) earned the East No. 4 seed with a pair of victories over both McDermitt and Carlin, the Lady Jaguars closing the first round of the regional tourney with an 8 p.m. Friday tip versus South No. 1 Green Valley Christian.