With the graduation of some mainstays of the program, the Leopards are not only relatively young — they're also somewhat inexperienced.
"We're young; we only have six seniors," said head coach Mike Rodriguez. "We have six or seven freshmen, and I have at least nine kids who are in their first year of playing (high school) football."
Returning
The burden will be lightened with the return of 1st-Team All-Offense selection and senior lineman Sergio Soriano.
He spearheaded a blocking attack that allowed the Leopards to rush for 2,156 yards last year, Wells averaging eight yard per carry, the Leopards rushing for 32 touchdowns as a team.
When used in the backfield, Soriano rushed for 149 yards on 34 carries and punched across the goal line twice.
He also caught 10 balls for 144 yards.
Soriano was also a 1st-Team All-Defense player for the Leopards, ranking second on the roster with 120 tackles — recovering five fumbles and picking off a pass.
The offensive and defensive lines will also be shored up with the return of senior Angel Salazar.
Salazar was a 1st-Team All-Defense and 2nd-Team All-Offense ballplayer.
He led Wells with two forced fumbles and ranked second on the roster with two sacks, finishing with 49 tackles.
Despite several crucial losses, Wells brings back more of its beef along the offensive and defensive fronts.
Senior Charles Martinez was a 2nd-Team All-League defensive selection and an honorable mention on the offensive line.
During his junior season, he was third on the team with 91 tackles — adding a sack and a forced fumble.
In the backfield, Wells will welcome the return of senior Jared Martinez — either behind center or at running back.
"Jared will play running back if I don't put him at quarterback," Rodriguez said.
Last year, Martinez rushed for 273 yards on 45 attempts and scored six touchdowns.
In the passing game, he reeled in 26 catches for 338 yards and three scores.
Martinez — due to an injury — was the Leopards' quarterback during the 2017 season, throwing for 913 yards with 14 touchdowns against 10 interceptions as a sophomore.
As a junior, he received an honorable mention for the league awards on defense after recording 43 tackles, scooping up eight fumbles and picking off three passes — returning one for a touchdown.
Now-junior Riley Stewart is in the running to be Wells' new signal caller.
"I'm not sure who I'm going to put at quarterback yet. It's a tossup between Riley and Jared," Rodriguez said. "If Riley isn't our quarterback, he'll play wide receiver again."
Stewart was an honorable mention at receiver as a sophomore, snagging 19 balls for a whopping 526 yards with seven TDs.
He carried the ball 15 times for 104 yards and another touchdown.
On the defensive side of the rock, he tallied 46 tackles and took his lone interception to the house from 45-yards out.
Sophomore Chris Franco may be Wells' elite playmaker.
As a freshman, he was an honorable mention on both sides of the football.
Franco averaged nearly 12 yards per carry on 10 touches — rushing for 119 yards — scoring two touchdowns on the ground.
"Chris will play halfback. He's very athletic and he's getting strong," Rodriguez said.
Through the air, he averaged 19.6 yards per reception — catching 23 passes for 451 yards with six receiving TDs — taking one 89 yards.
He is a threat in the third phase of the game as well, returning two of his three punt returns the distance.
On defense, 42 of his 60 tackles were solo stops — adding three fumble recoveries and picking off a pass.
You have free articles remaining.
In limited action as a freshman, Lucas Peavey racked up 207 yards on 24 carries with a rushing touchdown.
Defensively, he flew around — making 50 tackles, notching a sack and recovering a fumble.
At wide receiver, Rodriguez also plans to use senior Dameion Mercado.
Last season, his lone catch went for a 17-yard touchdown.
Defensively, he made 11 tackles and recovered a fumble.
Rodriguez's other senior is Alin Beane, who is wise beyond his years.
"Alin is actually a sophomore in age; he's really smart," Rodriguez said. "We can put him at receiver."
Newcomers
With the 2019 Leopards consisting of several new faces, some have already made a positive impression on Rodriguez.
"Darion Lafferty is a sophomore who didn't play as a freshman," Rodriguez said. "I can play him at linebacker. He looks solid. He's athletic and he likes to hit."
Sophomore Xavier Mercado is the younger brother of Dameion, and Rodriguez thinks the younger of the two may be a solid option at defensive end, saying "he's disciplined there."
According to Rodriguez, freshman Blake Figueroa will "probably be a receiver and play in the secondary on defense."
"I think of the freshmen, a lot of them will be good linemen," Rodriguez said. "We have a lot of young kids, but I think once they get their feet wet — they'll do well."
Key Losses
As a senior, quarterback and 1A Northern-East MVP Zane Rodriguez threw for 2,079 yards and 26 touchdowns against nine interceptions.
On Sept. 14, 2018, against Excel Christian, in Sparks, Rodriguez led a come-from-behind, shootout victory for the Leopards — passing for 294 yards and a career-best seven TDs, rushing for 132 yards and two scores — accounting for nine touchdowns in a 78-72 win.
On the road in Carlin for the regular-season finale, he completed 19-of-26 passes for a career-high 357 yards with four touchdowns, rushing for 63 yards with two TDs in a 60-22 victory.
Rodriguez began to run with regularity as he became more comfortable on his reconstructed knee — tearing his ACL as a junior after being named the Offensive Player of the Year in his sophomore season — leading the Leopards and ranking third in the league with 815 rushing yards on 60 carries, averaging 13.6 yards per attempt.
Last year, his 14 rushing TDs tied for second in the 1A North, and he even spent time split out wide — catching six passes for 180 yards with two scores — also returning an interception to the house for a pick-six.
His 17-total TDs scored tied for second in the league, Rodriguez accounting for 43 touchdowns with his contributions through the air.
Defensively from his safety position, Rodriguez made 82 tackles (50 solo, 13 for losses), a team-high 2.5 sacks, recovered four fumbles, forced a fumble and intercepted two passes.
Enrique Aguilar, who only stands about 5-foot-4, is tougher than a $2 steak — a large reason why he earned the Defensive Player of the Year honor.
Aguilar led the 1A Northern-East with 130 tackles (60 solo, eight for losses), topped the league with 11 fumble recoveries and snagged a league-best eight interceptions.
He turned five of his league-high 19 takeaways into points — returning four fumbles the distance and taking one interception to the house.
As incredible as Aguilar was on defense, he could have easily been named the Offensive Player of the Year as well.
He led the 1A Northern-East in every possible category for wide receivers with 35 catches for 910 yards with 14 touchdowns.
From the backfield, he racked up 466 rushing yards on 72 carries for a 6.5-yard average with six touchdowns.
Aguilar's 25-total TDs scored led the league by eight touchdowns over the next-closest players.
Schedule
Wells' first game — which was scheduled for Aug. 23 — was canceled because Excel Christian does not have enough players.
The Leopards will kick off the year on the road at 7 p.m. Aug. 30, in Round Mountain.
Zane Rodriguez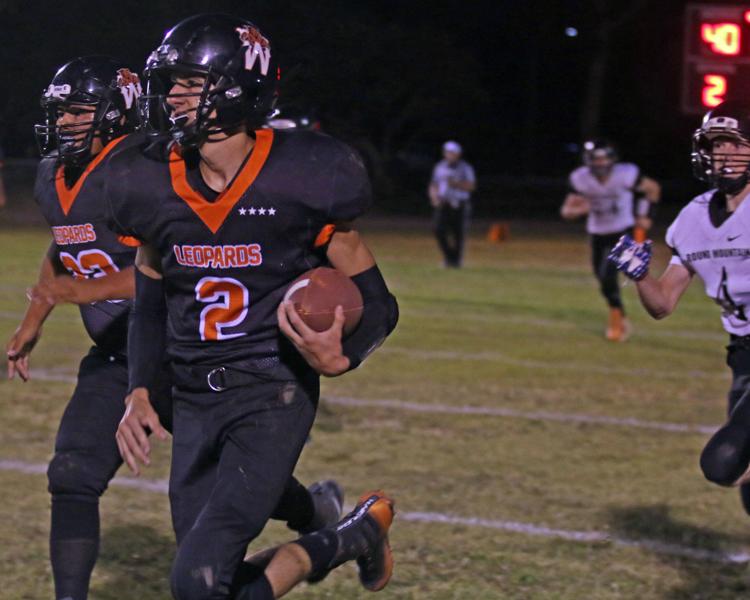 Enrique Aguilar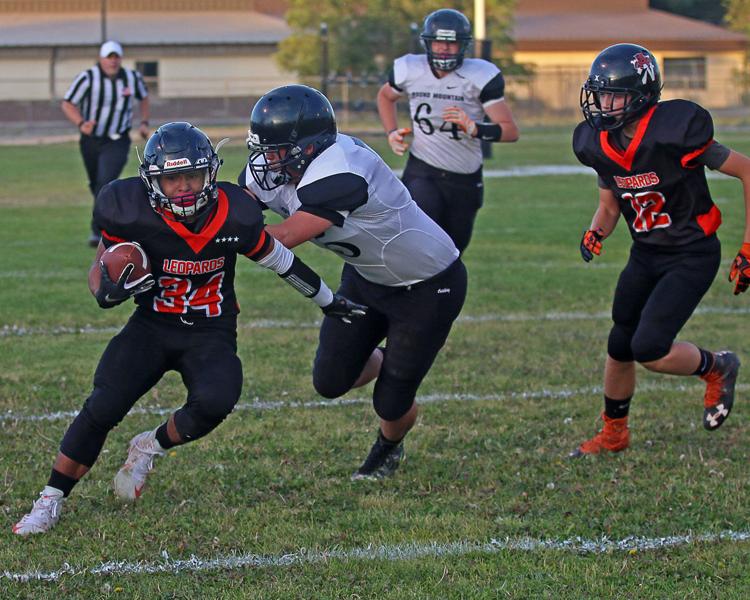 Riley Stewart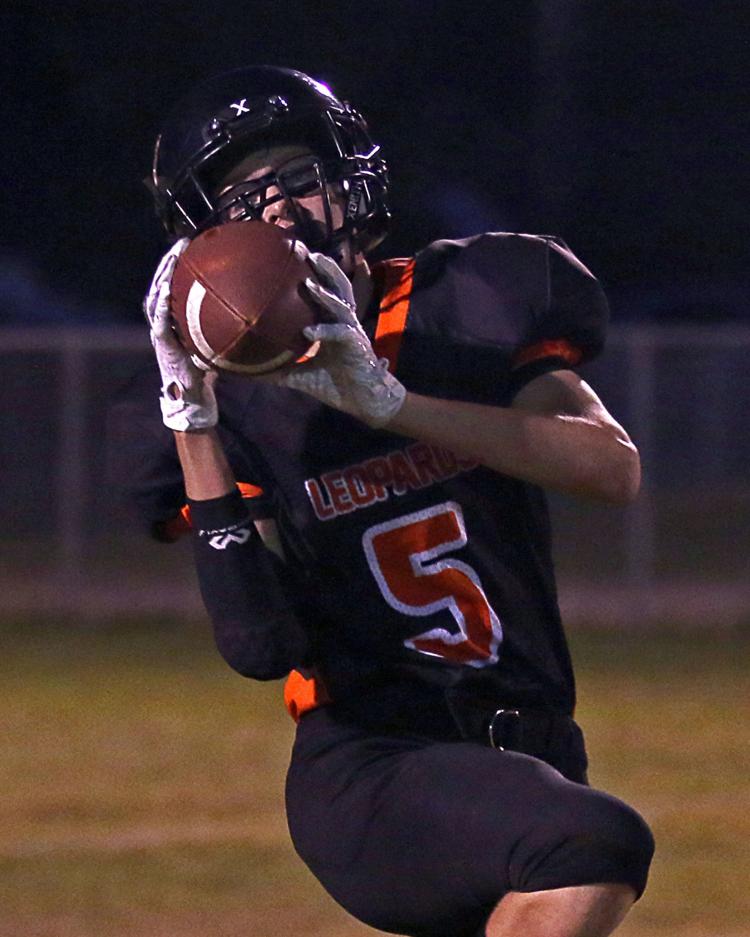 Jared Martinez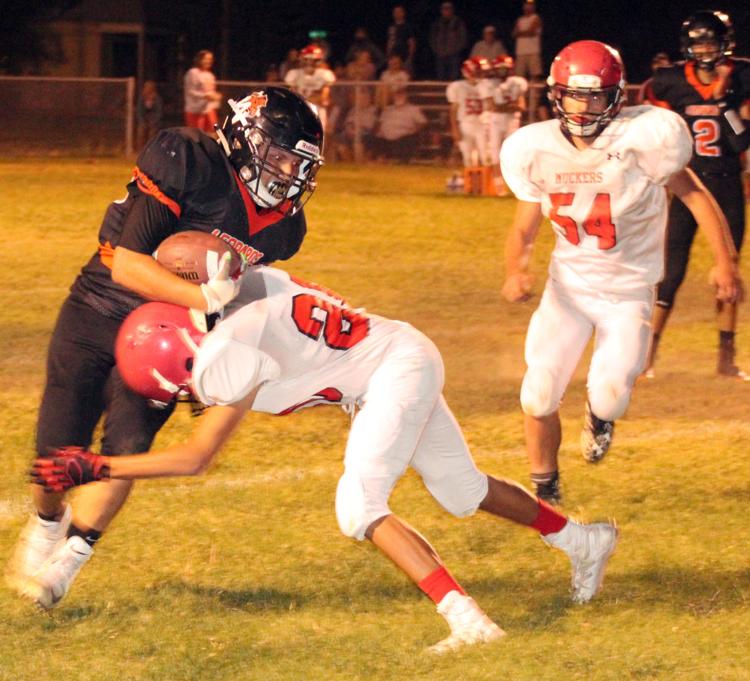 Angel Salazar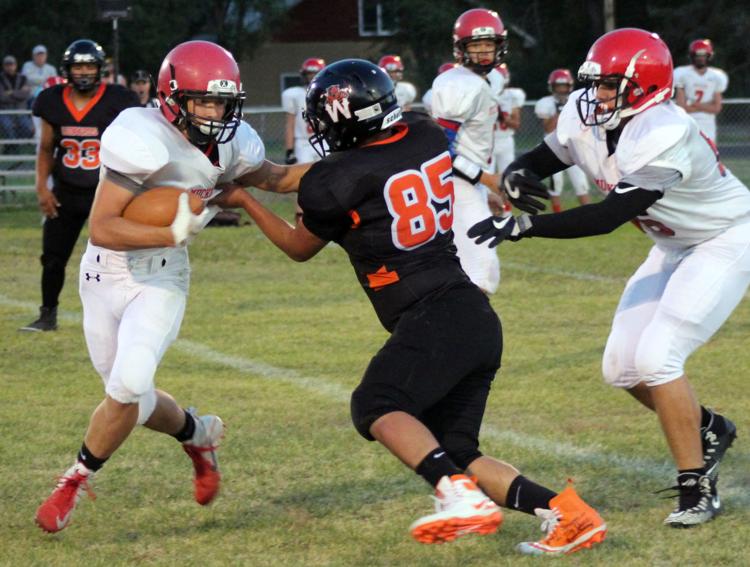 Riley Stewart
Jared Martinez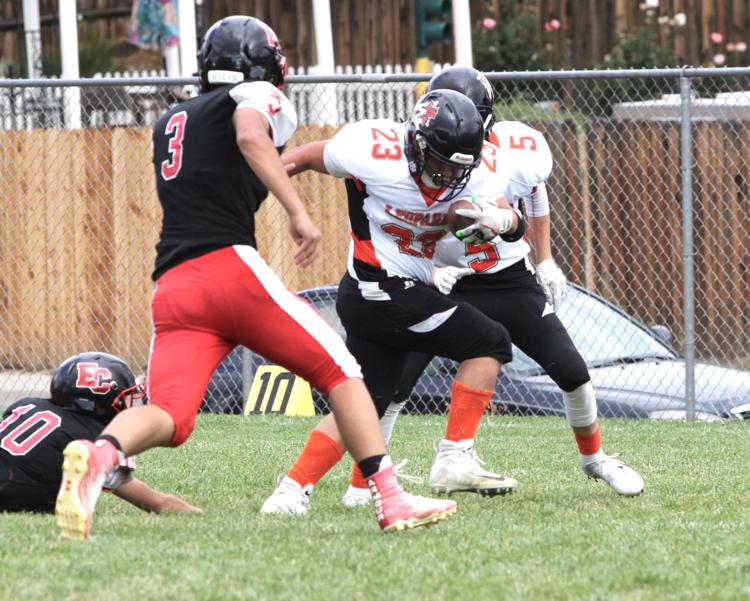 Enrique Aguilar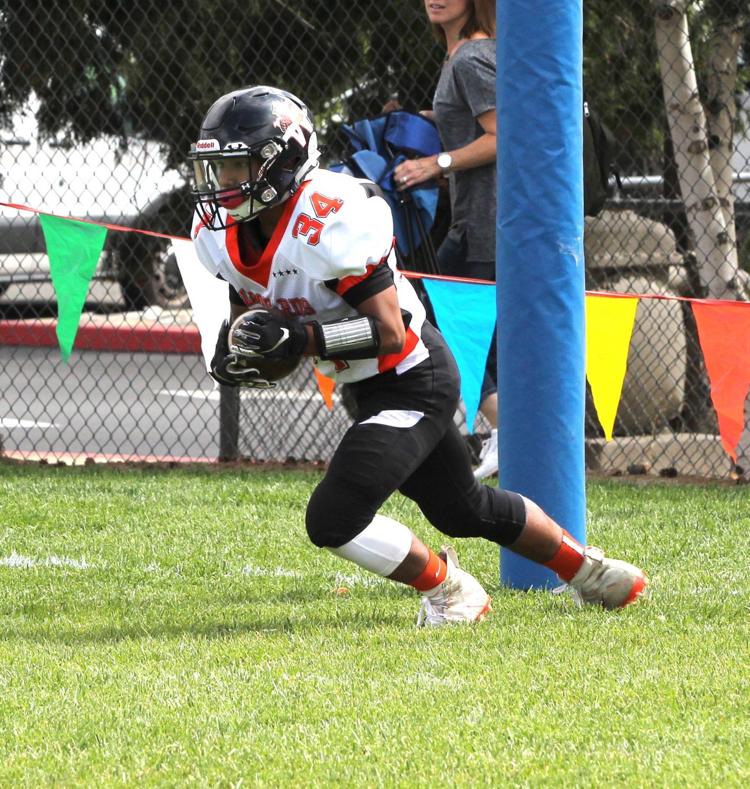 Jared Martinez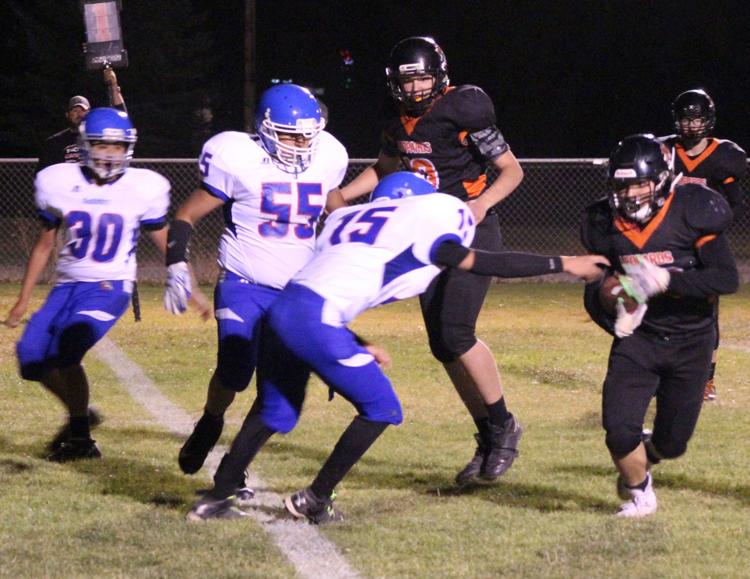 Chris Franco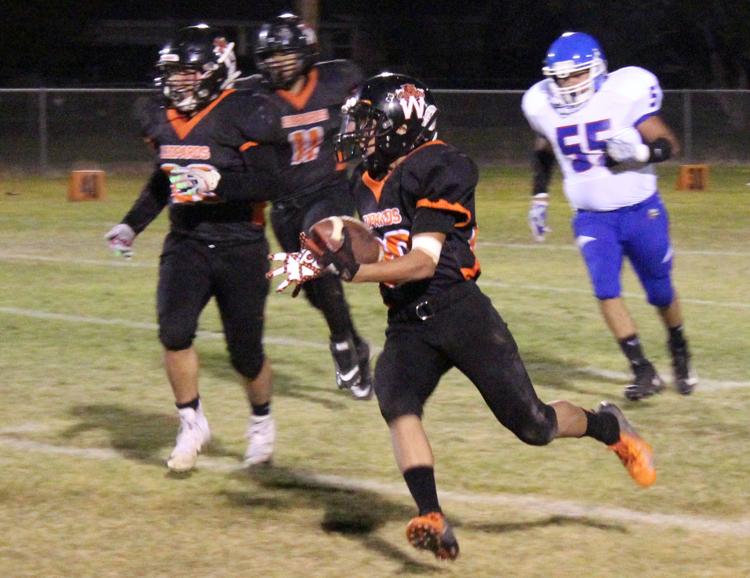 Sergio Soriano, Zane Rodriguez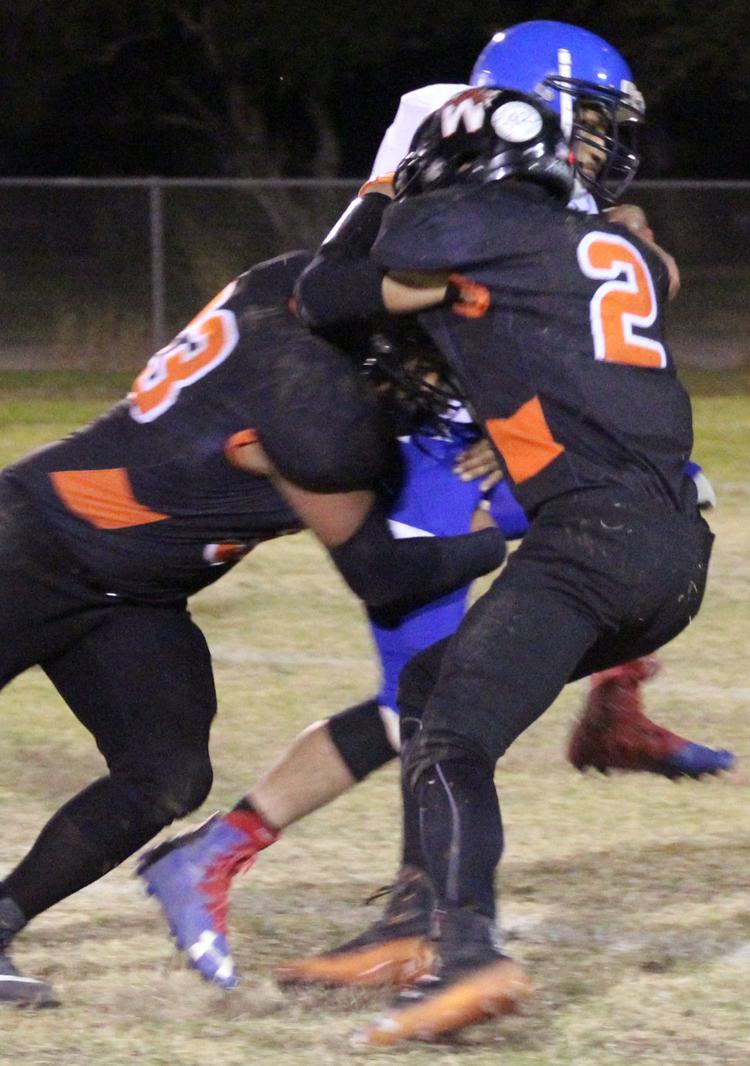 Riley Stewart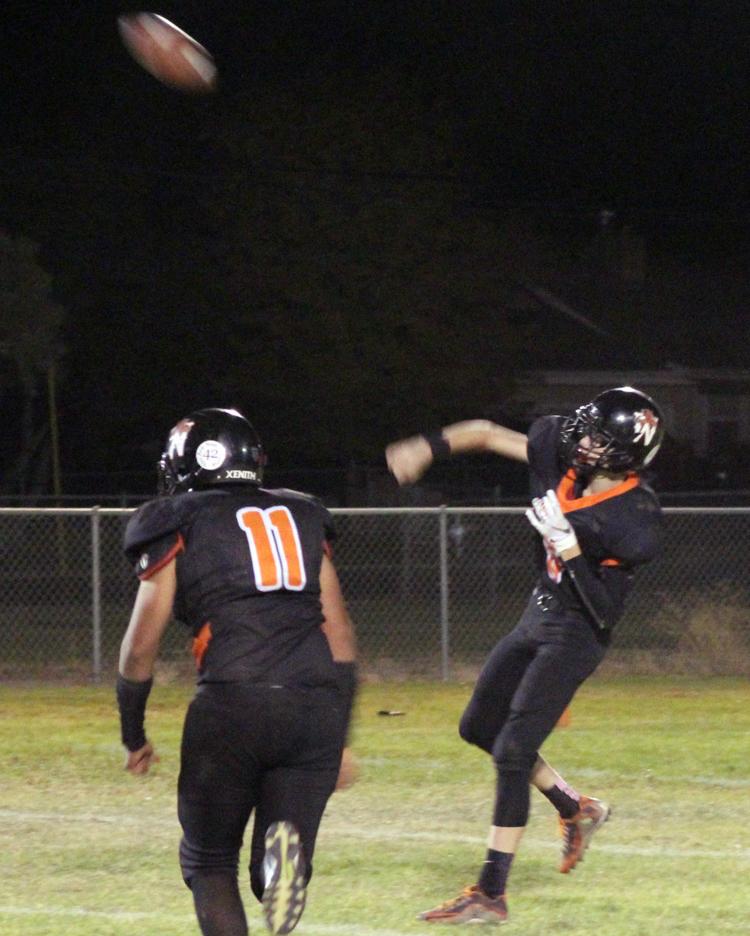 Enrique Aguilar
Zane Rodriguez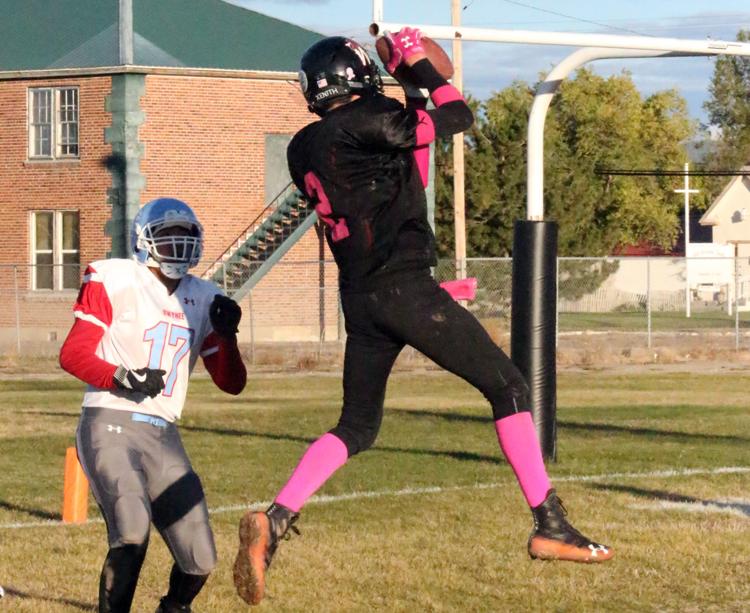 Enrique Aguilar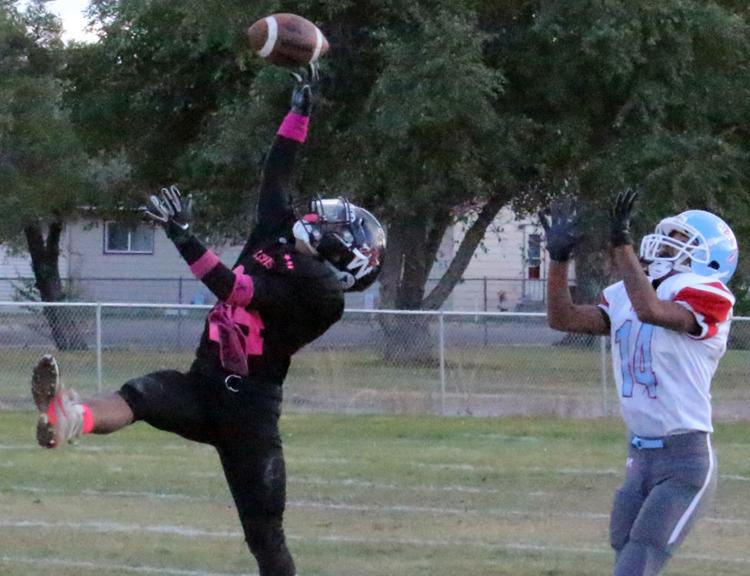 Zane Rodriguez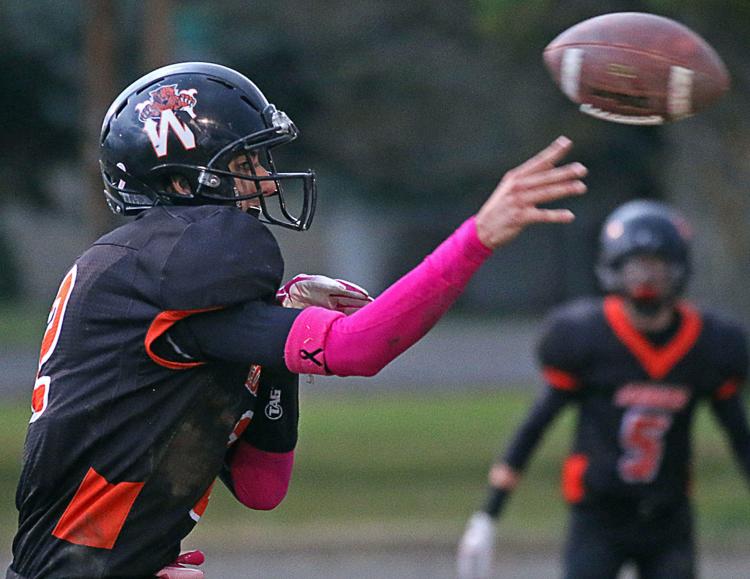 Zane Rodriguez, Enrique Aguilar Signing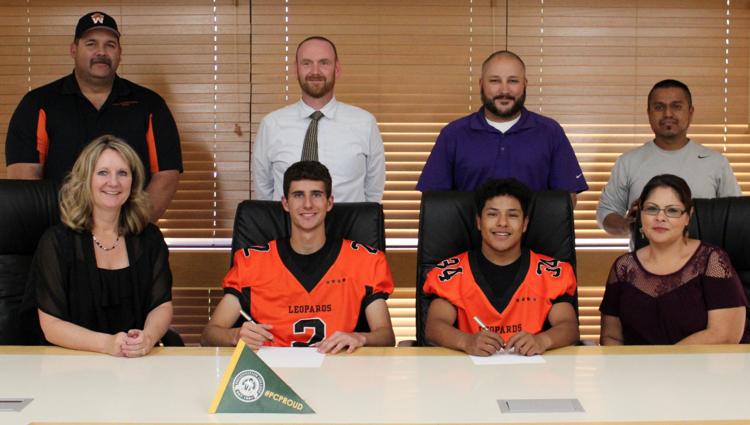 Zane Rodriguez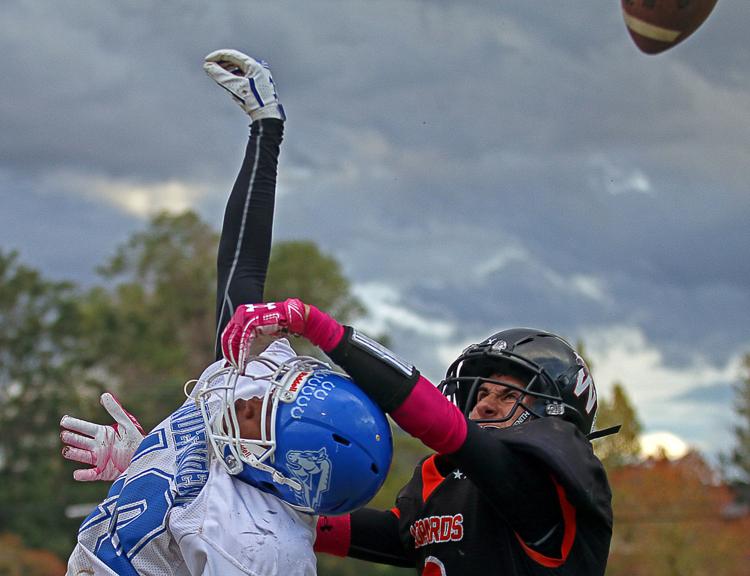 Enrique Aguilar