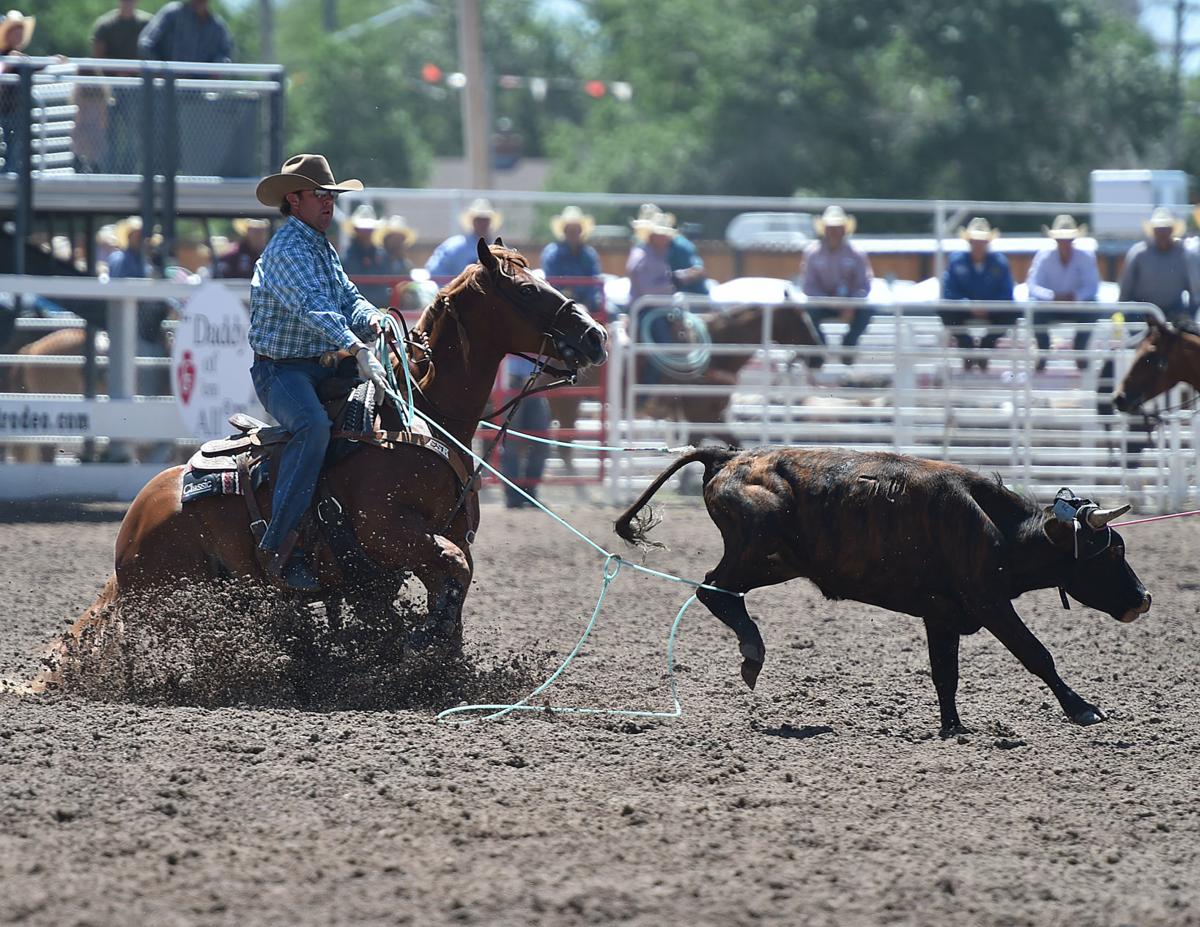 ELKO — In case anyone is wondering who the hottest heeler in the world is, tell them he's from Fallon.
He's teamed up with a new header, currently the best in the world.
Corkill began the 2019 season heeling for six-time National Finals Rodeo qualifier Colby Lovell, the duo experiencing mixed results.
When Luke Brown's partner, 2018 world champion Paul Eaves, was expecting a child with his wife in the spring, Brown and Corkill hooked up for a successful run as the rodeo moved West.
In a span of a week from April 8 to April 15, Corkill climbed 29 spots in the Professional Rodeo Cowboys Association world heeling standings.
Brown and Corkill won the Oakdale (California) Saddle Club Rodeo for $6,438 apiece, each claiming another $4,172 each for a third-place finish in the Clark County Fair & Rodeo, in Logandale.
Corkill catapulted from 45th to 16th in the world standings with a $10,000-plus week.
Chump change compared to the streak he's ripped off since the summer run.
Before the Reno Rodeo, Corkill paired up with 2019 world champion header Clay Smith — Eaves' former partner — and the chemistry has been electric, the winning infectious.
While Smith and Corkill did not have any luck in Reno, seemingly everything has gone their way since.
The steam started to build during the Greeley (Colorado) Stampede, Smith and Corkill winning $7,311 each.
They finished second in the first round with a 4.8-second run for $2,309 and added $1,020 for a second-place time of 6.6 in the short-go.
With a three-head tally of 17.4 seconds, they won the average and pocketed $3,982.
During the Cody (Wyoming) Stampede — a one-steer rodeo — Smith and Corkill came tight in 4.8 seconds for a second-place tie and a whopping $8,599.
You have free articles remaining.
The ball kept rolling at the St. Paul (Oregon) Rodeo, Smith and Corkill piling on another $6,080 — earning $1,172 for a sixth-place run (5.2 seconds) in the first round, $513 for a seventh-place tie (5.3) in round two and a second-place average check worth $4,395 for a two-steer time of 10.5 seconds.
In the Eugene (Oregon) Pro Rodeo, a time of four-flat was the fastest run of the one-steer rodeo — stacking $3,429 into their jeans.
In a week's time, Smith and Corkill — during the span known as Cowboy Christmas — each nailed down more than $25,000 around the 4th of July.
From July 9-13, at the Central Wyoming Fair and PRCA Rodeo, the torrid stretch marched on with a round-one win of five-flat for $3,324. Despite a time of 10.7 in the second round, Smith and Corkill won $410 and finished with an average check of $2,384 for fifth place. They also ranked fifth with a two-steer total of 15.2 seconds for $1,811 and added a seventh-place time of 4.9 for $549 at the Sheridan WYO Rodeo.
At the Snake River Stampede, in Nampa, Idaho, Smith and Corkill piled on $5,315 to their cause — placing second in the three-steer average (15.4 seconds) for $4,657 and adding $658 in round earnings for a 4.8-second effort in round two and a 5.5-second performance in the short-go.
During the California Rodeo Salinas, from July 18-21 — despite taking a no-time in the second round — Smith and Corkill made runs one and two count.
They finished eighth for $203 with a nine-flat on their first steer, topping all teams on the second run with a time of 7.9 for $2,337 versus the longest barrier in the sport, both header and heeler firing from the same box.
With a 4.4-second run, they shared fourth place and took $1,588 from the Spanish Fork (Utah) Fiesta Days Rodeo.
New format, same results.
Smith and Corkill advanced through the qualifying round at the Daddy of 'Em All, ripping off an 8.5-second run against one of the longest scores in the rodeo world at the Cheyenne (Wyoming) Frontier Days for a third-place split in the first round and $1,639.
They ranked seventh in the two-steer average with a two-run total of 19.9 seconds for another $529.
Smith and Corkill will run their third and fourth steers Friday and Saturday in Cheyenne, hoping to qualify for the one-head final round on Sunday.
Since the 4th of July stretch, Smith and Corkill have compiled more than $45,000 apiece.
Smith — the defending world champion — is back in the No. 1 spot in the heading world standings with $110,301 for a $20,833 lead over second place.
Corkill, after finding himself 45th in the heeling standings at the beginning of April, has climbed all the way to sixth with $68,426 in winnings — all but a shade more than $20,000 coming in the last-three weeks.
Look out leaders; the three-time world champ — Jade Corkill — is coming, hungry and hot on the heels of the cowboys and the steers.