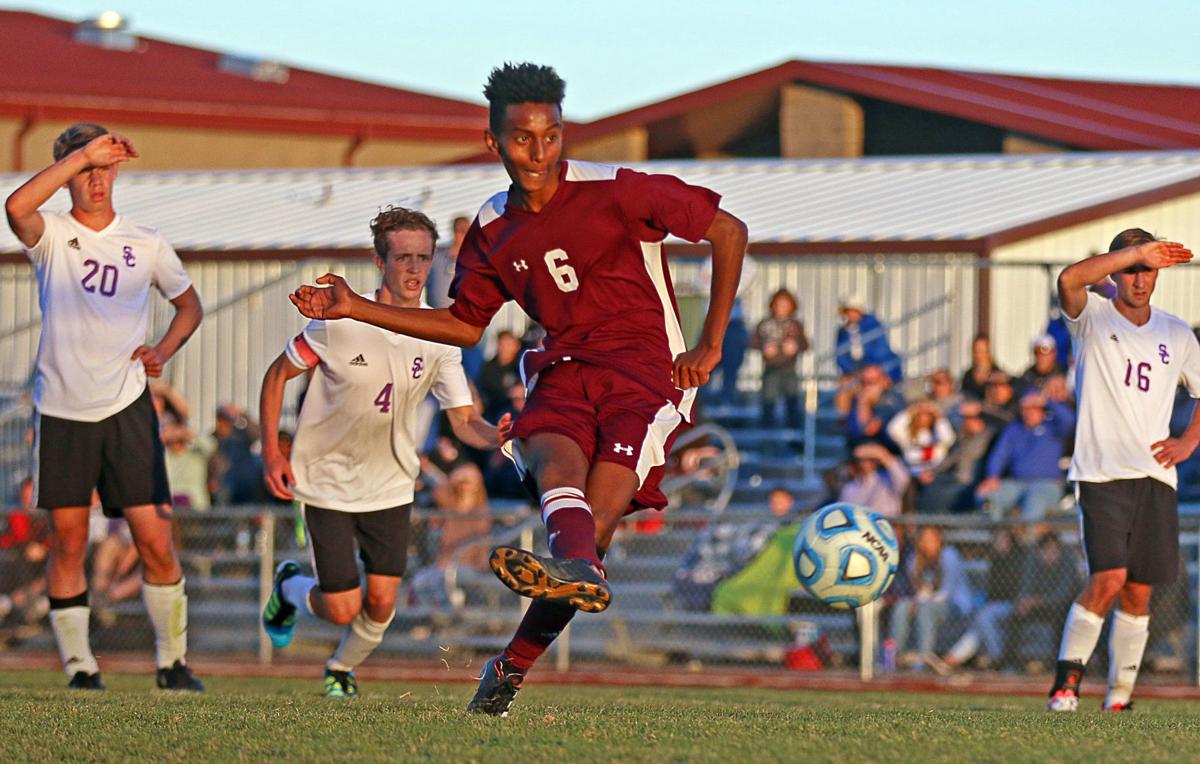 In 2018, under first-year head coach Alonso Lujan, the Indians sputtered — both revving on all cylinders and misfiring at other times.
Elko closed the year with a 7-10-1 mark in league play of the Division 3A North "A" league standings — finishing sixth and two games out of a spot in the playoffs — closing the season with an 11-15-1 overall record.
Lujan has a strong belief things will be different this time around.
"We have a more speed than last year, and I think we will be able to replace our defensive losses," he said. "We have a lot of experience. I bet 70 percent of our key players from last year are back. We have 11 seniors and probably eight or nine will start."
Key Returners
Meles was an honorable mention for the league awards as a junior.
He was Elko's leading scorer, cashing 11 goals on the year.
Meles was a dual-threat weapon to score or set up his teammates, also dishing nine assists – ranking second on the team in dimes.
His 31 total points topped the team.
"Natu has great vision of the field. One question I have for him this year is whether I want to leave him at center-mid or make him more of a center forward," Lujan said.
Of four players who earned recognition by the league in 2018, Meles is the only one who will play for the Indians in the upcoming season.
Lujan is anxiously awaiting the potential of junior Jose Ventura.
"Jose is really fast. He will be an attacking mid," he said. "He can make space out of nowhere and he has great ability to recover."
On the left offensive wing, Lujan expects senior Gustavo Cortez to "do damage."
"Gustavo has good speed and good vision, but he has really good control of the ball," he said.
On the right side, Lujan has "three or four options on the wing."
"(Sophomore) Alex Medrano, (senior) Lizandro Rodriguez and (senior) Chris Perez can all help us there," he said.
At the "9" position, senior Josue Aguirre's speed can apply pressure on defenses.
Defensively, sophomore Freddy Cervantes is poised to take a big leap in his second season of varsity ball.
"We'll get Freddy more minutes, he's solid," Lujan said. "I'll probably keep him at center-back all the time."
Senior Noe Guzman figures to play in the center of the defense with Cervantes, and senior Julian Gonzalez is expected to play in the defensive midfield.
During his senior season, Jose Flores will be given the ability to play either at the center of Elko's defense or flex back to the right wing.
You have free articles remaining.
"Jose looks very solid. If we have him on the wing, he can make overlapping runs on offense," Lujan said.
In goal, Elko will place tending duties on the shoulders of sophomore Eric Azcue — who made the varsity team as a freshman.
"Eric is going to be our main goalie. He is confident there and communicates well with the defense," Lujan said. "He should give us a boost there. He will give our defense the ability to play more aggressively, do some different things and take some chances."
Lujan said junior Lizandro Rodriguez and senior Jakob Jacaway will play on the wing, Rodriguez likely on the right side or up top if the Indians line up in a 4-4-2 formation and Jacaway possibly playing on either side.
Newcomers
"We have a good balance of experience and youth," Lujan said. "We only have two juniors."
One of the juniors who moved from the junior varsity to the varsity squad was Steven Hutnyak.
"We have three freshmen and a lot of sophomores," Lujan said.
Lujan said the Indians' tallest player is probably freshman Miguel Abarca.
"He looks good; he's there. He's fast and smart," Lujan said. "He can play left or right back. We'll see how he reacts in the games."
Key Losses
The Indians graduated their only all-league selection from last season, Jorge Landeros.
Landeros was a 2nd-Team All-North selection in the midfield.
Possessing the ability to score and pass, Landeros took on a leadership role and did more distributing of the ball than he did looking for own shots.
He netted six goals of his own, but Landeros tallied a team-high 14 assists – scoring 26 total points.
Earning an honorable mention for the league was Eddy Sainz, who became much more of an offensive weapon with increased minutes during his senior season, scoring goals and passing to others.
He finished the year with 21 total points, coming on an even attack with seven goals and seven assists.
Lupe Ortiz was the Indians' third honorable mention for the league awards, scoring one goal and assisting four more.
A large void is left on the right wing, as senior Raul Cortes is not playing this season — figuring to be one of the Indians' top scorers — finishing second on the roster with nine goals last year as a junior.
Goals
"I definitely think we will do better than last year. My goal is to be in the top-four or top-five of the league and go to regionals," Lujan said. "I'm sure everyone thinks they have a good team at this time of the year. We're just going to have to see what the other teams have and what we can do."
Schedule
Elko will open the year with a preseason tournament in South Tahoe, facing Douglas at 1:30 p.m. Aug. 23 and playing two games on Aug. 24 — squaring off with Shadow Ridge at 10:30 a.m. and closing with a huge test at 3 p.m. versus Bishop Gorman.
The Indians will open league play of the Division 3A North versus North Tahoe at 5 p.m. Aug. 30, at Adobe Middle School, finishing the two-game home stand at noon Aug. 31 against Truckee.