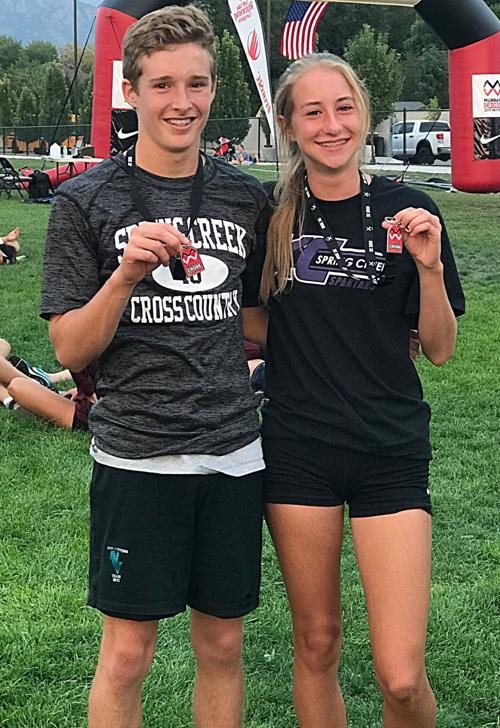 MURRAY, Utah – Spring Creek got solid performances from both of its teams on Saturday, with the girls taking third place and the boys placing seventh.
Both teams benefited from having top finishers.
William Fallini-Haas took first for the boys with a time of 15:09 and Rylie Lusk took home first place on the girls side with a time of 18:47.
Younger sister Kendra Lusk was second for the Lady Spartans and 21st overall with a time of 19:39.
Larissa Mauer was 27th at 19:52 and Rosemary Little was just a few spots behind her with a time of 19:57.
Mikkala Perchetti took 45th place and crossed the finish line at 20:14 and Alandra Mauer finished 63rd with a time of 20:36.
Freshman Emma Little rounded out the top seven for the Lady Spartans at 21:22 to take 124th place.
Head coach Todd Mahlke said he was pleased with the times his runners posted but would tweak the race strategy if they ran on a similar course.
"The course was tight and it was pretty hard to get out and pass," he said. "After the first half-mile it was pretty tight passing on the course, so if we had to do it again we'd probably get out a little bit faster on the course."
On the boys side, Spencer Thomas was second on the team behind Fallini-Haas and took 10th with a time of 16:07.
George Skivington also cracked the top 20 and finished 17th with a time of 17:38. John Hughes ended up 121st by, finishing his race at 17:38, and Matthew Henning wasn't too far off that pace with a time of 17:54.
Logan Allen finished in the 169th position with a time of 18:01 and Terrence Simpson finished 224th with a time of 18:29.
Spring Creek will be back on the track Friday for the Century Challenge in Pocatello, Idaho. There will not be as many competitors at this meet as there were in Murray but Mahlke said he is expecting some fast runners from some of the bigger schools in the area.
"It's a smaller venue but there is some good competition with Idaho schools," he said. "There will be some 5A schools there so we'll be looking for some good competition again out there."
Spring Creek is quickly approaching the halfway mark on its schedule and the runners are seeing their times drop as they try to prepare for regionals at the end of the season.
Mahlke said the season has been a blur but thinks his team is right where it should be at this point on the calendar.
"This is the time of the season where you're looking to improve your times and get the mileage in," he said. "This week will mark the halfway point of the season after this race, so it's going by quickly. We're halfway to where we need to be."
Be the first to know
Get local news delivered to your inbox!