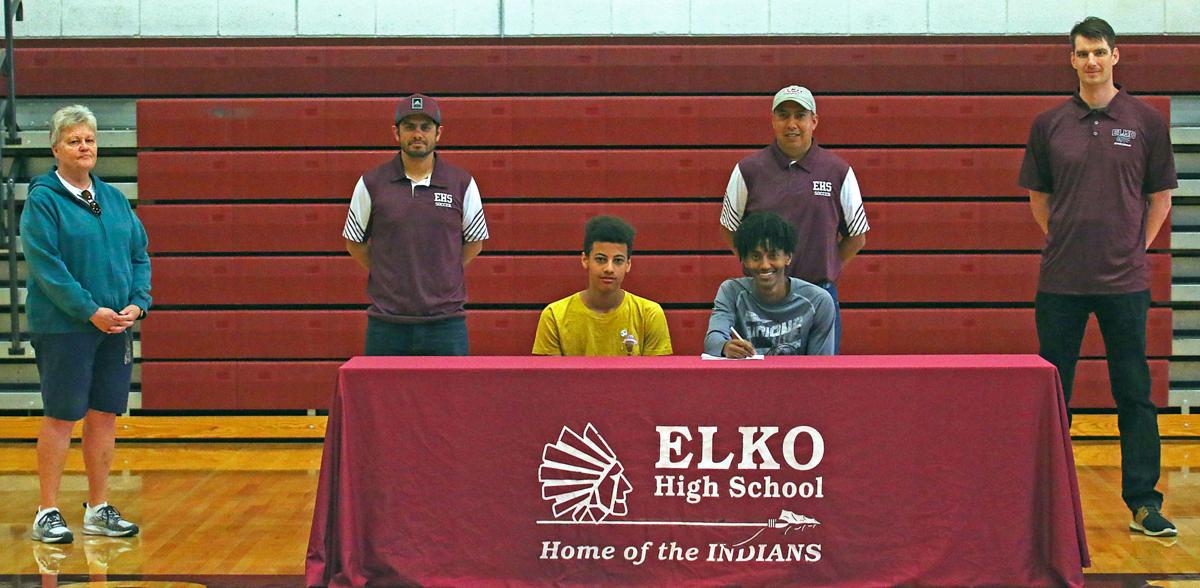 Following graduation, Meles will take his talents to the next level, ultimately choosing to continue his career at Lake Tahoe Community College — doing his striking for the Coyotes.
He was also in contact with Eastern Oregon University, in La Grande, Blue Mountain Community College, in Pendleton, Oregon, and he said "the biggest school" was Oregon State University, in Corvallis.
His biggest dream "has always been to play D-I."
While Oregon State is a Division-I university, Meles would also like to play for either Sacramento State University or UC Davis.
The fact Sacramento State and UC Davis are California schools helped shaped his decision.
"This program (LTCC) will give him two years of college experience, and he can became a resident of California so the tuition will be cheaper when he goes to a university," said Elko coach Alonso Lujan.
Meles caught the eyes of the Lake Tahoe coaching staff during the Indians' 2019 preseason tournament, at South Tahoe High School, and he spoke with one of the coaches during Elko's road trip to North Valleys, in Reno, where he was notified the school wanted him in their program.
"I played in the (Las Vegas) Mayor's Cup in February and one of the coaches was there. That's when I made my decision," Meles said. "The coach emailed Alonso, too."
With the Coyotes, Meles said he is expected to play forward — possessing the ability to do damage on the wings — serving as a dangerous weapon when he touches the ball up top.
"My favorite position is either on the wing or striker," he said.
When he steps on the campus of LTCC, it will mark his first trip to the school.
"I was supposed to make my visit in March, but the coronavirus canceled my trip," he said.
While in college, Meles will study computer and science information — intending on becoming a web developer.
"They have all the classes I need to get started there," he said.
Lake Tahoe Community College history
Since launching their program in 2014, the Coyotes have experienced remarkable success with a 67-25-21 overall record and a Golden Valley Conference record of 38-6-9 as a member of the California Community College Athletic Association.
Lake Tahoe began its history on high notes, winning back-to-back conference championships in 2014 and 2015.
In total, 26 Coyotes have been named to the All-Conference awards and six have been tabbed as the Conference Players of the Year — two earning All-American status.
Lake Tahoe has been ranked as high as No. 3 in the nation three times during the 2014, 2015 and 2018 seasons.
In 2015, the Coyotes made it all the way to the CCCAA Final Four before losing in the semifinal.
Coaches' thoughts
"Natu was my main guy, my leader. Even when he was hurt — either from the bench or limping on the field — he motivated the kids," Lujan said. "Even if we could have put in a faster kid, they would not have been able to give me what he did. Mentally, I think he can be on the starting team in college right now, no doubt. Physically, he will have to get stronger but he has all the skills."
"Right away, I recognized Natu's ability as a leader. He is a role model," said Elko assistant coach Jackson Miller. "He steps up and does whatever is necessary. I've never seen someone score more goals at opportune times when we needed them."
"Natu is so approachable. Every team has a standard, and he was ours. He answered questions from the younger kids, gave pointers and was the leader of the program on the field and off," said Elko assistant coach Lupe Monroy. "He has so much energy and desire. If we were attacking and lost the ball, he would sprint all the way back. That showed the other kids what it takes to be successful."
High school career
Meles capped his career with 1st-Team All-North and 1st-Team All-State selections.
Playing a variety of positions but a lot at forward, he was a scoring machine for the Indians.
Despite not qualifying for the 3A North regional tournament — Elko ranking sixth with a winning record of 7-6-5 in league play — Meles not only paced the Indians, he tied for third in the league with 20 goals.
He ranked fourth in the 3A North in scoring with 43 points, adding three assists.
Meles went off on Incline, posting nine points in a 7-0 win on Oct. 4, 2019, in Elko, scoring three goals and dishing three assists.
Although he dealt with nagging injuries — playing substantial minutes in just 16 games — Meles scored in 10 contests, notching double-digit goals in six matches.
His biggest output came in a four-goal haul against Spring Creek on Sept. 27, 2019, at Adobe Middle School, in a 5-0 victory for the Indians.
Meles added two hat tricks, the first against Incline and the second coming on Elko's senior day in a 4-2 victory over Lowry on Oct. 29, 2019.
He also led Elko's offensive charge as a junior, topping the Indians' roster with 11 goals and ranking eighth in the league.
A dual-threat weapon to score or set up his teammates, Meles also racked up nine assists — ranking second on the team in dimes and finishing fourth in the 3A North.
His 31 total points led the team, placing him sixth in the league in scoring.
As a sophomore — his first full year on the varsity team — Meles tallied two goals and a pair of assists.
Looking foward
With fall sports and summer camps in question due to COVID-19, Meles is unaware when he will be able to report to Lake Tahoe but has been instructed what to do in the meantime.
"The coach sent me a training program to work on through the summer, but he is supposed to contact me again soon to lay out a plan when the school figures out if we can have fall classes," Meles said. "I'm supposed to live on campus in the dorms with the soccer kids, but I'm not sure what will happen if classes have to go online."
"I want to develop my game," he said. "College soccer will be much more physical, so I think that will be the biggest challenge to overcome."
Congratulations to Natu Meles on a fantastic career in maroon and white with the Indians, and best wishes as he attempts to become a Division-I soccer player — all roads leading to and starting from Lake Tahoe Community College.
Be the first to know
Get local news delivered to your inbox!