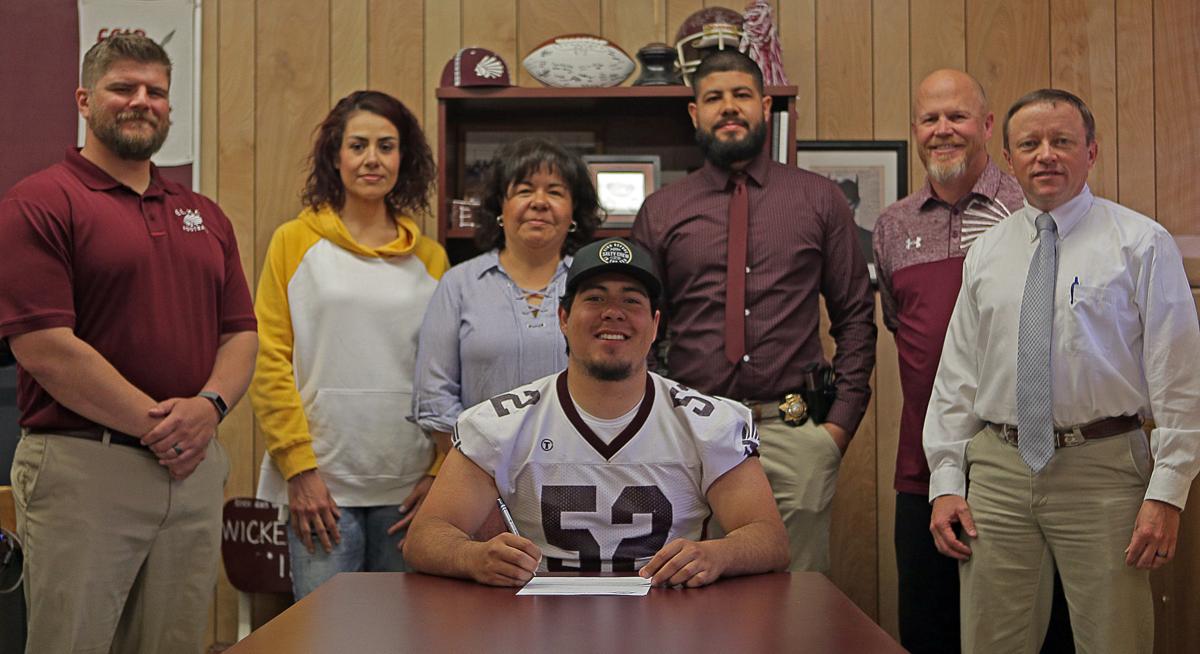 ELKO – Presently, Elko senior Luis Garcia is in the midst of the track and field season – throwing discus and shot put – but his future plans revolve around a different sport.
Garcia has signed his national letter of intent to play football for Presentation College, in Aberdeen, South Dakota.
A member school of the National Association of Intercollegiate Athletics, Presentation competes in the North Star Athletic Association – the Saints finishing the 2018 season with a 5-5 record and a 3-4 mark in conference play.
Garcia came into contact with the program through a former relationship with offensive coordinator Travis Titus, who was an assistant coach at the University of Jamestown – the Jimmies also playing in the North Star.
"They're in the process of making him the head coach, but he's the recruiting coordinator for the football team," Garcia said. "I talked to him about two years ago for the first time when he was still at Jamestown."
During his final two years of high school ball, Garcia became a staple on the Indians' offensive and defensive lines – making notable gains with his play and his leadership.
"Luis was willing to try new things. He did everything we wanted him to do, and he improved a lot," said Elko offensive coordinator and line coach Hans Gaul. "He put in the time in the offseason. He really became a leader on the defensive and offensive lines for us. I worked with him for a year on JV and two years with the varsity, and he became a lot more proficient as a leader."
You have free articles remaining.
As for now, Garcia is expected – rather preferred by Titus – to play defensive line.
However, the Saints graduated virtually their entire starting offensive line – leaving five spots up for grabs.
Two guards, two tackles and a center – Garcia has not ruled out playing O-line if needed.
"I'm open to anything and anywhere they want to put me. I'm excited to have another chance to play and get on the field again," he said. "I want to showcase my talents at the next level."
During his senior season, Garcia earned a 2nd-Team All-League selection on the offensive front – paving the way for a rushing attack that racked up 2,089 yards on the ground in 388 totes, also yielding a 5.4 average and 22 rushing touchdowns for the Indians.
Defensively, he was an honorable mention for the Division 3A North awards, tallying 23 tackles and 2-1/2 sacks.
Once in school, Garcia plans to study business – keeping his options open for a future career.
Congratulations to Luis Garcia for earning an opportunity to play football at the next level and best wishes toward whichever side of the line he plays for Presentation College.