ELKO – The time has come; the stock will be loaded.
Now, all that's left to do after a year of anticipation is to nod your face and the release the beasts.
Here's a look at what and who to watch in the first of three PRCA perfs.
Following the grand entry and the presentation of the flags, the action will pick up quickly with the first set of Old West Bronc riders.
The PRCA portion of the Stampede will get underway with the steer wrestling as the first event — the first name on the day sheet sure to bring a chorus of locals cheers.
Hank Filippini
Battle Mountain's Hank Filippini will be the first bull dogger of the Stampede.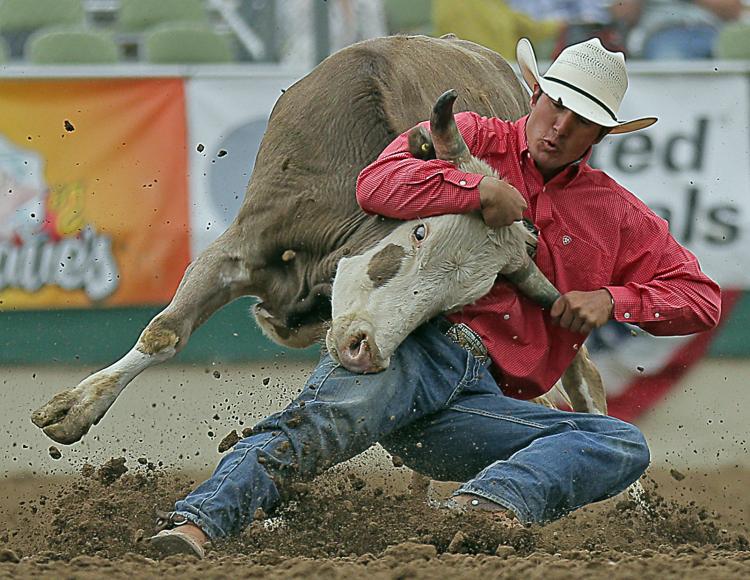 Filippini started the year well, splitting third place Jan. 25-Feb. 2 at Rodeo Rapid City, in South Dakota, his time of 5.2 seconds good enough for $2,402.
Between April 19 and 21, Filippini earned $1,739 for a round-winning tie with Elko's Dakota Eldridge on matching 5.4-second runs.
During the Dixie National Rodeo, from February 7-13, Filippini made his fastest run of the season — sharing fourth place with two-time and defending world champion Tyler Waguespack — throwing one down in 3.7 seconds for $764.
He will compete Friday morning during the slack of the Dinosaur Roundup Rodeo, in Vernal, Utah, quickly loading up and making the trek back to Elko.
"I run one in the slack at 8 a.m. and it takes 6-1/2 or seven hours to drive back," Filippini said. "We gain an hour on the way back, so we should be good for time."
Klancy Krenka
Ruby Valley's Klancy Krenka — who recently finished seventh in the average of the College National Finals Rodeo, in Casper, Wyoming — has transitioned to riding for College of Southern Idaho and is now mounting up for himself in the professional ranks of the bareback riding.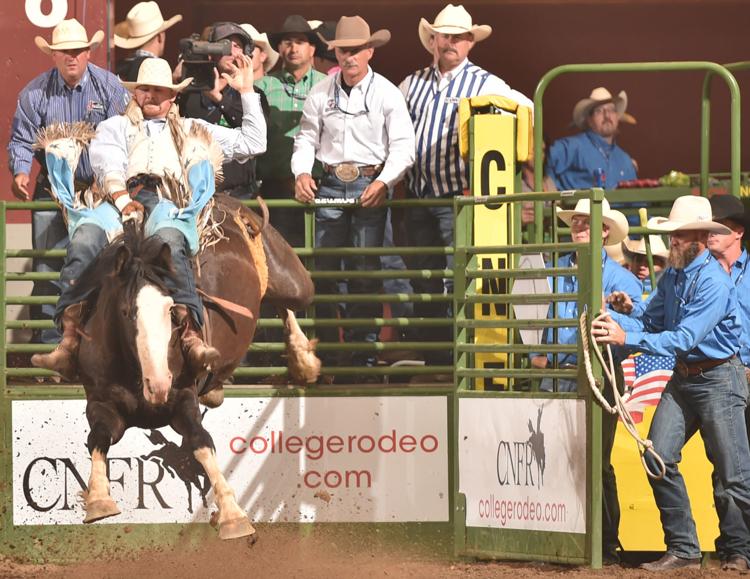 He is scheduled to be the only man out the chutes Friday night, awaiting a matchup with Bar T Rodeo's "Clamity Springs."
The horse has only bucked out once, CSI teammate Bronc Marriott scoring 74 points on the horse on May 10 during the Las Vegas Helldorado Days, the horse accounting half of the total — the judges awarding Clamity Springs 18.5 points on each side and Marriott given 18 on one side and 19 on the other.
Clay Berry
A former winner of the Stampede, header Clay Berry, of Plymouth, Utah, — who claimed the 2014 Stampede team roping title with partner Britt Newman — is set to stick bones for another heeler, firing from the box Friday with Wellsville, Utah's Brad Freeland.
Saddle Bronc Riding
The biggest influx of local talent will take place in the classic event of rodeo.
Three Nevada cowboys will compete in Friday's saddle bronc riding, including two of Krenka's CSI running mates.
Winnemucca's Shaun Mentaberry has drawn Bar T's "Scarlett," which has bucked off one of its two cowboys in the 2019 season.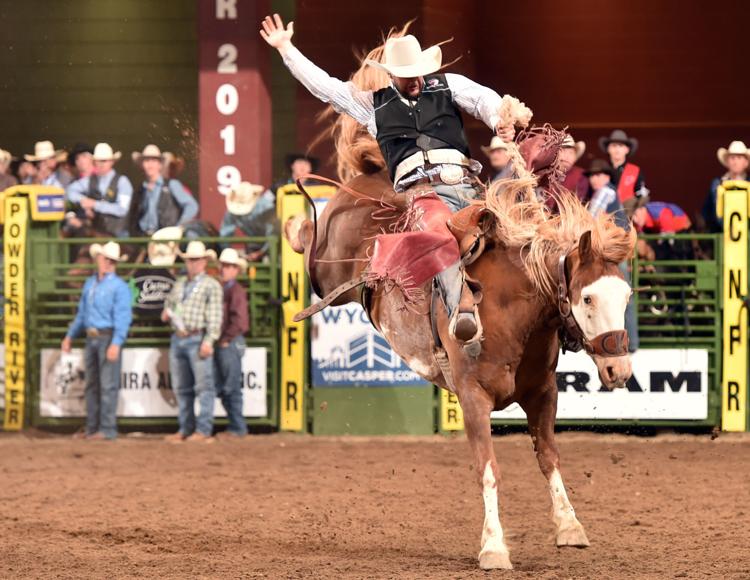 In two trips during the Pony Express Rodeo, in Eagle Mountain, Utah, the lone score aboard the animal was 59 points by Chase Bennett — the horse marking 32 and Bennett finishing with 27 — Scarlett racking up 38 points in a buck-off of Austin Amick.
Paradise Valley's Luke Logan, the step-son of 1978 world champion and PRCA Hall of Famer Joe Marvel, will climb on Bar T's "Paper Clip."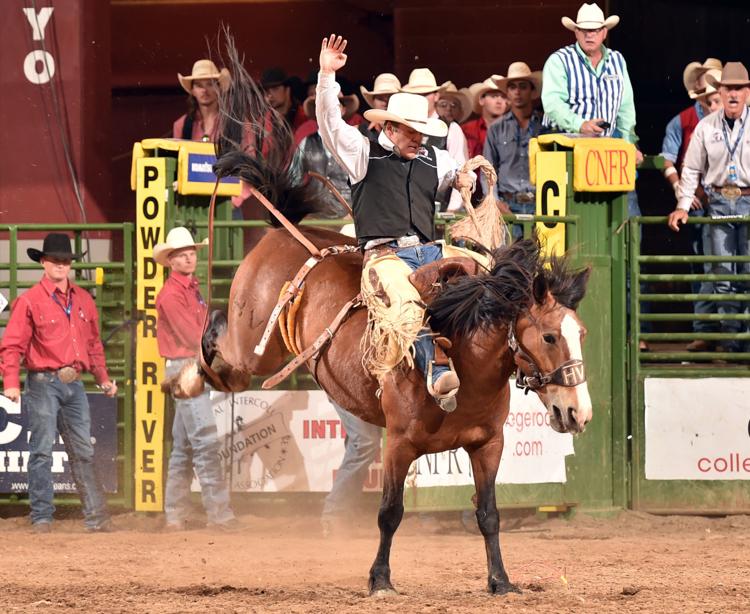 Paper Clip has shown to be a jump-kicker in two trips during the '19 season — a horse that is rider friendly — averaging 34.75 points per outing for an average ride score of 75 points.
Fallon's Christian Stremler's highest-marked ride of the season went for 78 points during the Lakeside (California) Rodeo from April 26-28, splitting seventh place with seven-time NFR qualifier Jake right — each earning $283.
For Friday, Stremler has drawn Bar T's "Continental," a horse that has not been bucked at a PRCA rodeo since 2017, providing an intriguing matchup.
Also scheduled to ride will be two cowboys who are currently ranked in the top-50 of the world standings.
Tygh Valley, Oregon's Johnny Espeland has won $19,176 and is 41st in the PRCA standings — drawing up with Bar T's "Oliver Twist."
The horse has been bucked once this season, scoring 32 points — Morgan Wilde scoring 39 of his own — the horse-cowboy combo accounting for a 71-point ride.
Treyson Antonick, of Overton, Texas, is currently 46th in the world standings with $16,030 in winnings.
He has drawn Bar T's "Bertha Boy" and could be in for a pile of points, if he can ride correctly — the horse averaging 38.6 points in five trips with one buck-off — the average ride currently set at 74 points, the cowboys accounting for only 35.4 of the points.
Jake Hannum
Plain City, Utah's Jake Hannum — a 2007 NFR qualifier — will compete Friday night in the tie-down roping.
During the '07 NFR, Hannum placed in five of 10 go-rounds — finishing seventh in the world with $139,261 in earnings for the season.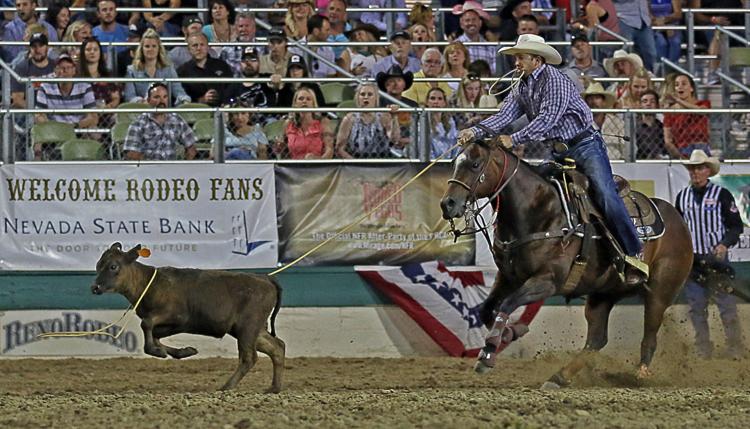 He played a part in the 2018 NFR as well, loaning his horse "Greta" to Chubbock, Idaho's Matt Shiozawa — an 11-time NFR calf roper — for several of the rounds.
Megan McLeod-Sprague
Marsing, Idaho's Megan McLeod-Sprague — who has always seemed to do well in the barrel racing in Reno — turned in another stellar performance during the Wildest, Richest Rodeo in the West.
She placed on each of her three runs, winning fifth in the first round with a time of 17.29 seconds for $1,577.
In round two, her check increased to $2,050 for a fourth-place performance of 17.19 — her fastest time of the rodeo.
During the short-go, she won fourth and $613 in 17.21.
McLeod-Sprague finished third in the average with a three-run time of 51.85 seconds and gained another $3,548.
In total, she hauled home $7,788 from Reno and will test her luck on the ground Friday in Elko.
The Quillans
Fallon's Billy and Levi Quillan are slated to board their bulls during the Friday performance.
Billy Quillan has made the whistle twice in 10 tries and should climb on the back of Bar T's "Water Head."
The bull has been ridden each time he has bucked in 2019, accounting for 37.75 of the total average score of 76.75 points.
Levi Quillan is still looking for his first-qualified ride of the season after seven no-scores.
His hunt for his first score of the year will not be easy on Bar T's "Spicy Pickle."
The bull has yet to be ridden in four trips this season, the bull racking up an average tally of 40.75 points by himself.
Tickets
Tickets for the Stampede will be sold at the gate but are also available at several local stores, including J.M. Capriola Co., Boot Barn, IFA, Roy's Market and the Elko Area Chamber of Commerce.
The costs are $15 for adults, $10 for seniors (65 and older) and $5 for children ages 6-12.
A family package — two adults and two children — is available for $35.
Be the first to know
Get local news delivered to your inbox!